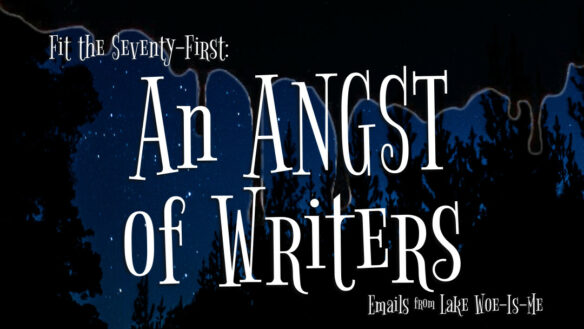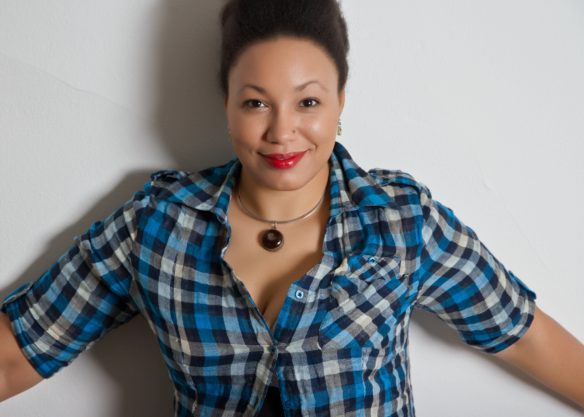 [Introduction: Melanie Stormm continues her humorous series of posts about the misdirected emails she's been getting. Stormm is a multiracial writer who writes fiction, poetry, and audio theatre. Her novella, Last Poet of Wyrld's End is available through Candlemark & Gleam. She is currently the editor at the SPECk, a monthly publication on speculative poetry by the SFPA. Find her in her virtual home at coldwildeyes.com. Wipe your feet before entering.]
AN ANGST OF WRITERS
Hello All, Melanie here!
Hope you all enjoyed a lovely Easter, Pesach, or Eostre, in whatever way you celebrate!
Without further ado…
---
Subject: Mediocre Writer
Dear Gladys,
I would be a world famous writer by now if it weren't for the TRAFFIC. I really feel like the whole world is conspiring against my happiness this week!!!!
As you know, I returned to work after recovering from my Riverdancing Accident and a small side quest getting Tryxy reinstated at his school. While I am possibly the greatest custom tractor salesperson of ALL TIME, it doesn't change the fact that I have to juggle TWO JOBs: tractor salesperson by day, EPIF FANTASY WRITER BY NIGHT.
Yes, if you give me three minutes, I can take an ordinary farmer on the market for your standard green John Deere 5310 and convince her to fit it out with a glitter coat, subwoofer, and spinning tractor rims, but EVERY MINUTE I'm not at work is PRECIOUS WRITING TIME!!!!
I ALSO HAVE A LOT OF CATCHING UP TO DO IN WRITING GLADYS. OH LOOK, MY CAPSLOCK IS ON.
Fixed it.
But now that they're building that HUGE MYSTERIOUS COMPLEX next to the town green, the construction has really cut into my commute!!!!! Why this morning alone I planned to think up PLOT IDEAS between 8:43 a.m. and 8:47 a.m., but thanks to the construction, I was stuck in TRAFFIC behind a drunk goose, a zombie rabbit, a VW school bus with a snow plow attached, and a gray SUV with an UNREADABLE BUMPER STICKER.
I spent the entirety of the TRAFFIC JAM trying to decipher that bumper sticker!!! Once upon a time it was cornflower blue with white letters but years of sun and snow had degraded it so that it resembled TV static. Now I can't be sure, but I'm pretty sure the bumper sticker used to say A Smug of Writers.
I assume that's the collective noun for a group of writers which, as it happens, is entirely appropriate as I am heading to the first meeting of my writing critique group since NaNoNostril Hair.
Even though our writing group requires that writers wregularly write to maintain membership, I've have been doing a lot of WRITING ADJACENT activities and that SHOULD COUNT TOO, Gladys!!!
Shouldn't it??? We're supposed to share our last four months of writing accomplishments. In the group text Ravenhair Silkenwind mentioned that he's halfway through his epic fantasy novel about dark elves BUT WHAT HAVE I GOT TO SHOW FOR FOUR MONTHS OF NOT WRITING????
Gladys, I need you to be moderately—but not completely honest with me. Actually, if you need an exact number, I need you to be about 2/17ths honest. I've written exactly one short story since this time last year AND IT WAS A PIECE OF FLASH FICTION. Am I a mediocre writer???? What am I supposed to tell the other fantasy writers at the Ink Black Coffee Club???
I had better go. I have less than an hour before I must share my work with the other members of our smug of writers and I need to produce four months of fantasy writing in the next forty minutes!!!!
How am I supposed to concentrate on writing when I don't know if I'm mediocre????
If only that STUPID Flash ficgtion contest would pick my story as a winner, I wouldn't be so down in the dumpS!!!
WHAT DO YOU THINK THEY'RE BUILDING IN THAT MYSTERIOUS COMPLEX??? DO YOU THINK IT'S ONE OF THOSE LUXURY GYMS??? OR MAYBE IT'S ANOTHER CULT.
CAPSLOCK IS ON AGAIN!!!!
xox,
X
---
Subject: WORST WRITER EVER
Dear Gladys,
I'm writing to inform you that I will no longer be sending you pages. I know that you LIVE to read my epic fantasy works in progress, but I need you to summon all your strength and never bring up my writing EVER AGAIN. And though you're probably dying to know what's happening in my stories, you are going to have to suffer in silence.
After what happened at tonight's critique group meet up, I can never show my face again.
Not only has the group informed me that traveling through time to pick up Ursula Le Guin from a cosmic train flying through space and dropping her off at her new apartment in our library DOESN'T COUNT AS WRITING, it turns out that I AM NOT EVEN A PUBLISHED WRITER!!!!
I was sweating bullets when I arrived. All I'd managed to write in the last hour were three words on a greasy napkin and two of them were the name Keith. I was going to need to think of something to save face!!!
THe meeting began nicely with small talk. I saw my opportunity and dragged it out. An artful conversation saboteur can take eight minutes of small talk and turn it into three hours!!!! The trick is to ask questions that lead you further and further away from anything remotely relevant!!
We each talked about whether it will snow again after Easter, this got them all going pretty good. And when that conversation was about to die, I asked everyone where they keep their shovels and that started another round. Ravenhair was just about to put his dark elf manuscript on the table when I thought quickly and ASKED ABOUT THE CONSTRUCTION.
That was a stroke of sheer brilliance, Gladys!!! Each of us mused about what was being built in the mysterious new complex by the town green. Bevvy Hart thought that it was a new kind of condominium for people who keep exotic birds due to the big dome and she'd always imagined that people who keep birds would love to live together in a big, birdie commune.
Edwina Tómas was pretty certain its a new cult moving into town, after all, it's been a while since we had a cult move to town. Marjorie agreed it could be a cult but that it was more likely another Timeshare Entity corporation coming to town. That's when Ravenhair Silkenwind dropped a bomb on the whole speculation operation by saying he'd heard from a friend who heard from a friend that a movie production studio is setting up shop. Not only did it end the conversation with everyone going "huh, well that's interesting", it was a silly thing to say!!!
Obviously it's a new cult.
That's when it all went straight to HADES, GALYDS!!!
Ravenhair cleared his throat and shuffled his pages and looked like he was going to ask everyone about their writing and I panicked. The first thing that came to mind was THAT STUPID UNREADABLE BUMPER STICKER!!!!
I referred to our group as a smug of writers. Things immediately got testy. Edwina huffed and said that I was categorically wrong and that a group of writers is called an Angst. Ravenhair corrected her and said that an Angst of writers exclusively refers to literary fiction writers but that we were probably called a Misgiving of Writers. Then Bevvy blew it all to pieces by announcing that we were all totally wrong and that the correct collective noun for writers is a Pedantry and then said, "Since we're on the subject of writing, how about we get to everyone's accomplishments for the last four months."
It all went downhill from there. Everyone smugly announced they had written 20,000 words here, and 15,000 words there and I was left with no choice but to play my trump card. I announced that I had been published.
Instead of singing my praises and agreeing that I was the next big epic fantasy writer of all time, the table went suddenly silent. Bevvy squinted at me a long time and then she said two horrible words that should NEVER BE SAID.
She said, "Published where?"
And I told her.
And then she said, "I've never heard of them." Then she whips out her phone and while everyone finally manages to say "congratulations" and "be sure to share your story!" Bevvy is busy looking up the website of the publication that put out my short story and says, "X…did you pay them money to publish your short story?"
OF COURSE I PAID THEM MONEY, GLADYS!!!! That's what they said to do on the website!!!! Well now it turns out that when publishers charge you money to publish your story people don't say "congratulations" they say things like "that's a VANITY press" and "Haven't you ever heard of Writers Warning Dot Com?"
HOW WAS I SUPPOSED TO KNOW THIS GLADYS???? Is my whole writing life a lie???
I was so angry and embarrassed driving home that I almost hit a duck.
Anyhoo Gladys, if you're looking for me, you can find me crying in Tryxy's abyss. How am I ever supposed to come back from this????
No. There will be no pages next week, Gladys.
xox,
X
---
Subject: EAT THAT WORLD!!!!!!!
DEAR GLADYS,
I WON THE CRADENSBURG FLASH FICTION CONTEST!!!!! I JUST GOT THE EMAIL TONIGHT!!!!
EAT THAT TRAFFIC JAM!!! EAT THAT UNREADABLE BUMPER STICKER!!!! EAT THAT VANITY PRESS!!!!! EAT THAT KEITH!!!!!
I AM THE NEXT BIG EPIC FANTASY WRITER OF ALL TIME!!!!!!!
Have to go to the computer store and get that capslock key fixed.
Pages next week, Gladys!!!!!
xox,
X
A PEDANTRY
OF WRITERS
APPLIES ONLY
TO SCIENCE
FICTION
WORDSMITHS.
THE
COLLECTIVE
NOUN FOR
FANTASY
WRITERS
IS A
DISTRACTION.