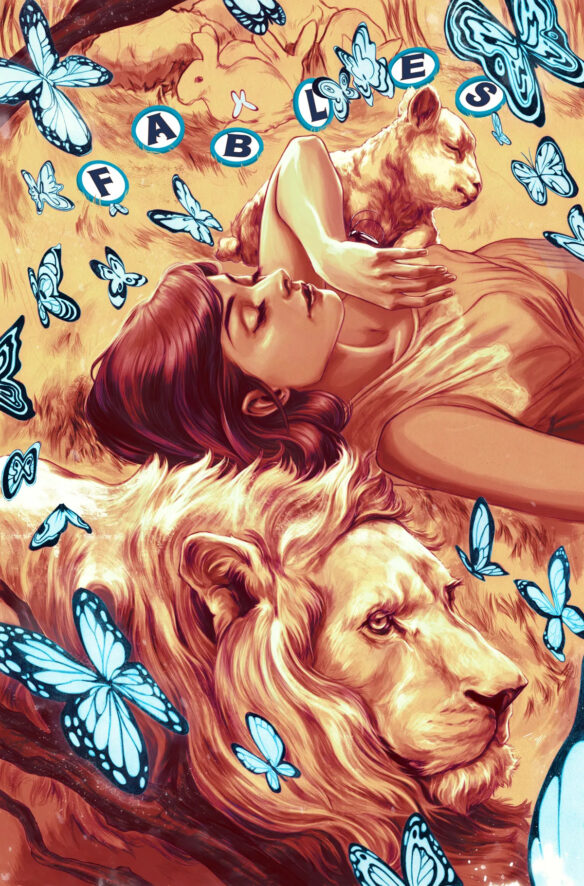 Bill Willingham announced on his Substack today he's releasing Fables into public domain – a pretty sharp stick to poke into DC's eye. He explained the decision in "Willingham Sends Fables Into the Public Domain", excerpted here.
---
As of now, 15 September 2023, the comic book property called Fables, including all related Fables spin-offs and characters, is now in the public domain. What was once wholly owned by Bill Willingham is now owned by everyone, for all time. It's done, and as most experts will tell you, once done it cannot be undone. Take-backs are neither contemplated nor possible.
Q: Why Did You Do This?
A number of reasons. I've thought this over for some time. In no particular order they are:
1) Practicality: When I first signed my creator-owned publishing contract with DC Comics, the company was run by honest men and women of integrity, who (for the most part) interpreted the details of that agreement fairly and above-board. When problems inevitably came up we worked it out, like reasonable men and women. Since then, over the span of twenty years or so, those people have left or been fired, to be replaced by a revolving door of strangers, of no measurable integrity, who now choose to interpret every facet of our contract in ways that only benefit DC Comics and its owner companies. At one time the Fables properties were in good hands, and now, by virtue of attrition and employee replacement, the Fables properties have fallen into bad hands.
            Since I can't afford to sue DC, to force them to live up to the letter and the spirit of our long-time agreements; since even winning such a suit would take ridiculous amounts of money out of my pocket and years out of my life (I'm 67 years old, and don't have the years to spare), I've decided to take a different approach, and fight them in a different arena, inspired by the principles of asymmetric warfare. The one thing in our contract the DC lawyers can't contest, or reinterpret to their own benefit, is that I am the sole owner of the intellectual property. I can sell it or give it away to whomever I want.
I chose to give it away to everyone. If I couldn't prevent Fables from falling into bad hands, at least this is a way I can arrange that it also falls into many good hands. Since I truly believe there are still more good people in the world than bad ones, I count it as a form of victory.
2) Philosophy: In the past decade or so, my thoughts on how to reform the trademark and copyright laws in this country (and others, I suppose) have undergone something of a radical transformation. The current laws are a mishmash of unethical backroom deals to keep trademarks and copyrights in the hands of large corporations, who can largely afford to buy the outcomes they want….
…Of course, if I'm going to believe such radical ideas, what kind of hypocrite would I be if I didn't practice them? Fables has been my baby for about twenty years now. It's time to let it go. This is my first test of this process. If it works, and I see no legal reason why it won't, look for other properties to follow in the future. Since DC, or any other corporate entity, doesn't actually own the property, they don't get a say in this decision.
Q: What Exactly Has DC Comics Done to Provoke This?
Too many things to list exhaustively, but here are some highlights: Throughout the years of my business relationship with DC, with Fables and with other intellectual properties, DC has always been in violation of their agreements with me. Usually it's in smaller matters, like forgetting to seek my opinion on artists for new stories, or for covers, or formats of new collections and such. In those times, when called on it, they automatically said, "Sorry, we overlooked you again. It just fell through the cracks." They use the "fell through the cracks" line so often, and so reflexively, that I eventually had to bar them from using it ever again. They are often late reporting royalties, and often under-report said royalties, forcing me to go after them to pay the rest of what's owed….
Q: Are You Concerned at What DC Will Do Now?
No. I gave them years to do the right thing. I tried to reason with them, but you can't reason with the unreasonable….
…Note that my contracts with DC Comics are still in force. I did nothing to break them, and cannot unilaterally end them. I still can't publish Fables comics through anyone but them. I still can't authorize a Fables movie through anyone but them. Nor can I license Fables toys nor lunchboxes, nor anything else. And they still have to pay me for the books they publish. And I'm not giving up on the other money they owe. One way or another, I intend to get my 50% of the money they've owed me for years for the Telltale Game and other things.
However, you, the new 100% owner of Fables never signed such agreements. For better or worse, DC and I are still locked together in this unhappy marriage, perhaps for all time.
But you aren't.
If I understand the law correctly (and be advised that copyright law is a mess; purposely vague and murky, and no two lawyers – not even those specializing in copyright and trademark law – agree on anything), you have the rights to make your Fables movies, and cartoons, and publish your Fables books, and manufacture your Fables toys, and do anything you want with your property, because it's your property….
---
[Thanks to Bruce D. Arthurs for the story.]