By James Bacon: This is a lovely exhibition of fan paraphernalia, con booklets, fanzines, badges, and some superb looking publications. It's neatly laid out, smartly presented with great descriptions and captures nicely the subculture that celebrates science fiction, fantasy and horror in many forms. This display was brilliantly put together by local fan Marcin Klak.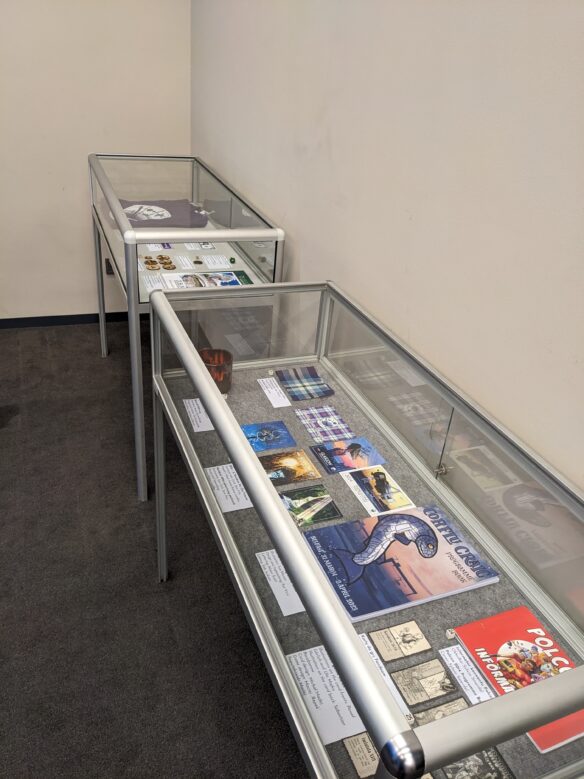 I was exceptionally impressed with the details in the clearly set out but detail heavy posters that were in both Polish and English. These have been very thoughtfully presented, well written and offer fans and those interested considerable detail.
On one we hear about Polish Fandom:
"Fandom appeared in Poland with some delay. One cannot point to a specific date, as its birth was a lengthy process. Some crucial dates from the early days of the history of the SF&F and the M&A fandoms in Poland."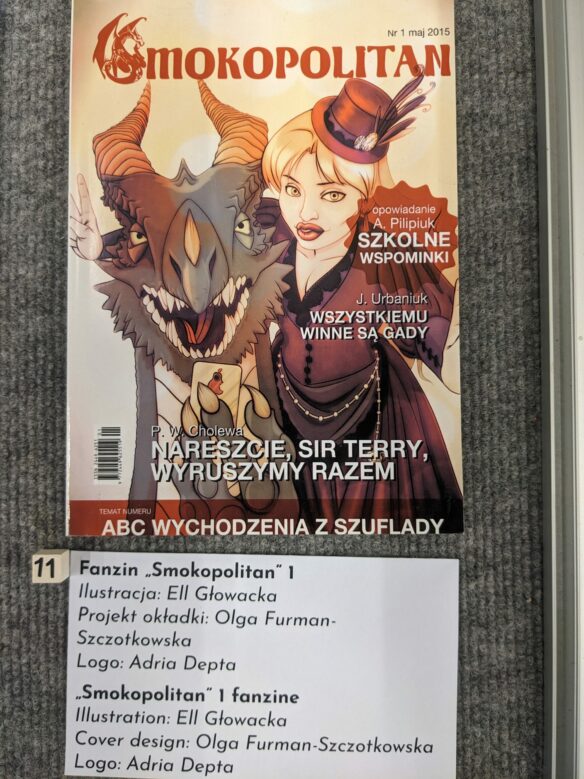 The 70s — the first SF&F fan clubs appear in Polish cities.
February 26, 1976 — the creation of OKMFISF (the All-Poland Club of Fiction and Science- Fiction Lovers)
August 1976 — Eurocon (the European convention for fans of SF&F fiction) is held in Poznań. It should be noted that the decision on its organisation was made in 1974.
1995 — Robert 'Mr. Root Korzeniewski' publishes the first articles on the phenomenon of manga and anime in the print gaming journals Secret Service and Gambler
March 11-12, 1995 — During the demoparty (meeting of creators devoted to making works combining IT and computer art) Primavera II in Starachowice, the first Manga Room is organised – a room devoted to showing anime.
August 16-17, 1997– Manga no Sekai (the World of Manga) the first Polish manga and anime convention – is held in Gdynia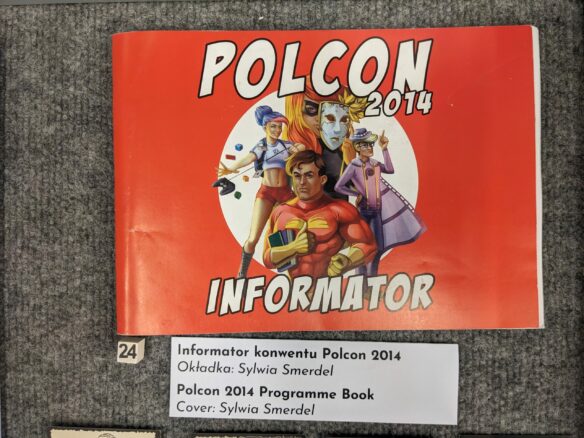 The key moments are covered but there is so much more detail to enjoy, with this series of highly informative posters.
There is a fascinating set of interesting key dates, a few of which I note here:
October 1930 — the founding of the first SF fan-club in Great Britain – the Ilford Science Literary Circle
October 22, 1936 — a group of fans from New York visited fans in Philadelphia. Some of the researchers consider this meeting to be the first convention (an organised meeting of fans), but others grant this title to a later event in Leeds.
January 3, 1937 — the first convention is held in Leeds in Great Britain
December 21, 1979 — the first Comiket is held in Japan – a convention and expo for creators of fan-created manga (or so-called doujinshi).
August 13, 1987 — Yamato Con is held in Dallas, Texas – the first American convention for fans of manga and anime
As one looks at the covers and considered the effort and output, it was lovely to see such a variety represented, and unexpected to find a Dublin 2019 item although no surprise that there were a nice selection of items relating Glasgow 2024, the next European Worldcon.
Local activities were well documented.
"THE SFF NETWORK OF KRAKÓW
One of the phenomena present in this fandom are clubs, as well as other forms of regular fan meetings Clubs may be registered formally, operate within some other institutions, or be completely informal in Poland, both SF&F clubs (such as the Gdańsk SF&F Club) and M&A clubs (such as the Animatsuri Association) operate. Sometimes, a general SF&F club has its own section/division devoted to manga and anime (such as Section 9 within the Silesian Fantasy Club).
The intensity of club life depends on the given organisation. In Kraków alone, a number of different clubs existed throughout the years, both devoted to SF&F and M&A. Unfortunately, not all of them survived to this day. One – the SFF Network of Kraków (Krakowska Sieć Fantastyki – KSF) is celebrating its 10th anniversary since its formal registry (though it has operated for longer informally).
The KSF was formed in 2009. At first, it was an informal network meant to facilitate contacts and holding fan activities for people from Krakow and its surroundings. The KSF was created by combining previously existing groups: the Kraków LARP Group, the Avatar Club, the Victorian Underground group, and the group of organisers of the Nethershell LARP
At first, the members of KSF met almost weekly in the Jędruś Club (located in the Centrum A estate), where they would play board games and RPGs. They also held LARPs. Another crucial element of club activity consisted of maintaining a web forum, as the aim of the group was to facilitate networking. After several years, the club formalised its activities and was entered in the Polish National Court Register (the KRS) in November 2013
Over the years, the KSF had its ups and downs. There were years when apart from organising a convention, the club was quite devoid of other activities, as well as those (as at present) when meetings were held several times per month. Among the conventions organised or co-organised by the KSF, we can mention:
»Lajconik – the Kraków RPG Days (2011-2023)
» Lemcon – Stanisław Lem's birthday (2017-2019)
»Plansówki – The Kraków Boardgame Days (2018-2019)
»Cthulcon- the Kraków Lovecraftian convention (2018)
»In 2022, the KSF supported the Historia Vita Foundation in organising Imladris-Polcon.
Nevertheless, the KSF does not limit itself to organising conventions – It is active in many fields. Beside events and the aforementioned club meetings, it also boasts a functioning literary section Protoposty, as well as publishing books and fanzines.
 More information is available at https://ksf.org.pl, although only in Polish."
Overall it's a very fine exhibition, it gives both insight and shares the enthusiasm and history as well as the breadth of activities.