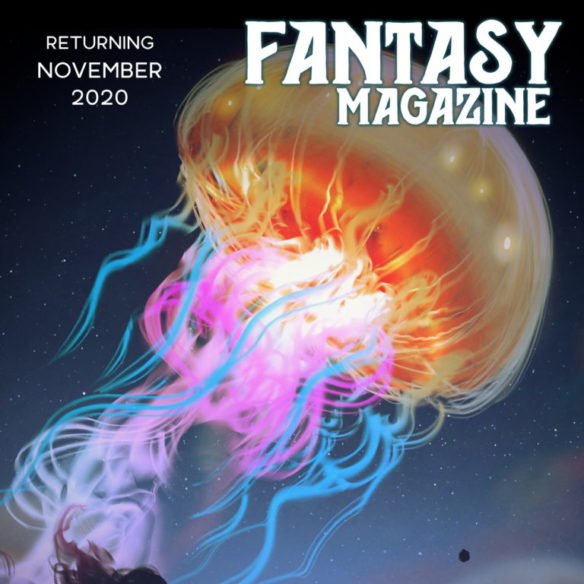 John Joseph Adams is bringing back Fantasy Magazine. The first new issue of Fantasy will publish in November 2020 and will join sister-magazines Lightspeed and Nightmare under the same publishing umbrella. Henceforth the publishing company that publishes all three magazines will be known as Adamant Press.
Adams has named Arley Sorg and Christie Yant as co-editors-in-chief and will continue in his role as publisher. Yant will also serve as co-publisher of Fantasy—and of the other two magazines.
Arley Sorg is an associate editor at Locus Magazine, where he's been on staff since 2014. He joined the Lightspeed family in 2014 to work on the Queers Destroy Science Fiction! special issue, starting as a slush reader. He eventually worked his way up to associate editor at both Lightspeed and Nightmare. He also reviews books for Locus, Lightspeed, and Cascadia Subduction Zone and is an interviewer for Clarkesworld Magazine.
Christie Yant worked as an assistant editor for Lightspeed Magazine from its launch in 2010 through 2015, and, in 2014 she edited the Women Destroy Science Fiction! special issue of Lightspeed, which won the British Fantasy Award for Best Anthology. In 2019 she co-edited (with Hugh Howey and Gary Whitta) Resist: Tales From a Future Worth Fighting Against, an anthology benefiting the ACLU, and co-edited The Dystopia Triptych series of anthologies (with Hugh Howey and John Joseph Adams). She is also a consulting editor for Tor.com's line of novellas, and her own fiction has appeared in best of the year anthologies.
Yant and Sorg's creative vision includes being "a welcoming market eager to find new voices." They will be open to submissions July 1-7 and, going forward, will be open the first week of every month (1st – 7th). Visit fantasy-magazine.com/guidelines for more information.
Fantasy Magazine's format will differ slightly from its sister-magazines with its inclusion of flash fiction and poetry. Like Nightmare and Lightspeed, Fantasy will be publishing each issue in ebook format (and offering subscription options) as well as making the contents of the magazine online for free. The forthcoming issue with Yant and Sorg as co-editors will be the first new Fantasy issue in four years.
[Based on a press release.]