The Future Worlds Prize for Fantasy and Science Fiction Writers of Colour announced its shortlist for the 2023 prize on May 5.
Dawn in Arborellum by Ama Josephine Budge
What the Crew Wants by Mahmud El Sayed
The Archer and the Oracle by Anne Elicaño-Shields
Light at Midnight by Ali Mahdi
The Taste of a Planet by Arianne Maki
Firstborn of the Sun by Marvellous Michael Anson
The Breath of Silence by Melanie Reynard
Wisteria Chumleigh by Calah Singleton
The prize will be judged by: Syima Aslam – founder of Bradford Literature Festival; Aliette de Bodard – author and winner of three Nebula Awards, an Ignyte Award, a Locus Award, a British Fantasy Award and five British Science Fiction Association Awards; Nikita Gill – poet and author of seven volumes of poetry and one novel in verse; and Esmie Jikiemi-Pearson – inaugural winner of Future Worlds Prize.
Future Worlds Prize for Fantasy and Science Fiction Writers of Colour aims to find new talent based in the UK writing in the SFF space, from magical realism and space operas to dystopia and more. The winner will receive a prize of £4,000, the runner-up £2,000 and the remaining six shortlisted authors will each receive £800. All shortlisted writers, the runner-up and the winner will also receive mentoring from one of the prize's publishing partners. The winner of the Future Worlds Prize 2023 will be announced at an event at Hachette UK on Monday 22 May.
The prize's publishing partners are Bloomsbury Publishing, Orion Books' Gollancz, Little,Brown's SFF imprint Orbit, Hodder's Hodderscape, and Pan Macmillan's Tor.
Future Worlds Prize was founded by bestselling author Ben Aaronovitch in 2020, and was previously named the Gollancz and Rivers of London BAME SFF Award. The prize is financially supported by Aaronovitch and Bridgerton actor Adjoa Andoh. It is administered by Future Worlds Prize CIC, a not-for-profit organisation.
Last year's prize was won by M H Ayinde, who has since secured an agent for her novel A Shadow in Chains. The 2020 prize was won by Esmie Jikiemi-Pearson for The Principle of Moments. Jikiemi-Pearson has since secured a publishing deal with Gollancz, and her debut novel will be released in 2023.
About the shortlisted authors and work
Dawn in Arborellum by Ama Josephine Budge
Ama Josephine Budge is a Speculative Writer, Artist, Curator and Pleasure Activist whose praxis navigates intimate explorations of Blackness, aesthetics, ecology and feminism. Ama's speculative fiction, art writing and essays have been commissioned and published internationally, and she is in the final stages of her PhD at Birkbeck University of London.
Blurb for Dawn in Arborellum
Dawn in Arborellum is an uncanny story of interspecies co-dependence, sensuality and isolation in the wake of climate colonialist catastrophe. Now existing in a new solar system, humans survey the worlds that surround them, determined not to repeat the destructive mistakes of their past. Arboreal specialist Thea, has been awarded a coveted twenty-five year residency on the green planet of Arborellum to study the enormous trees that inhabit it, her solitude broken only by the appearance of her designated Wellness Counsellor every three years. But this year, the cryptic yet compelling First Guardian Selen Ami arrives, seemingly more interested in her research than her wellbeing. It seems that everything is not as it should be on Earth, nor indeed on Arborellum.
What the Crew Wants by Mahmud El Sayed
After reading Frank Herbert's Dune, aged 12, Mahmud spent his summer holidays in Egypt trying to summon a sandworm. When that didn't work, he decided to become a writer. A British-Egyptian writer and translator based in London, he is keen on cats, libraries and anything science fiction.
Blurb for What the Crew Wants
The blackouts are getting worse. Two hundred years into its journey to establish a new home for humanity, power on the city-ship Safina is faltering. When the generation ship unexpectedly crashes out of warp, the crew face their biggest test yet. A race against time amid dwindling resources to get the ship back underway. Rising protests against a stagnant Administration. And, oh yeah, the colonists in the hold—the crew's own ancestors—are beginning to wake up from cryo-stasis and are not best pleased to find themselves trapped on a ship that is slowly dying. What the Crew Wants is a retelling of the Arab Spring… in space! It is the story of how you are your language and how, sometimes, there is no choice but to take a stand.
The Archer and the Oracle by Anne Elicaño-Shields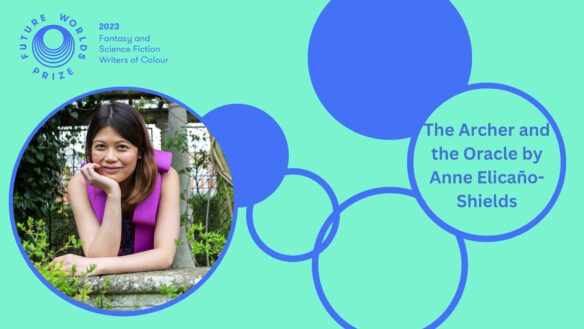 Anne Elicaño-Shields, a Filipino author, writes YA and adult fiction. Previously based in Manila, Bangkok, and Washington DC, her writing is inspired by the myths, folklore, and urban legends of these places. Her awards include Creative Future Writers Award, FAB Prize, the London Writers Awards, and more. Anne lives in London with her husband and two children.
Blurb for The Archer and the Oracle
Sparks fly when a present day 17-year-old Filipino-British oracle swaps places with Eros, the teenage god of love. It's all fun and first times, time travel, and madcap matchmaking — but can the two find happiness together when their deal inadvertently opens the door to shapeshifter hunting Eros to usher the disappearance of love from the world?
Light at Midnight by Ali Mahdi
Ali works as an auditor in the corporate world and is training as a transpersonal psychotherapist. His work explores dreams, sacred psychology, and what it means to be human in the age of machines.
Blurb for Light at Midnight
Nur has signed up for vocational college – his only chance at a real life as a re-naturalised, fully integrated citizen. Cut off from his family and put through visceral and dehumanising training environments – Gulag, the Ministry of Dreams and Dog Week – he tries to distinguish VR from dreams from reality, and to remember who he really is.
The Taste of a Planet by Arianne Maki
Arianne Maki is a mixed Japanese-Indonesian who grew up in Scotland and England. They have recently gained an MA in Ecology, Culture, and Society, where they pursued interests in critical animal and plant studies. Arianne hopes to further explore multispecies relations in writing, and to create weird, touchy-feely fiction that helps someone to feel a little more seen.
Blurb for The Taste of a Planet
On an extra-terrestrial Japanese colony in a near-distant future, the everyday lives of a cranky grandmother, an overworked journalist, and a wannabe celebrity are loaded with questions of agency. The city they inhabit is lush and humid—perfect for the supposedly unpickable, giant edamame-like "beans" that have mysteriously sprouted throughout the streets. More questions soon arise: what exactly are the beans? How do they entwine with the upcoming independence referendum? Why—on this Earth and the next—should anyone care about alien beans in the first place? In answering these, the grandmother, the journalist, and the wannabe must each confront their own innermost fears. The truth is often scary but, in the end, it is always delicious.
Firstborn of the Sun by Marvellous Michael Anson
Marvellous Michael Anson is devoted to giving her readers fast-paced, high-stakes stories that explore the multi-faceted human condition. She has been creating poems, short stories, theatre and film for over a decade. Marve has been shortlisted for awards such as the 2022 Jericho Writers Friday Night Live Competition and the 2022 Kit De Waal Bursary, and she hosts Facebook writing group Writers Connect.
Blurb for Firstborn of the Sun
Everyone in the kingdom of Oru is born with agbara—the ability to draw magic from the sun. Everyone that is, except Lọ́rẹ. When the gods call for her best friend's life, the home she grew up in becomes the prison she must escape. The Holy Order sends their deadliest assassin after her, but she just might be her own worst enemy. She must choose who needs saving, her family, her kingdom or herself.
The Breath of Silence by Melanie Reynard
With a background in film & TV, Melanie Reynard now works in garden design and dabbles in the mystic arts of social media marketing for a landscaping company. Reading and writing fiction every spare minute she gets, she juggles life with two young children, volunteer work and a neurotic cat. Despite living in London & Surrey for over twenty years, her Lancashire accent persists.
Blurb for The Breath of Silence
Science and religion have suppressed magic in Arden, but not for much longer. Ordered to steal a cursed relic, Fry, a warrior with a fierce determination to prove herself must risk exposing her forbidden powers or fail her quest. Tailed by an immortal witch seeking the relic to unlock her power, Fry is faced with either accepting exile—or working with Kris, a rival smuggler. But Kris is a skilled liar, superstitious about magic, and has his own secrets and spiritual demons to fight. To stop the witch and return magic to the world, they'll have to learn the hardest lesson of all: to trust each other.
Wisteria Chumleigh by Calah Singleton
Calah Singleton is an editor at an independent publishing house. Originally from the United States, she's lived in London for nearly a decade. When not writing or reading, she fiddles with her band, paints, and wanders around in nature living out her cottage-core dreams.
Blurb for Wisteria Chumleigh
Wisteria Chumleigh: rebellious, cynical, a disappointing middle child and mediocre witch. Summoned back home to the magical enclave of Fayre Havering, she thinks it'll give her time to figure out her life – but she becomes entangled in a series of murders that threaten the fragile peace of the village. Murders apparently linked to a decades-old cold case, one whose solution may be closer to home than Wisteria realises…
[Based on a press release.]