By Carl Slaughter: Gordon Van Gelder does themed anthologies.  A painstaking and time-consuming but rewarding task.
CARL SLAUGHTER:  Why did you give up the editor's chair of FSF?
GORDON VAN GELDER:  I was wearing two hats — that of the publisher and that of the editor.
With the publisher's hat on, I could see that the magazine was losing some of its edge –it was growing too predictable, falling short in some other ways.  So I tried bringing in a guest editor to liven things up, and that went well.  So I decided it was time to step down (wearing my editor's hat) and I offered the editing job to C. C. Finlay (with my publisher's hat on).
CS:  Why stay on as publisher?
GVG:  I like the hat.
But seriously, publishing a magazine isn't a bad job.  And someone's got to do it.
CS:  Looking at your list of anthologies, it seems you're still doing some best of, but have been moving toward themed.  Is that an accurate interpretation?
GVG:  Fairly accurate.  The path we take is mostly a function of what the market wants and what book publishers want.  If we could publish a non-theme "Best of F&SF" anthology every year as we did in the 1950s, I'd be happy with that.  But the book market in 2017 is vastly different from what it was in 1954.
CS:  What's the selection process for the themes?
GVG:  Again, it's mostly a function of what the market will support and what interests book publishers.  There's such a wealth of material in our back issues that we can produce good anthologies on a lot of themes.  (I have detailed notes for several.)  But how many of them will sell well?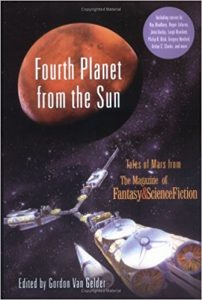 CS:  What's the selection process for the stories?
GVG:  It varies a bit from book to book, but mostly, it's a matter of pinning down the prominent stories on the theme, and then doing research and filling in the book with lesser-known works.
My favorite one to assemble was the Mars anthology, Fourth Planet From The Sun.  That one had a real dynamic to it, from Bradbury to Zelazny to Varley to Alex Irvine.  The whole book seemed to assemble itself, much as writers will sometimes say that a book wrote itself.
CS:  Your latest anthology is on repopulation.  I confess, I am not familiar with that subgenre.  Give us the background on this project.
GVG:  The subgenre is like a relative of the old Adam and Eve stories — a lot of stories born from anxiety over the threat of nuclear bomb destruction and wondering what happens if humanity mostly manages to wipe itself out.  (In fact, there was a recent book on this exact subject, something called The Knowledge by Lewis Dartnell on how to rebuild civilization.  I used a quotation from it as the epigraph for my book.)
I got interested in the subgenre when I happened to encounter two stories on the theme from the 1950s and I thought, "I read a lot of these stories as a kid, but I don't think I've seen one in the last fifteen years."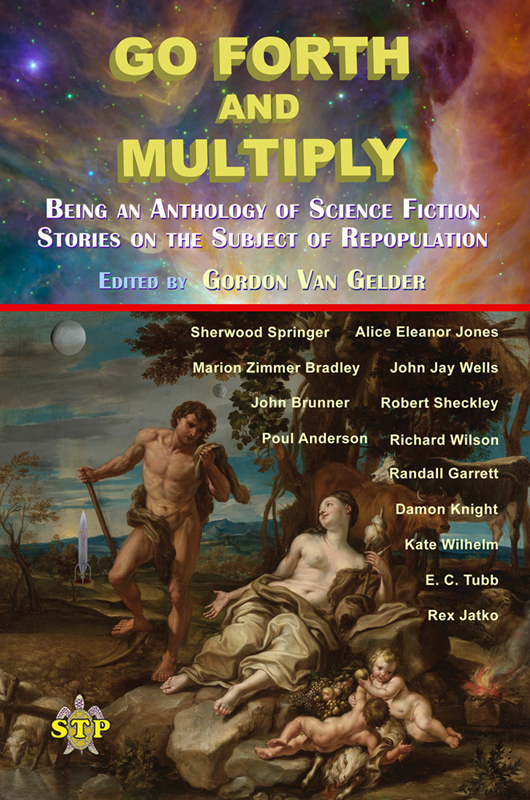 When I dug into it, I found a lot of interesting material.  Since the subgenre by definition basically calls for a scenario with a small number of people under fairly intense pressure, the stories tended to be dramatic and often extreme.  Some of them are deeply moving, others are disturbing.
Researching the book took a long time, but it was a lot of fun reading through anthologies and old magazine issues. It was also interesting to see a lot of the 1950s stories from the SF magazines that have never been reprinted.
One thing that frustrated me is that I heard about a couple of stories I was never able to locate.  If you don't mind, I'll mention one now in hopes that someone seeing this interview will be able to identify it:
As I heard it (and this may well be confused or mis-remembered, especially since I feel like I read it myself when I was a teen) the story concerns a p.r. or advertising guy who's hired to convince men to go to Mars or another planet because they need men there.  And he's so good at his job that he convinces all the men to leave, leaving him alone on the home planet with the responsibility of repopulating Earth. But the kicker at the end comes in the form of his confession to the reader: "I don't have the heart to tell them I'm sterile."
CS:  One of your anthologies is on climate change.  Do any of these stories provide solutions?
GVG: Not really.  If I'd thought any of the writers could actually make things better, I'd have sent them to a college friend of mine who's working on these things for real.  I saw the anthology more as an opportunity for writers to dramatize different aspects of what we humans might experience as the planet changes.
CS:  Your next project is on dystopias.  Why do in this direction?  Isn't this a well-worn trail?
GVG: Does it answer your question if I say that we came up with the idea for the book on January 20th and most of the stories are specifically focused on the next four years?
CS:  What else is on the horizon for Gordon Van Gelder?
GVG:  Well, aside from continuing to run F&SF, I've got a couple of smallish writing projects — an article and a book introduction — that I need to finish up.  I'm also helping a couple of writers get some of their older work back in print.  I don't have any more books under contract right now, but I've got a few ideas simmering.  And who knows?  Maybe another odd, half-forgotten subgenre will come along and grab me and set me off on another four years of research to produce a book that's liable to interest only a few oddballs like myself.
You just never know.