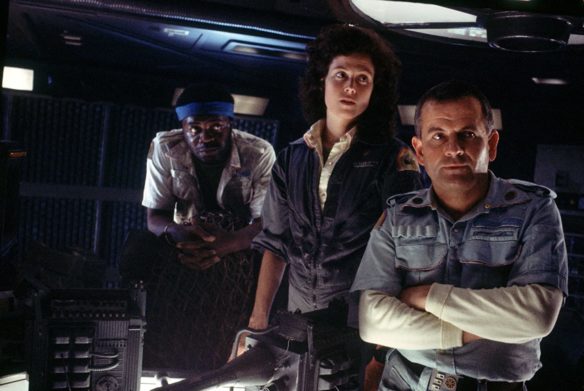 Actor Ian Holm, an iconic figure in many sff movies and television productions, died June 19. His final illness "was Parkinson's related" his agent told The Guardian. (The BBC tribute is here, and the New York Times obituary here.)
He played the whole range of Shakespearean roles, including the fantasies, and gained fame in other non-genre roles.
But after chronic experience with stage fright drove him from live theater, he turned to TV and film work. His role as Peter Pan author J. M. Barrie in the BBC's production of The Lost Boys (1978) won him a Royal Television Society award and a Bafta nomination.
In 1979 he made his first major Hollywood appearance, as the sinister android Ash in Alien. "It wasn't a particularly pleasant film to do," he later recalled. "It was 16 weeks of bloody hard work down at Shepperton Studios."
Time Bandits (1981) brought him back as Napoleon, a character he also played on UK television in the previous decade in the Napoleon and Love miniseries.
That was also the year Holm's performance in non-genre Chariots of Fire won him a Bafta for best supporting actor, and earned him an Oscar nomination.
And in the same auspicious year, he took the part of Frodo Baggins in BBC Radio 4's 1981 adaptation of The Lord of the Rings.
His connection with sff would continue, cast in Terry Gilliam's Brazil (1985), and as Lewis Carroll in Dreamchild (1985), Dennis Potter's fantasy based on the life of Alice Liddell. He was in the TV miniseries The Borrowers (1992) and Return of the Borrowers (1993) as Pod, one of the fifteen-centimeter-high humans who live in the English hinterland.
He was knighted in 1998 for "services to drama."
Holm played Bilbo in Peter Jackson's three-part Lord of the Rings screen adaptation, with filming on The Fellowship of the Ring beginning in 1999. At five-feet five inches he was physically suited to the character, in addition to the acting gifts he brought to the part. Bilbo did not appear in The Two Towers, but Holm returned for the final movie, The Return of the King, as well as the first and third instalments of the Hobbit trilogy (as "Old Bilbo"), which were released in 2012 and 2014 respectively.
The New York Times obituary quoted:
"I'm completely amazed by the reaction that the films have had," he told the British newspaper The Independent in 2004. "I get a lot of fan mail addressed to Bilbo and sometimes Sir Bilbo," he said. "It's hardly ever addressed to Ian Holm." He made sure to sign replies with his character's name, he added.
Sadly, unlike Bilbo, Holm could not sail away to the Undying Lands.
He is survived by his fourth wife, Sophie de Stempel; five children; and eight grandchildren.
[Thanks to Mike Kennedy for the story, and the next-to-last line.]