By Carl Slaughter: Jeff Gunhus, author of the Jack Templar series, will release a sci-fi thriller, Resurrection America, on June 5, 2017.  In April 2017, Gunhus released, Where Are Your Shoes, a picture book for children.
RESURRECTION AMERICA
by Jeff Gunhus
June 5, 2017
When helicopters and armored vehicles filled with soldiers in hazmat suits quarantine the small mountain town of Resurrection, Colorado, Sheriff Rick Johnson feels like the Jihadi wars have followed him home. But while the town follows martial law out of fear of a virus released into the air, Rick isn't buying the official version of events. As he investigates, the cover story unravels and he discovers the military's presence and the salvation they offer isn't what it seems.

"From Americans who love their country and will stop at nothing to keep her powerful and safe to an operation that threatens to isolate and possibly destroy an icon of small-town America, Resurrection America is replete with fast-paced action tempered by slower moments of psychological inspection and character development that succeed in keeping its plot and presentations realistic and involving. The result is a powerful saga that eventually embraces computers, robots, neuroscience, military strategy, and more: a thriller that keeps Sheriff Rick and his readers guessing about the truth, right up to the end. Thriller enthusiasts who like their stories heavy with action and well-flavored with psychological inspection will find Resurrection America an engrossing production indeed, packed with satisfying intrigue and unpredictable twists and turns as it explores a secret experiment that threatens to change the world."  –  Midwest Book Review
THE TEMPLAR CHRONICLES
by Jeff Gunhus
"Gunhus brings young readers a monster-filled romp to read at their own risk. In the first few pages, Jack, the storyteller and main character, warns readers not to read about these real-world monsters that would seem to only exist in fiction. The tone is set–sarcastic, tongue-in-cheek and likable; rooting for Jack is easy…Gunhus masterfully introduces fully realized characters with whom readers can connect almost instantly. The pacing is quick but not rushed, and events seamlessly progress, complete with action, cliff-hangers and surprise reveals. " – Kirkus Reviews

"I wrote this book to encourage my 11 year-old reluctant reader son to give books a try. We woke up an hour earlier each morning and he and his brother read the chapters out loud to me as I finished them. I knew that if they ever got sleepy that there was rewriting to be done! The results have been great. Both of my boys are now avid readers and we're having a great time sharing new books we find and working together on the next book in the Jack Templar series."  – JeffGunhus.com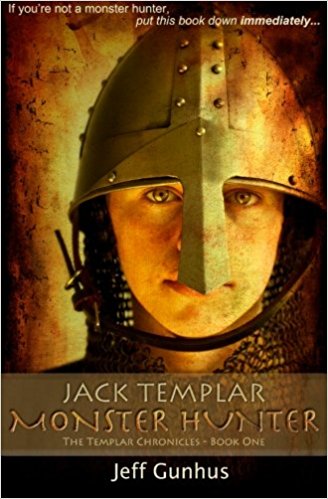 Orphan Jack Templar has no memory of his parents and only the smallest details from his Aunt Sophie about how they died. The day before Jack's fourteenth birthday, things start to change for him. At first it's great: A sudden new strength helps him defend his nose-picking friend "T-Rex" from the school bully, and even his crush, Cindy Adams, takes notice. But then a mysterious girl named Eva arrives and tells him two facts that will change his life forever. First, that he's the descendent of a long line of monster hunters and he's destined to be in the family business. Second, that there's a truce between man and monster that children are off-limits…until their fourteenth birthday! Jack has only one day before hundreds of monsters will descend on his little town of Sunnyvale and try to kill him.

As if that weren't enough, things get even more complicated when Jack discovers that the Lord of the Creach (as the monsters are collectively known) holds a personal grudge against him and will do anything to see that Jack has a slow and painful death. To stay alive and save his friends, Jack will have to battle werewolves, vampires, harpies, trolls, zombies and more. But perhaps the most dangerous thing he must face is the truth about his past. Why do the other hunters call him the last Templar? Why do they whisper that he may be the "One?" Why do the monsters want him dead so badly?  Even as these questions plague him, he quickly discovers survival is his new full-time job and that in the world of monster hunters, nothing is really what it seems.
JACK TEMPLAR AND THE MONSTER ACADEMY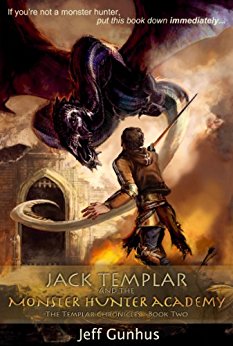 After barely surviving the onslaught of monsters that tried to kill him the day before his fourteenth birthday, Jack Templar leaves his hometown on a quest to rescue his father and discover the truth about his past. Joined by his friends Will and T-Rex, and led by Eva, the mysterious one-handed monster hunter, Jack sets out for the Monster Hunter Academy where he hopes to find answers to his questions. Little does he suspect that the Academy is filled with dangers of its own, many of them more terrifying than anything he's faced so far.
JACK TEMPLAR AND THE LORD OF THE VAMPIRES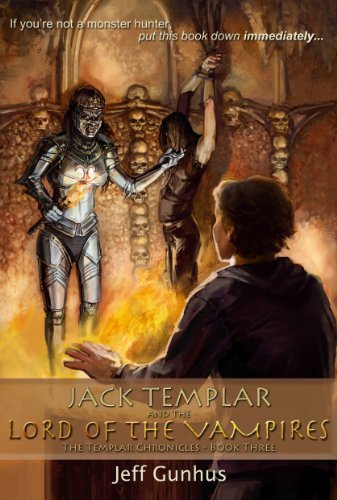 After fighting a goblin army, befriending an ancient werewolf, and battling two fire breathing dragons during his adventures at the Monster Hunter Academy, Jack Templar hoped for a rest. No such luck. In this third adventure of the Jack Templar Monster Hunter series, Jack embarks on a quest to track down and acquire the first of five mythical Jerusalem Stones, an ancient power source found by his ancestors, the Templar Knights. Only the reunited Stones can stop Ren Lucre, the Dark Lord who holds Jack's father hostage and prepares for an all-out war against an unsuspecting human world. A different Creach Lord holds each Stone, and recovering them will not be easy. Jack and his friends begin their quest by seeking out a powerful and terrifying adversary, the Lord of the Vampires. The fate of the world rests on Jack's shoulders and he will be tested like never before. Join Jack Templar on his most dangerous journey yet, but remember that doing so makes you part of his world. Read this book only if you are prepared to battle the Creach and live by the monster hunter motto. Because to survive, you must… Do your duty, come what may!
JACK TEMPLAR AND THE LORD OF THE WEREWOLVES
Fresh from confronting the Lord of the Vampires in the limestone catacombs beneath Paris, Jack Templar faces his toughest challenge yet as he searches for the next Jerusalem Stone, this one being held by the Lord of the Werewolves. But the narrow escape from the vampire lair came at a great cost and Eva battles for her survival. The only chance to help Eva is to continue their quest and find the Jerusalem Stones. Reuniting the Stones will not only stop Ren Lucre's coming war against mankind, but also transform Eva back into her human self. From the ruins of ancient Delhi to the depths of the Black Forest in Germany, Jack and his friends face monsters, bewildering riddles and treachery from the most unlikely of places. Through it all, they are plagued by the Oracle's prediction that at least one of their group will not make it through the adventure alive. Worse yet, they know that Kaeden, the Lord of the Werewolves, will do his best to make sure none of them do. But they are monster hunters of the Black Guard…and they will do their duty, come what may.
JACK TEMPLAR AND THE LORD OF THE DEMONS
With two of the Jerusalem Stones in hand, Jack Templar and his friends must race the clock to find the remaining Stones as Ren Lucre's Creach forces gather strength. With two of their group now with Creach blood flowing in their veins, the team will be tested as never before. They must unite and work together if they have any hope of surviving their journey to the Underworld. The fate of the entire world hangs in the balance.
JACK TEMPLAR AND THE LAST BATTLE
In the last book of the Jack Templar series, Jack and his friends race to stop Ren Lucre before he launches this Creach army against humankind. But the Lord of the Lesser Creach and the Lord of the Zombies hold the last two Jerusalem Stones Jack needs to have any chance of success. To make matters worse, the Oracle predicts that one of their group will die in the upcoming fight, and Jack discovers betrayal among those he trusts most. Even so, Jack must find the courage to lead his friends into battle. Either they collect the Stones in time to defeat Ren Lucre or die trying. It's "Do your duty, come what may" no matter the cost. The fate of the world hangs in the balance.
WHERE ARE YOUR SHOES?
by Jeff Gunhus
April 14, 2017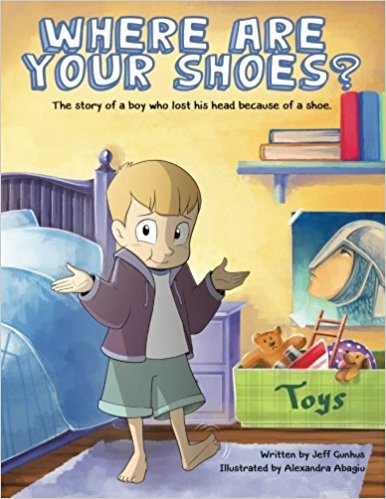 "I'm the father of five kids and four of them had appeared as characters in my middle grade series, Jack Templar Monster Hunter. That made those four happy, but left my youngest little man bummed out. To bring order and balance back to the Gunhus Family Universe, I decided to write Where Are Your Shoes? and plop young Owen right in the middle of it. The book was meant to be just for our family, but it turned out pretty good, so I decided to release it out into the world. As you will see, it has a bit of a dark edge to it (would you expect anything less from me?) but many readings to kindergarteners have proven that it's just enough to get their attention and won't gross them out too much."