By JJ: The Just. One. Book. appeal for book donations to a community high school library in California's Sierra Nevada mountains is producing incredible results (item #9, Pixel Scroll, June 13).
I grew up a very bright misfit in a town of 2000 people, and I am probably only alive today because I had access to books when I was in grade school and high school, and a way to escape the utter misery of my life. Even though I am neither, I sent half a dozen books featuring stories about POC and LBGTQ, because that seems to be what they really need (a large percentage of their population is Hispanic/Chicano/Latino). I can imagine what a huge difference this will make in the lives of many of these young people.
On the Throwing Chanclas blog, Margaret Elysia Garcia described the response:
And then it was Monday and  I stopped by the post office to mail a package and the post master lady said can you pull your car around back?
And then I drove to Greenville High School/Indian Valley Academy and the secretary looked up from her computer and said, "WHAT DID YOU DO?" I walked into the library and saw this: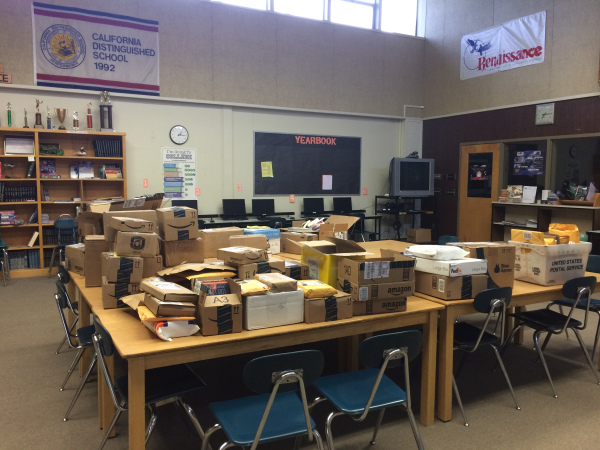 So thank you. You restored my faith in humanity. And the cool English teacher and our awesome special Ed teacher and the culinary arts teacher–who is used to getting all book requests denied  all stood there at different times with their jaws dropped.  We are so used to being ignored that it is taking awhile to sink in. I started crying when I opened books. I sniffed in the books. If anyone was watching I'm sure it looked weird. I also cried when I read some of the notes with the books. Full disclosure: my dad and his wife  flew my kids out to Wisconsin to visit him and go kayaking in the North Woods so I'm a little weepy this week anyway. 

But you people are beautiful. Here are three themes going on in the notes.

Retired librarians (and current ones ) get really pissed off at closed libraries. I am picturing some kind of librarian march on Washington where you all just shame Congress for continually gutting arts and education.
 You remember where you came from. So many people are writing "I grew up in a small town and books SAVED me. I can't imagine not having books. Here's my favorite." To this I say I know what you mean. I was a very shy army brat and it always took me six months to say hello to people. Meanwhile I just made friends with books.
You care about the nation's children and rural America. You send books to open up worlds to them. I opened up a box for LGBTQ teens and cried yet AGAIN. 

So from the bottom of my very real heart. THANK YOU.

Tomorrow is my day in the big city–the neighboring town of Quincy (population 5000) but I'll be back on Thursday–stopping at the post office and the library. I can only imagine what the table will look like then.

So Thank you! And I'm so sorry if I'm slow in answering email. As all people who live here do, I have like six part time jobs (think Northern Exposure). So I can only get to so many at once.
Then, a few days later:
Yesterday we had six volunteers come in to start opening boxes and recording what we've received and from whom if possible (some of you are anonymous). We emptied out more current events from the 1950s–60s. We've also had a great time getting to know the neighbors better. The mountains are like that. People who live here are often on their own path up here and you don't see them. But right now? It's all in. Everyone is astounded. It's bringing people together. THANK YOU.
And last Sunday an update titled "Just. One. Nation":
As of right now–we've logged in 4000 books. We have enough to start our library anew. Our Amazon wish list has been depleted and we are going to put in a chunk of time next week with 10 volunteers to unload boxes, catalog, see what more we need, etc. I won't be putting up a new Amazon list right now.
They need shelving units (and probably monetary donations toward a computerized cataloging system). They are giving duplicates to the libraries of other nearby small schools.