By Daniel P. Dern: So we went to see the new Justice League movie over the weekend. It was OK enough (more on that below), but at the same time, I didn't come away with the happy I-just-saw-a-enjoyable-movie feeling that I got from, say, Thor: Ragnarok or Guardians of the Galaxy: Vol. 2.
Here's some quick thoughts — non-spoilers unless you haven't even seen the main trailer. (And I'll ROT13 any potential spoilers.)
Note: I've been reading comics long enough — starting in the single-digit age, when comic books were still a dime (although they soon jumped to twelve cents) — to remember the League's first appearance, in 1960 (in The Brave and the Bold #28). (Barry Allen, the Silver Age Flash, debuted in 1956, Showcase #4 — I remember reading it, though probably not when it came out, but have clearish memories of Hal Jordan/Green Lantern in 1959 (Showcase #22), who were among the League's original members (which did not include Superman or Batman). And, with some multi-year hiati, I'm still reading, through a mix of buying, librarying, and (legitimate) digital access. At heart, I'm a DC fan. Yes, I've read lots of Marvel, and bunches of indies — but I have less (if any) emotional attachment to how non-DC capes (heroes) get movie-ized.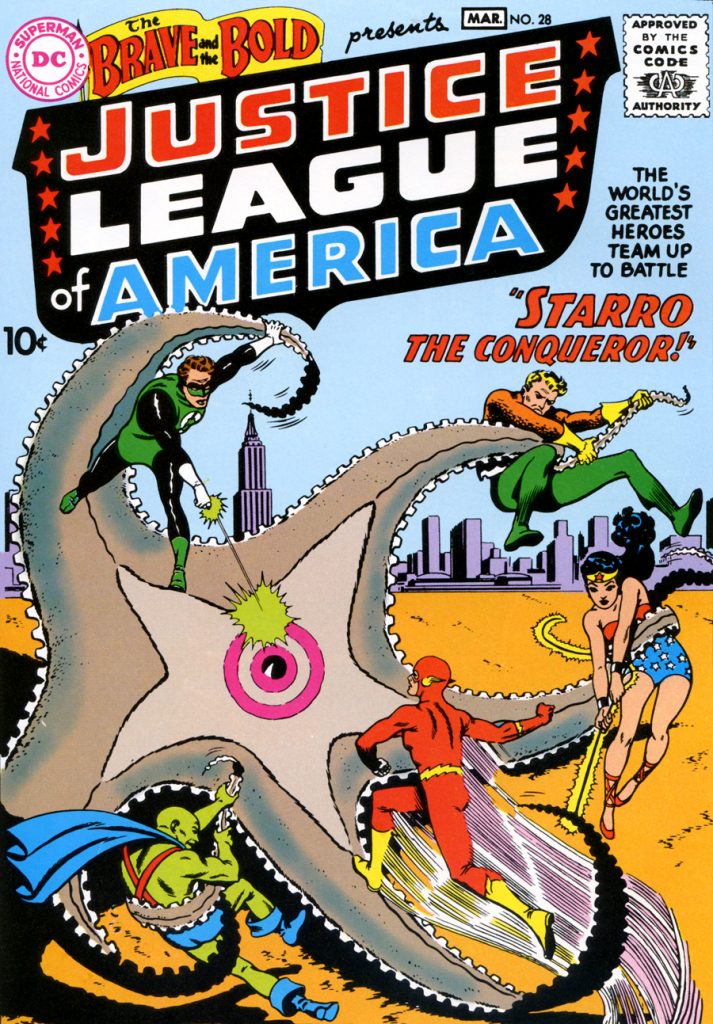 Justice League, like the first Avengers movie, is a mix of "putting the band together for the first time," "origin recaps for characters who've already been in one or more films (for this "universe"), and "fighting the 'Big Bad'(s)" (to use the obvious Buffy-ism). Thankfully, not Lex Luthor; instead, Fgrccrajbys naq onmvyyvbaf bs Cnenqrzbaf obbz-ghovat va sebz Ncbxbyvcf (sebz Wnpx Xveol'f Sbhegu Jbeyq).
Given how incredible dark, dour, dismal, grumpy and/or sometimes unacceptably off-canon many of DC's preceding superhero flicks have been (e.g., much of the Dark Knight Batman trilogy, much of The Man of Steel, much of Suicide Squad, not to mention Batman v Superman (whose events precede this movie) – Wonder Woman happily dodged these bullets, and Green Lantern had other, different problems), Justice League had a depressingly low bar to beat — from its fellow DC flix.
On the other hand, just a month or so ago, we got Thor: Ragnarok from Marvel, showing how much fun a super-scheme-and-punch-fest could be. And on the gripping hand, and pretty much concurrent with Justice League, over on the "small(er) screen" was the remarkably credible Supergirl/Arrow/Flash/Legends of Tomorrow "Crisis On Earth X" (pronounced "eks" rather than "ten") four-part cross-over of DC heroes, arguably a movie-length four-acter.
In my opinion, Justice League did some things quite well:
Quick (or -ish) introduction of the new (within movie context) heroes Aquaman, Cyborg, and Flash
Why Bats is building a team. (In the original Justice League origin, heroes converge via different parts of the Big Bad, and post-triumph, decide to form a club.)
Good action/fight scenes.
Great chatter and banter amongst heroes.
Some sense of reality, e.g., Batman being severely bruised post-fight.
But. But.
Very dull Big Bad. As one friend I chatted with said, no character there. Contract that with Thor: Ragnarok, where we were treated to Cate Blanchett's Hela, the Goddess of Death, along with Tom Hiddleston's Loki (sometimes as a Bad), and Jeff Goldblum's Grandmaster. No shortage of style there, in acting, wardrobe or action.
I think that's why I came away uninspired. Nothing (major) annoyed me. As with Thor: Ragnarok, thankfully neither New York City nor Washington D.C. were trashed. I enjoyed the heroes bantering, some of the derring-do-ing. But — like the first Avengers movie — having a handful of heroes go up against a world of baddies, that's basically a way-outnumbered war movie.
The Justice League, throughout their (comic) career, have been at their best fighting more well-defined foes (or groups of foes). Kanjar Ro. Despero. Felix Faust. Luthor & his super-bad-friends. Splitting up into smaller teams, coming together for the big boffo win. And doing more than just physical fighting — also more problem solving, detective work, and the like.
Still: if you're a DC fan, go. You'll get enough (good) out of it. If you're not a comic/superhero fan, and haven't seen Thor: Ragnarok yet, do that. (If you're a Marvel fan, I find it hard to believe you haven't seen T:R yet.)
Beating a low bar, sigh, better than not doing so.
Here's hoping the next Justice League movie (presumably based on the final "Easter Egg") has better Big Bads.
Meanwhile, I've been told that the Director's Cut of Batman v Superman makes somewhat more sense — and/but is somewhat longer. To the library web site I go!