John King Tarpinian and I have been virtual window shopping since October. We'd like to share some of the gift suggestions we found most amusing. And sure, you could actually buy these and send them to someone – just don't sign our names to the card!
(1) The Hipster Nativity Set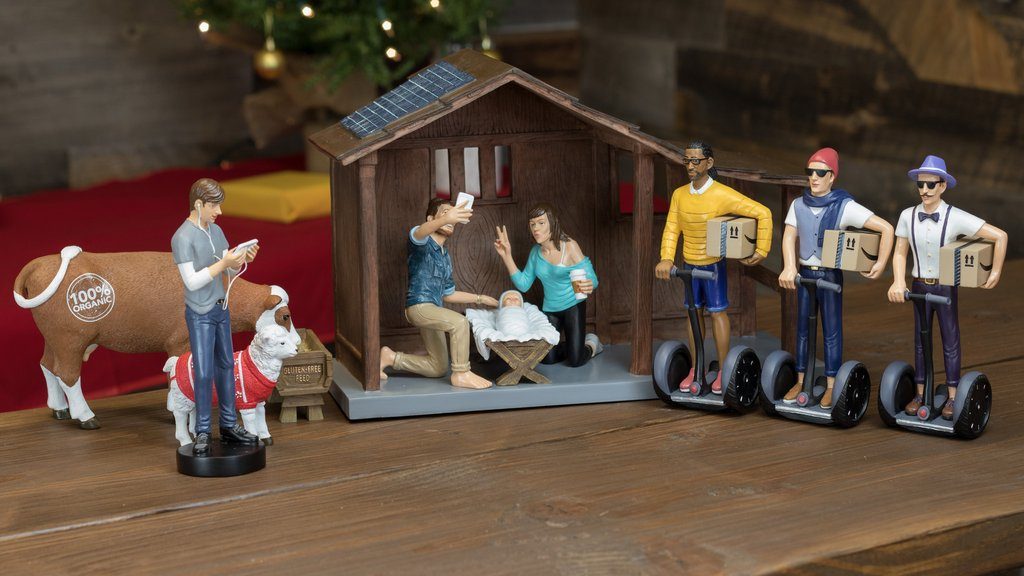 The Three Wisemen

It's crazy to think that the Wisemen followed a star in the sky to find Jesus, rather than using Google Maps, but who are we to judge? These Wisemen arrive to the birth of Jesus in style, rocking their favorite hipster outfits, and tricked out segways.
(2) Borg Cube – Star Trek Voyager Hallmark Holiday Ornament Ship Lights Talking TNG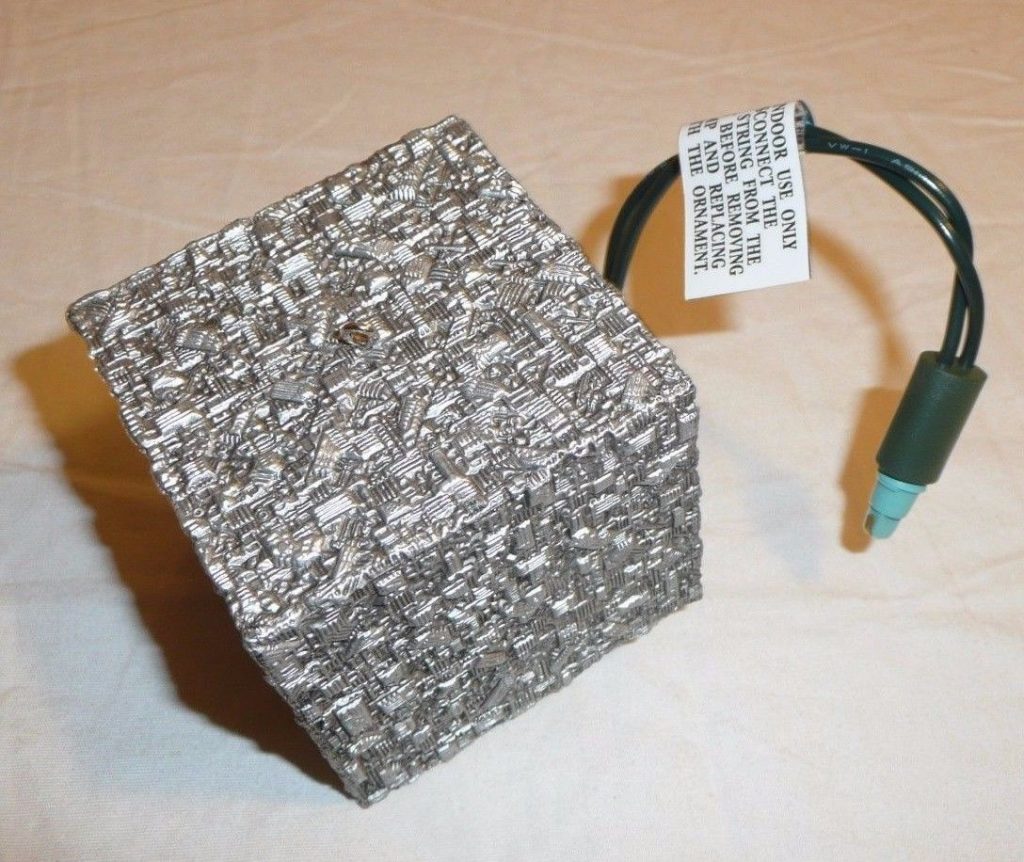 A unique ornament – Depicts the distinctive cube-shaped vessel of the Borg Collective. Known for its speed and adaptability, the massive spaceship has powerful weapons and an uncanny ability to repair itself if damaged in combat. Light glows errily and steadily from within the ship. To hear an exclusive greeting delivered in true Borg fashion, press the button located on the ornament. This message will play through one time and stop automatically: "We are the Borg. Enjoy your holidays. Resistance is futile."
(3)  Behold the evil glory of the Baphomet, Krampus and Cthulhu tree toppers!
Here's Cthulhu!
(4) Badass garden gnomes to protect your front lawn
Star Wars Garden Jawa

These rodent like creatures from Tatooine were born to do this job. If they were good enough to find C-3PO and R2-D2, they're good enough for your front lawn. Plus he's traveled from a galaxy far, far away to serve you, so you know he's not going anywhere.
(5) The only shortcoming of these great rocket bookends is the $150 pricetag.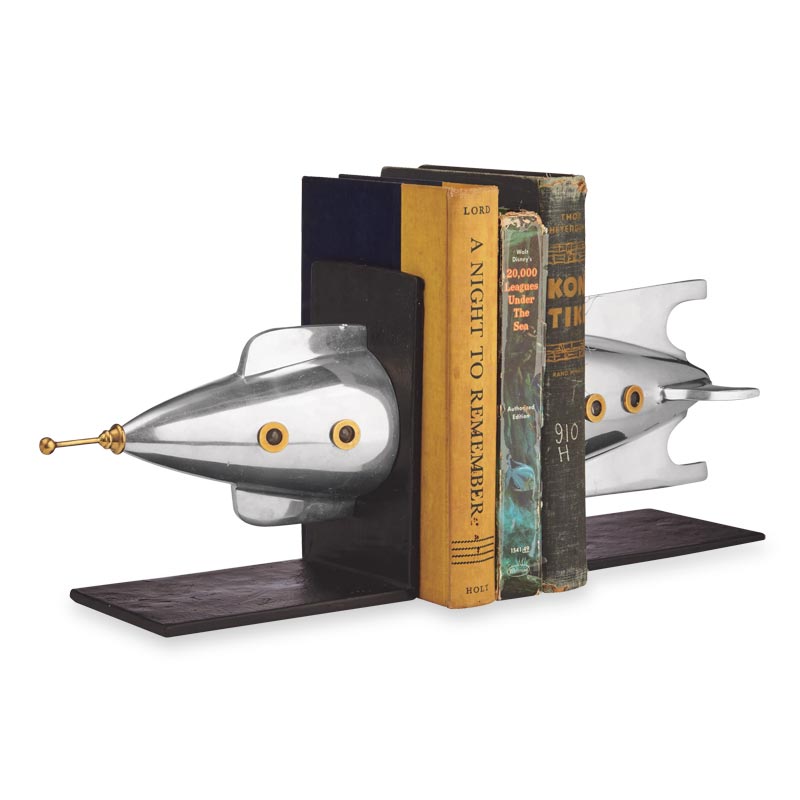 Retro rocket bookends, fashioned in solid metal The two hand-polished aluminum halves of this powerful rocket can hold an infinite mass of knowledge between them. Heavy iron bases and soft felt bottoms keep planetary sagas secure without scratching shelves, while the brass antenna and portholes allow unseen passengers to look out over your personal library.
(6) Horror Christmas Tree Ornaments
This holiday season, decorate your Christmas tree in style! Thanks to Middle of Beyond, your tree no longer has to endure the painfully boring ornaments that we all know and hate. Behold!

The other day when my family was decorating the tree, there was a discussion about the tree topper. We know we're not going to have an angel, so what other options do we have? A star, a ribbon…meh. What a pointless conversation that was. Little did I know, MOB has a Cthulhu tree topper! I'll be honest, I don't think my significant other will sign off on that, but I might be able to sneak a Cthulhu ornament on the tree.
(7) Dragon Baubles by Aeilia Petro
As we've already established earlier, Aelia Petro is a pretty big fan of dragons. Remember her dragon jewelry that makes you feel like the mother of dragons? Well, she's now created something just as awesome – dragon baubles!

The baubles come in many different colors and have tiny little dragons hugging them as if they were their own eggs. They're perfect for decorating your Christmas trees and bringing some magic into your homes! Unfortunately, the baubles aren't on sale right now, but will hopefully be available again soon! Keep on checking in at the ArtByAelia Etsy shop to purchase them.
(8) The Star Wars Fleece Robes (Hammacher Schlemmer)
These are the hooded fleece robes that transport common Earthlings to a galaxy far, far away, to assume the persona of an iconic Star Wars character. Made from thirsty 100% polyester fleece that keeps one as dry as Tatooine, each bears its namesake's signature hallmarks from the beloved movies. Chewbacca's faux fur exterior replicates the Wookie's cuddly yet fierce bearing, with his shoulder-slung ammunition bandolier and integrated waist pouch; Darth Vader's E-3778Q-1 armor contains the Sith Lord's life support system and a holstered light saber; Princess Leia's hood sports her signature side bun hairstyle; the Jedi Knight's proudly displays the rebel alliance starbird and a holstered lightsaber that informs the galaxy of where one's true allegiance lies. With two front pockets and a removable fleece tie. Machine wash. Imported. One size fits most adults. (3 lbs.)
(9) It's also possible to order matching slippers for some of these robes. For example:
Darth Vader Slippers (Hammacher Schlemmer)
These are the Darth Vader slippers preferred by those who like to hum the "Imperial March" when striding forth to fetch the paper. Keeping toes as warm as wampa fur during a Hoth winter, the open-back scuffs wrap the foot in cozy, heat-trapping polyester plush while still being easy to slip on and off. The fires that fuel Darth Vader's internal torment project an air of ferocity that forces out the cold, ensuring that the warmth will be with you. Sizes S (Men's 7-8; Women's 8-10) or L (Men's 11-12; Women's 11-14). (1 lb.)
(10) Invade your neighbor's privacy with the U.S.S. Enterprise Quadracopter (Hammacher Schlemmer)
This is the only remote controlled flying U.S.S. Enterprise that explores strange new yards and seeks out new life and new civilizations. Modeled after Captain James T. Kirk's famous vessel as it appeared in the 1979 motion picture, it has four 3 1/2″ diam. propellers built into its iconic primary hull to provide backward, forward, up, down, or sideways movement. Providing superior flight stability, the quadcopter's six-axis stabilization allow it to be tossed into the air and throttled up simultaneously. Its four-channel 2.4 GHz remote provides digital proportional control of rotor speed for flights from 200′ away. The quadcopter plays 10 sounds from the original television series (e.g. photon torpedoes and red alert) and its 10 LEDs replicate the ship's hull and nacelles' lights. Its rechargeable battery provides up to seven-minute flights from a one-hour charge via its USB cable. Includes display stand and remote control (requires four AA batteries). Ages 10 and up. 15 1/2″ L x 9 3/4″ D x 4 1/4″ H. (4 oz)
(11) Gardenzilla (ThinkGeek)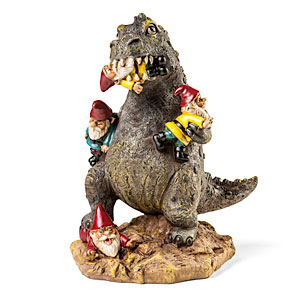 It all starts out so innocently. You might notice one or two on the ground under a rose bush or near a climbing vine, but you don't think much of it. Then one day you go outside and realize your entire garden has been overrun. What are your options? You could coat everything with some highly-toxic pesticide and hope for the best. Or you could install a Kaiju in your garden, guaranteed to get rid of those pesky gnomes. This guy spares gnone.

Pesky garden gnomes have finally met their match in the Rampaging Kaiju Garden Gnome. We're not sure how the Japanese scientists shrunk him to 9″ tall, but we assume it had something to do with radiation. Made of durable cast poly resin, he's ready to take his place as the guardian of your garden