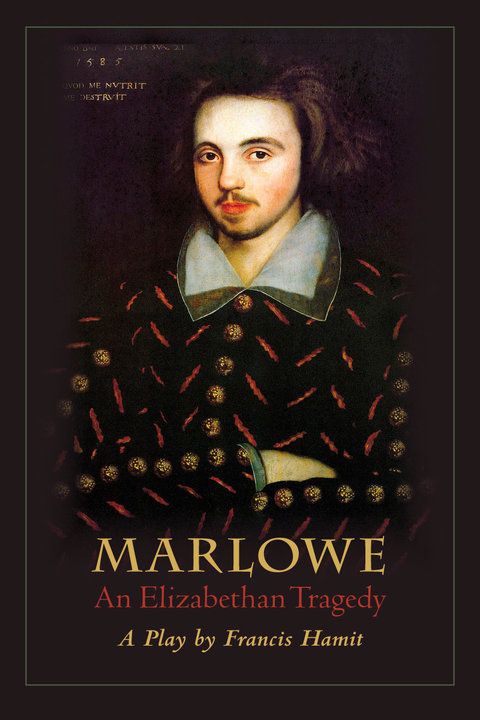 The text of Francis Hamit's 1988 stage play Marlowe: An Elizabethan Tragedy has been out of print for ages. I've never read it because a copy, if it can be found, runs about $140.
That will soon change because Hamit plans to put the play up on Kindle, then in a print-on-demand edition.  He adds:
The cover illustration is a 16th century painting thought to be a portrait of Marlowe.  The type was designed by George Mattingly of George Mattingly Design, one of my oldest friends. We will be using this public domain image on a lot of things.
And that's not all!
The screenplay for "MARLOWE: An Elizabethan Tragedy" will be published as a trade paperback for about $20.00. If you want a signed copy of an actual screenplay we will also send you one for $50.00 plus $5.00 shipping and handling (California residents should add $4.25 for state sales tax.) The screenplay is about 120 pages and 8 1/2 by 11 inches. It is not a shooting script, but a first draft with 47 master scenes. The paperback will be available next month and will have an ISBN so you can order it from bookstores. Send an email if you want a script copy. It's a real collectible.

For a script copy send a check or money order for $55.00 (plus any sales tax) to Brass Cannon Books, P.O. Box 5499, Pine Mountain Club, CA 93222-5499. It will be sent Priority Mail (USA Only). Orders from other nations require us to charge different prices for postage, so please e-mail us first.

The script copy can also be ordered through Brass Cannon Books Facebook page (they've very quietly rolled out a shopping cart function) with a special price if they hit the "like" button for that page and we will also accept orders by PayPal at [email protected].

They can also use the Facebook shopping cart and "like" button on the Facebook page for "The Shenandoah Spy"

And Brass Cannon Books is also sponsoring book club meetings on Meetup.com and offering a special "Perk" for their members — 16 book clubs so far with over 1,600 members.

This social networking stuff may have a future after all.

As for the film, we are working towards some formal announcements in the near future.