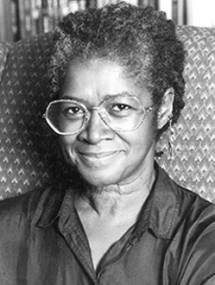 Mystery Writers of America (MWA) announced the recipients of three special awards on December 13. Barbara Neely has been named the 2020 Grand Master; the 2020 Raven Award recipient is Left Coast Crime, an annual convention; and Kelley Ragland will receive the Ellery Queen Award at the Edgar Awards Banquet in New York City on April 30, 2020.
MWA Grand Master
MWA board president Meg Gardiner said:
Neely is a groundbreaking author, and MWA is delighted to recognize her work, in which she tackles tough social issues with an unflinching eye and a wry sense of humor.
MWA's Grand Master Award acknowledges important contributions to the mystery genre, as well as for a body of work that is both significant and of consistent high quality. Barbara Neely is best known for her Blanche White mystery series, and her debut, Blanche on the Lam, received the Agatha Award, Anthony Award, and the Macavity Award for best first novel, as well as the Go on Girl! Award from Black Women's Reading Club. Neely published her first short story, "Passing the Word" (1981) in the magazine Essence.
Her Blanche White novels, which featured the first black female series sleuth in mainstream American publishing, followed a decade later beginning with Blanche on the Lam (1992), followed by Blanche Among the Talented Tenth (1994), Blanche Cleans Up (1998), and Blanche Passes Go (2000) and are beloved by fans in part because of her unique heroine—an amateur detective and domestic worker who uses the invisibility inherent to her position to her advantage in her pursuit of the truth.
"MWA Grand Master! I hope this doesn't mean I have to relinquish my position as Empress Regnant of the Multiverse," Neely said on learning of the award.
Neely's nomination cited the stories of Blanche White for containing themes and issues that extends beyond mystery and into political and social commentary:
Blanche allows Neely to explore the female beauty. There are other issues that Neely is able to tackle through her writing—such as violence against women, racism, class boundaries, and sexism. Barbara Neely is quoted as saying, 'That as a feminist mystery writer it is not enough to create strong women, and that maybe the term 'feminist mystery writer' is being used too loosely.'
Neely attended the University of Pittsburgh where she earned her master's degree in Urban and Regional planning before beginning a career in the public sector. Neely served as director of Women for Economic Justice, worked in the Philadelphia Tutorial Project, became the director of a YWCA, and headed a consultant firm for nonprofits. In addition, she became a radio producer for Africa News Service, and later, a staff member at Southern Exposure magazine.
The Raven Award
Left Coast Crime will receive the 2020 Raven Award for outstanding achievement in the mystery field outside the realm of creative writing.. Left Coast Crime is an annual mystery convention sponsored by mystery fans, both readers and authors, first held in San Francisco in 1991.
The all-volunteer organization raises money each year to support a local literacy organization with funds collected through silent and live auctions, and the annual Quilt Raffle. The Left Coast Crime Permanent Committee is Bill and Toby Gottfried, Noemi Levine, Janet Rudolph, Lucinda Surber, and Stan Ulrich.
The Ellery Queen Award
The award, established in 1983, honors "outstanding writing teams and outstanding people in the mystery-publishing industry." This year the Board chose to honor Kelley Ragland, associate publisher and editorial director of Minotaur Books. Ragland came to Minotaur Books in 1993.
On learning she would receive the Ellery Queen Award, Ragland said:
I'm honored and not a little bit stunned to have been recognized by MWA with the Ellery Queen Award. To be added to a list that includes such inspiring professionals in our community, especially St. Martin's own Ruth Cavin, is truly humbling. My work with mystery authors at Minotaur Books, which celebrated its 20th anniversary this year, and within the mystery community—what I have always found to be the most supportive, generous, and dedicated slice of the publishing world—is a source of great joy to me. Thanks to MWA for this recognition, and their support of all facets of the mystery community, including publishers, writers—especially new writers—and readers.