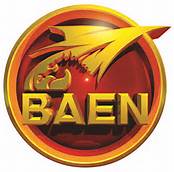 READING SERIES. Baen Books has launched a weekly author reading series to be conducted at 8 p.m. Eastern every Friday, hosted by editor Christopher Ruocchio via Zoom and Facebook LIVE.
On April 10 the guest will be Steven Barnes, reading from Starborn & Godsons, the third volume in the acclaimed Legacy of Heorot series that he co-authored with Larry Niven and the late Jerry Pournelle.
Following the reading, Barnes will take questions from the audience.
TRAVELING ROADSHOW. Additionally, Baen will be hosting a live version of their Travelling Roadshow, a showcase of all our upcoming titles—with special attention paid to the original cover art, Baen's free ebook library, extensive study guides, and more—featuring several of their authors. Audience interaction is encouraged, and there will be free books awarded. The Roadshow will air in two parts, one on April 11 at 4 p.m. Eastern, and the next on April 18 at 4 p.m. Eastern.
All Baen Livestreaming can be found on the Baen Books Facebook page.