(1) PLANE CRASH CLAIMS BLUE ORIGIN TRAVELER. Just last month he was part of the foursome with William Shatner who rode Blue Origin to the edge of space: "Blue Origin astronaut Glen de Vries dies in plane crash" reports CNN.
One of Blue Origin's newest astronauts, 49-year-old Glen de Vries, survived a ride to space in October alongside actor William Shatner. But less than a month later, he was killed in a small plane crash on Thursday in New Jersey.

…De Vries never disclosed how much he paid for a seat on the New Shepherd spacecraft. But whatever the amount was, after returning to Earth, de Vries told CNN it was worth it.

"We are devastated to hear of the sudden passing of Glen de Vries," a spokesperson for Blue Origin said. "He brought so much life and energy to the entire Blue Origin team and to his fellow crewmates. His passion for aviation, his charitable work, and his dedication to his craft will long be revered and admired."
Also on last month's flight was Chris Boshuizen, a co-founder of satellite company Planet Labs, and Audrey Powers, Blue Origin's vice president of mission and flight operations.
(2) LITERARY ARTS EMERGENCY FUND. Applicants can apply for funds administered by the American Academy of Poets, National Book Foundation, and Community of Literary Magazines and Presses until January 6, 2022: see the Literary Arts Emergency Fund Submission Manager.
ELIGIBILITY
Literary arts organizations and publishers* AND
Incorporated nonprofits with 501(c)3 status OR a fiscal agent AND
Based in the United States, U.S. territories, or Tribal lands
*Because recent financial losses experienced by nonprofit literary arts organizations and publishers have been substantial and emergency relief is limited, libraries, museums, book arts organizations, humanities councils, centers for the book, residencies, playwriting organizations, author's homes, and organizations devoted to championing the legacy of an individual writer are ineligible.
(3) COME EXPERIENCE NONVIRTUAL REALITY. "Iceland Skewers Mark Zuckerberg's Metaverse With New Tourism Ad" – Gizmodo sets the frame for this wonderful send-up:
Iceland released a new tourism ad on Thursday, poking fun at Facebook's (sorry, Meta's) recent promises for how we're all going to live in the future. But Iceland's version of Mark Zuckerberg doesn't want to sell you on visiting the sci-fi dystopia that we were all warned about for decades. No, Iceland just wants you to see its geysers and stuff.

… Iceland is desperate to get tourists back into the country, with tourism accounting for almost 9% of the nation's GDP before the pandemic and employing roughly 30,000 people. But covid-19 obviously put the brakes on tourists visiting its scenic vistas—though Iceland is looking to lure those people back with clever ads.
(4) EATING THE FANTASTIC. Scott Edelman invites listeners to Take a break for baklava with Suzanne Palmer in episode 158 of the Eating the Fantastic podcast.
…Ay last month's Capclave in Rockville, Maryland. I was able to harvest two con conversations for you there, something I haven't been able to do in far too long — the first, this episode's lunch at Mykonos Grill with Suzanne Palmer.

Suzanne Palmer is a multi-award-winning science fiction writer. Her novelette "The Secret Life of Bots" won a Hugo Award in 2018, as well as the Washington Science Fiction Association Small Press Award, plus her story "Waterlines" won the 2020 Theodore Sturgeon Memorial Award. She's published three novels with DAW Books about an interstellar repo man — her debut novel Finder in 2019, followed by Driving the Deep (2020) and The Scavenger Door (2021).

Her love of narrative science fiction extends beyond the written word, for when she was obtaining her Bachelors degree of Fine Arts in sculpture from the University of Massachusetts at Amherst, her thesis exhibition consisted of an entire museum of artifacts from a fictional world, including clothing, coins, furniture, manuscripts — and an 8? tall horned creature covered with fur. I found that part of her background, unknown to me until I started preparing for my conversation, fascinating, since as longtime listeners know from my interview with the team at Submersive Productions in Episode 86, I love immersive theater.

We discussed her recurrent dreams of accidentally impaling someone with her Hugo Award trophy during the ceremony, the Ray Bradbury story she copied out of a library book by hand word for word as a child, the differences between The Hobbit and The Lord of the Rings (and why some readers have difficulties with the latter), the way a friend's urgings she do NaNoWriMo caused her to take her writing more seriously, the spark that gave birth to her interstellar repo man Fergus Ferguson, how the pandemic affected the writing of her latest novel, and much more.
(5) ON THE MOVE. A new quarterly magazine of speculative fiction by immigrant and diaspora writers has produced its third issue. Click here.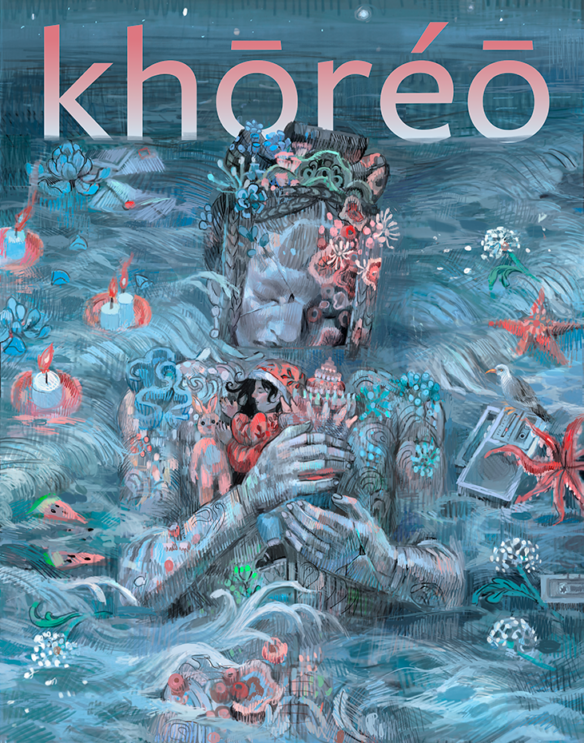 We are dedicated to diversity and elevating the voices of immigrant and diaspora authors.

We publish fiction, genre non-fiction, and art; our stories include fantasy, sci-fi, horror, and any genre in between or around it — as long as there's a speculative element. We're especially interested in writing and art that explores migration. Examples include themes of immigration, diaspora, and anti-colonialism, as well as more metaphorical interpretations of the term.

Any act of migration, whether voluntary or forced, requires a recalibration of self-identity. We are defined, after all, by the environment that surrounds us: people, language, food, smell, sound. To change any one of them may be disorienting; to change them may leave us adrift. What better medium to explore this sensation than speculative fiction, where the author must create a new world for the reader to inhabit?
(6) GAINING MOMENTUM. Fusion Fragment was relaunched in March 2020 as a semi-pro SF market. Issue #8 is already here, and issue #9 is coming soon.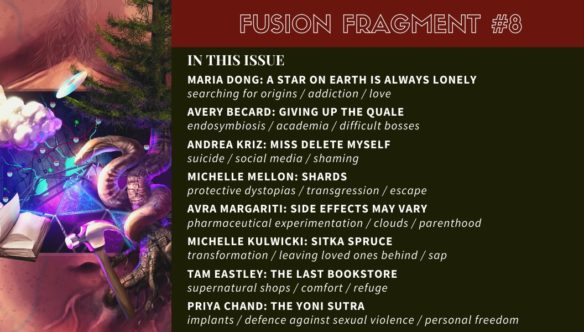 The publisher tweeted about #9: "Also did I imagine that this is the biggest issue ever? And also that it has a new layout? And also that it has a new short fiction review column? I'm super excited and gonna start proofreading immediately to get this issue out to everyone soon!"
(7) BAYMAX! The trailer for a Disney Plus series in the Big Hero 6 universe dropped today.
(8) MEDIA BIRTHDAY.
1961 — Fifty years ago at Seacon with the Toastmaster being Harlan Ellison, Poul Anderson wins the first of what eventually will be seven Hugos, for "The Longest Voyage." It was first published in Analog Science Fact -> Fiction in the November 1960 edition. The other nominated works that year were Pauline Ashwell's "The Lost Kafoozalum", Philip José Farmer's "Open to Me, My Sister" and Theodore Sturgeon''s "Need". It's in The Collected Short Works of Poul Anderson, Volume Two: The Queen of Air and Darkness that NESFA published.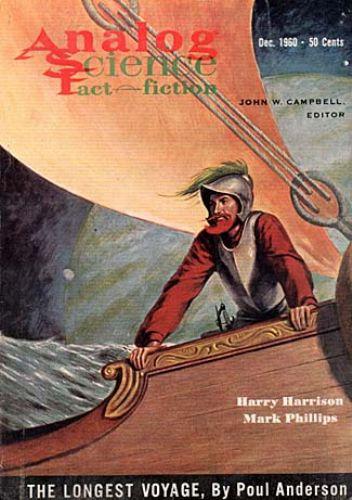 (9) TODAY'S BIRTHDAYS.
[Compiled by Cat Eldridge.]
Born November 12, 1917 — Dahlov Ipcar. Though primarily an artist and you really should go visit her website, she wrote three amazing young adult novels between 1969 and 1978 which are The Warlock of Night, The Queen of Spells and A Dark Horn Blowing. She lived but thirty miles north of here and I was privileged to meet her a few times. Lovely lady! (Died 2017.)
Born November 12, 1922 — Kim Hunter. She portrayed the chimpanzee Zira in the Planet of the Apes films For the first three outings. Her first genre roles was her first film role as Mary Gibson in the early Forties, The Seventh Victim. She's June in A Matter of Life and Death, and Amanda Hollins in The Kindred. She has one-offs on Project U.F.O., Night Gallery, Mission Impossible and even appeared on The Evil Touch, an Australian horror anthology series. (Died 2002.)
Born November 12, 1929 — Michael Ende. German author best known for The Neverending Story which is far better than the film which only covers part of the novel. Momo, or the strange story of the time-thieves is a charming if strange novel worth your time. The rest of his children's literature has been translated from German into English mostly by small specialist presses down the years. Unlike The Neverending Story and Momo which I've delightfully encountered, I've not read any of these. (Died 1995.)
Born November 12, 1943 — Wallace Shawn, 78. Probably best remembered as the ferengi Grand Nagus Zek on Deep Space Nine, a role he only played seven times. He was also Vizzini in the beloved Princess Bride, and he played Dr. Elliott Coleye in the My Favorite Martian film. He also was the voice of Rex in the Toy Story franchise.
Born November 12, 1945 — Michael Bishop, 75. David Pringle included his Who Made Stevie Crye? novel in Modern Fantasy: The 100 Best Novels, An English-Language Selection, 1946-1987, high praise indeed. Though it feels slightly dated now, I'm fond of his Urban Nucleus of Atlanta series. And Philip K. Dick is Dead, Alas is simply amazing. He's nominated for far too many Hugos to recount here. His major Award is a Nebula for his No Enemy but Time novel.
Born November 12, 1952 — Max Grodenchik, 69. He's best known for his role as Rom, a recurring character on Deep Space Nine. He has a long genre history with appearances in The Rocketeer, Here Come The Munsters, Rumpelstiltskin, Star Trek: Insurrection (scenes as a Trill were deleted, alas), Tales from The Crypt, Sliders, Wienerland, The Adventures of Rocky and Bullwinkle and Bruce Almighty.
Born November 12, 1982 — Anne Hathaway, 39. She starred as Selina Kyle in The Dark Knight Rises, the final installment in The Dark Knight trilogy. More impressive she was The White Queen In Alice Through the Looking Glass, and she was Agent 99 in the remake of Get Smart! No, not as good as the original but fun nonetheless.
(10) COMICS SECTION.
Saturday Morning Breakfast Cereal "Norms": The times they are a'changing? Yes? No?
(11) BOOZE WITH A VIEW. Untapped New York takes you to the "7 Best Bars in NYC Where a Drink Is Served with a Work of Art". Only one or two are in the genre of fantastic art, still, it's a very interesting article.
Located at 59 Grove Street, Marie's Crisis is housed in an 1839 building. Its name is derived from Thomas Paine's essay, The American Crisis, since Paine died on the site in 1809, and from Romany Marie, who was the proprietor of several tearooms in Greenwich Village at the turn of the century. Today, Marie's Crisis is a piano bar where a showtune is never far away and was a former haunt of Eugene O'Neill and Edward VIII. The ambiance is aided by a WPA mural, whose origins are unknown. The mural behind the bar depicts the French and American revolutions and another mural entitled La Convention depicts Robespeirre, Danton, and Paine.
(12) SECOND WORLDSHAPERS ANTHOLOGY. Edward Willett's Shapers of World Volume II, a sequel to last year's Shapers of Worlds, was released November 2, featuring new stories from Kelley Armstrong, Marie Brennan, Garth Nix, Candas Jane Dorsey, Jeremy Szal, Edward Willett, Bryan Thomas Schmidt, Lisa Foiles, Susan Forest, Matthew Hughes, Heli Kennedy, Helen Dale, Adria Laycraft, Edward Savio, Lisa Kessler, Ira Nayman, James Alan Gardner, and Tim Pratt, plus reprints from Jeffrey A. Carver, David D. Levine, Carrie Vaughn, Nancy Kress, Barbara Hambly, and S.M. Stirling. Both books were Kickstarted, with each raising approximately $16,000 CDN in pledges. The book is available from Shadowpaw Press and other retailers.
All of the authors were guests during the second year of Willett's Aurora Award-winning podcast, The Worldshapers.
Willett is himself an award-winning author of more than sixty books of fantasy, science fiction, and non-fiction for readers of all ages, including eleven novels for New York's DAW Books. His twelfth novel for DAW, the humorous space opera The Tangled Stars, will be out in 2022.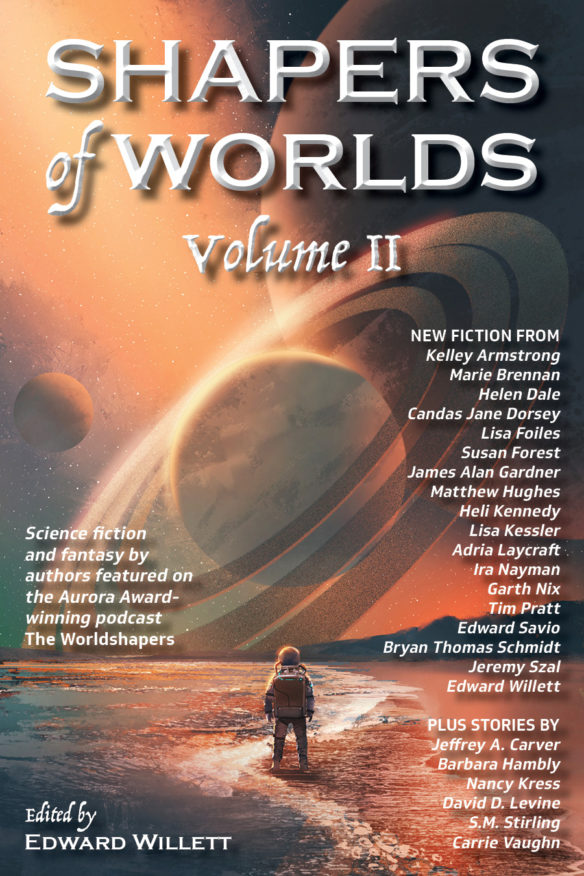 (13) IT IS THE END MY FRIEND. The Guardian profiles a band that draws on sff as one of its inspirations: "Placebo: 'It's not the end of the world. It's just the end of the human species'".
… While writing the album, Molko returned to the sci-fi films he had loved as a child – psychedelic ruminations on technology and power from the 1970s, such as Fantastic Planet and Silent Running. "I'm very interested in creating, with each song, an alternative universe where the laws of physics don't necessarily apply," he says. "Each song really does exist in its little parallel universe. If we're not tied down to the laws of physics that are generally accepted in the universe we see, then certainly emotion will follow. Certainly anything is possible in another reality. It allows me to speak freely about what bothers me. I try to exaggerate things to increase dramatic effect, to highlight how ridiculous our reality is."…
(14) INGENUITY INDEED. [Item by Mike Kennedy.] It's Summer on Mars where the Ingenuity helicopter is, and this is an issue. The atmosphere is significantly thinner in the Martian Summer's relative warmth, which cuts down on the lift the rotors can generate.
Not wanting to give in to the mere fact of trying to operate a helicopter remotely in conditions it was never designed to accommodate, NASA engineers used a little ingenuity of their own.
By sharply upping the rotors' RPM, then remotely diagnosing a problem with the flight control motors, NASA took Ingenuity for a short test hop then a longer checkout flight. This sets the scene to resume using Ingenuity to scout locations for the Perseverance rover. Ars Technica reassures us that "NASA's stalwart Mars helicopter is back and better than ever".
…Cumulatively, Ingenuity has now flown more than 3 km across the surface of Mars—more than five times farther than NASA had hoped to demonstrate with this technology. It's safe to say that flying on other worlds, with atmospheres, will be more than just a passing fad for future exploratory missions. Rather, it likely represents the future.
(15) INTELLIGENT LIFE – ON EARTH? [Item by SF Concatenation's Jonathan Cowie.] Nature reports on papers that show "Mysterious 'alien beacon' was false alarm" — "Radio signal seemed to originate from the star Proxima Centauri, and provided a helpful drill for future searches."
A radio signal detected by an Australian telescope in 2019, which seemed to be coming from the star closest to the Sun, was not from aliens, researchers report today in two papers in Nature Astronomy [here and here];

"It is human-made radio interference from some technology, probably on the surface of the Earth," says Sofia Sheikh, an astronomer at the University of California (UC), Berkeley, and a co-author of both papers.

But the disturbance, detected by Breakthrough Listen — an ambitious and privately funded US$100-million effort in the search for extraterrestrial intelligence (SETI) — looked intriguing enough at first that it sent astronomers on a nearly year-long quest to understand its origins. It was the first time that data from Breakthrough Listen triggered a detailed search, and the experience puts scientists in a better position to study future candidate detections.

"It's really valuable for us to have these dry runs," says Jason Wright, an astronomer at Pennsylvania State University in University Park. "We need these candidate signals so we can learn how we will deal with them — how to prove they are extraterrestrial or human-made."

Mysterious blips

Since 2016, Breakthrough Listen has used telescopes around the world to listen for possible broadcasts from alien civilizations. The programme has picked up millions of radio blips of unknown origin, nearly all of which could be swiftly classified as coming from radio interference on Earth, from sources such as mobile-phone towers or aircraft radar.

The 2019 signal was different. It was detected by the 64-metre Parkes Murriyang radio telescope in southeastern Australia and came from the direction of Proxima Centauri — the nearest star to the Sun, just 1.3 parsecs (4.2 light years) away. Proxima Centauri is of intense interest to SETI researchers, not just because it is nearby. The star has at least two planets, one of which orbits at the right distance for liquid water to be present on its surface — a prerequisite for life as it exists on Earth…

…"The Universe gives us a haystack," says Ravi Kopparapu, a planetary scientist at NASA's Goddard Space Flight Center in Greenbelt, Maryland. "It is our need to find the needle in it, and make sure that it is actually a needle that we found."…
(16) VIDEO OF THE DAY. [Item by Martin Morse Wooster.] In Ryan George's "James Bond: Skyfall" on Screen Rant, Bond gets shot, falls off a high bridge, and his semi-conscious body plunges down a giant waterfall.  But why didn't he die?  We don't know, but there's a cool opening song by Adele to cover up the handwaving!
[Thanks to JJ, John King Tarpinian, Andrew Porter, Lise Andreasen, Scott Edelman, SF Concatenation's Jonathan Cowie, Michael Toman, Cat Eldridge, Mike Kennedy, Martin Morse Wooster for some of these stories. Title credit belongs to File 770 contributing editor of the day Jayn.]