(1) SCROLLO. Four genuine Solo posters appeared in this space recently. I learned from Nerdist there have been a lot of Solo parodies, like these —
Lmfao ? The only poster any true Sta Wars Fan needs. I'm getting this one for sure. #benswolo #Solo #StarWars #KyloRen #posters #lol #posters #lucasfilm pic.twitter.com/9XL5WO9sW7

— Starcorps (@Starcorpsonline) February 5, 2018
You missed one. pic.twitter.com/hgbgrzKi25

— Link Voximilian (@LinkVoximilian) February 5, 2018
Whoops, we missed this off the first tweet #HanSolo pic.twitter.com/iEAGR3TE02

— GameSpot (@gamespot) February 5, 2018
Move over Alden Ehrenreich, this is the poster that gets me excited for the Solo movie! #SoloStarWars #Ewoks pic.twitter.com/ldjG6vBOGx

— Boris Fraser (@Seraph_31) February 5, 2018
WHO DID THIS? WHICH ONE OF YOU IS RESPONSIBLE? pic.twitter.com/4IlF9rntcP

— Bryan Fuller (@BryanFuller) February 6, 2018
(2) WHAT, ME WORRY? In December, the Scroll linked to Washington Post writer Joel Achenbach's query about whether robots will kill us all once AI becomes smarter than people. The Bookmark has responded with "Artificial Intelligence: Today's Intrigue. Tomorrow's Terminator", which tells each AI's Terminator Score, and how close each AI is to bringing about the end of the world.
"How might AI fit into our lives?" Our chart explains advancements in AI ranging from novelty to utility. You can click on any of the AI to learn more about how humans benefit from their existence. And, use our Terminator score (with 1 being the least threatening and 5 being the most) to help decide if you should worry about a robot uprising with each AI.
(3) LEVAR AND LANGFORD. Congratulations to David Langford, whose short story "Different Kinds of Darkness" is on Episode 19 of LeVar Burton Reads.
A group of children form a secret society around a mysterious and powerful artifact….
(4) SURPRISED BESTSTELLER. This scam involving fake books is a means of laundering money (not to gull regular readers into buying fake books as if they came from their favorite author) — "Money Laundering Via Author Impersonation on Amazon?"
Patrick Reames had no idea why Amazon.com sent him a 1099 form saying he'd made almost $24,000 selling books via Createspace, the company's on-demand publishing arm. That is, until he searched the site for his name and discovered someone has been using it to peddle a $555 book that's full of nothing but gibberish….

…Reames said he suspects someone has been buying the book using stolen credit and/or debit cards, and pocketing the 60 percent that Amazon gives to authors. At $555 a pop, it would only take approximately 70 sales over three months to rack up the earnings that Amazon said he made.
(5) KUGALI. One of several crowdsourced projects hoping to ride the Black Panther's wave is "The Kugali Anthology", featuring African and diaspora creators.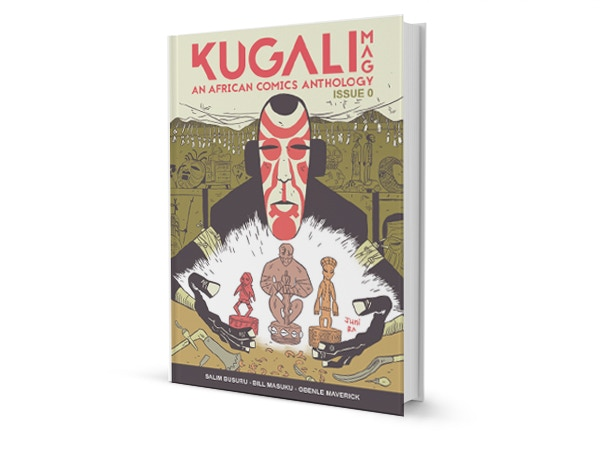 200 full colour pages.  15 incredibly talented creators, 6 amazing stories and two wonderfully designed covers. But above all: a comic book experience you won't find anywhere else!

From multiple award-winners to the brightest up-and-coming voices, Kugali has united some of the most talented artists across the African continent and diaspora. Our creators hail from across Africa (Nigeria, Kenya, Zimbabwe, Zambia, Senegal, Cameroon, South Africa, Uganda) and other parts of the world (Venezuela, Brazil, Jamaica, the US and the UK)….
So far backers have pledged $2,890 of the $13,596 goal, with 28 days remaining.
(6) OTHERING. Dare Segun Falowo has a lot of interesting things to say about the villains from Black Panther.
….A lot of people are like he was right ideologically and I get where they are coming from. Still he wouldn't have ended up being morally right because his repressed disdain for his place in the world has left him ill. He would have kept on drinking more and more of that sense of complete and utter power and it would have ruined him. He even had the purple plant destroyed because he wanted it for himself alone.

So he basically had actions that marked him out as obviously villainous but behind all these actions are factors like being abandoned as a child, being excluded by his blood. Think of it, how African Americans and certain Africans don't get along because these Africans believe that African Americans are not African blah blah blah. It really hits a spot and the way the character is crafted, down to the jagged family ties, brings together a lot of the facets of what is seemingly wrong with the idea of the African-American both from the Western viewpoint, and from the African viewpoint. He stands in the middle. He's othered actually. He's an other in the story. Even though he has the accent and all, he belongs nowhere….
(7) SOCIOLOGY AT THE BOX OFFICE. According to NPR, a "Hollywood Diversity Study Finds 'Mixed Bag' When It Comes To Representation".
The global box office success of Black Panther is no surprise to UCLA sociologist Darnell Hunt. His annual report on Hollywood diversity argues that movies and TV shows with diverse casts and creators pay off for the industry's bottom line.

Hunt says Black Panther, for example, "smashed all of the Hollywood myths that you can't have a black lead, that you can't have a predominantly black cast and [have] the film do well. It's an example of what can be done if the industry is true to the nature of the market. But it's too early to tell if Black Panther will change business practices or it's an outlier. We argue it demonstrates what's possible beyond standard Hollywood practices."

The fifth annual diversity report is subtitled, "Five Years of Progress and Missed Opportunities," suggesting that America's increasingly diverse audience prefers diverse film and television content. The study reports that people of color bought the majority of movie tickets for the five of the top 10 films in 2016, and television shows with diverse casts did well in both ratings and social media.
(8) MELNIKER OBIT. Benjamin Melniker, best known as a producer on Warner Bros.' many Batman projects, has died at the age of 104.
Melniker was credited on every big-screen version of the DC superhero since Tim Burton's 1989 film.
(9) COMICS SECTION.
John King Tarpinian found genre laughs in the Wizard of Id – I laughed too!
(10) DEEPSOUTHCON. At last weekend's DeepSouthCon business meeting, CONtraflow (New Orleans) won its bid to host DSC in 2020.
(11) ANNIHILATION. The BBC's Caryn James awards "Four Stars for the thrilling Annihilation".
… The further the team explores, the more we see of each character's particular vulnerability. Cass is grieving for a dead child. Anya is a sober addict. In flashback we learn that Lena's marriage was not as perfect as it seemed at the start. "Almost none of us commit suicide," Ventress says about the team's apparent suicide mission, extending it to a sweeping assessment of human nature. "Almost all of us self-destruct."

Garland playfully borrows from classic genre films and makes those references and influences his own. There are scenes that evoke 2001, Close Encounters of the Third Kind, Alien and any number of Terrence Malick films. The minimalist, electronic score by Geoff Barrow (of the group Portishead) and Ben Salisbury adds a subtle layer of mystery….
(12) YOUTUBER MIGRATES TO TUBE WITH NEW SFF COMEDY. The Daily Beast's Karen Han asks "Is 'Final Space' the Next Great Animated Series?"
Even if the name Olan Rogers doesn't ring a bell, if you've spent any time on the internet over the past few years, you've probably seen his face. His YouTube channel has close to a million subscribers, and his videos are popular to the point that they've been mined for reaction images and GIFs. His latest project is considerably larger in scale, though it still bears the signs, good and bad, of that more short-form medium.

Final Space, airing on TBS and executive produced by Conan O'Brien, is an animated sci-fi comedy. Like most TV shows, it falls prey to the rule of "give it a few episodes and then it'll get good," but it's charmingly animated and bite-sized to boot (each episode clocks in at just over 20 minutes), so it's worth sitting through the shaky opening episodes to get to what lies beyond.
(13) NO MORE HAPPY FEET? French scientists report that king penguin breeding grounds will become untenable due to global warming: "Scientists Predict King Penguins Face Major Threats Due To Climate Change" (Of course, you all know Happy Feet is about emperor penguins rather than king penguins, so apologies if the headline struck you as a shocking error….)
Seventy percent of the world's king penguin population could face threats to its habitat by the end of this century, according to a new scientific model.

The researchers say the problem is that the animals' primary source of food is moving farther away from places where the penguins can breed. They're very likely going to have to swim farther for their dinner.

"This is really surprising to us, to find such a massive change is going to happen in such a short time frame," says Emiliano Trucchi, a researcher in evolutionary genetics from the University of Ferrara. The team's research, co-led by Céline Le Bohec of the Université de Strasbourg, was published Monday in Nature Climate Change.

Trucchi tells NPR that king penguins breed only on islands that are ice-free near Antarctica, and there are "just a handful" of those.
BBC also has a story.
(14) KEEP DANCING. Maxwell Smart would be proud: hands-free emergency signaling via shoe radios: "Morse code shoes send toe tapping texts at MWC 2018".
A pair of smart shoes has been created to let industrial workers keep in touch via toe-typed coded messages.

The footwear was inspired by Morse code, but made possible by the latest communication technologies.

BBC technology correspondent Rory Cellan-Jones meets the firm responsible at the Mobile World Congress in Barcelona.
(15) TODAY'S OUTRAGE. Io9 was not exactly surprised to find an argument on the internet getting out of hand, one that seemed to have lost track of an obvious fact: "We're Sorry to Have to Remind You, But Groot Is Dead".
Groot is dead. Long live Baby Groot!

Die-hard Guardians of the Galaxy fans are known for having watched and rewatched the James Gunn films multiple times in search of the hard-to-find Easter eggs the filmmaker scattered throughout the movie. That's what makes it so odd that these fans seem to have forgotten something rather important about our dear friend Groot. He's dead.

Gunn recently got into a heated philosophical debate with Entertainment Tonight producer Ash Crossan about whether it would be better to save the life of a single porg (from Star Wars: The Last Jedi) or Groot if forced to choose in a hypothetical situation. Crossnan argued in favor of the porg and Gunn understandably went to bat for Groot, pointing out that the sentient plant had a direct hand in saving the universe.
(16) LUCIFER EPISODE RECAP. Martin Morse Wooster decided to save me from my bad wi-fi by writing a recap instead of sending a link. Thanks, Martin!
I watched Lucifer last night.  I haven't seen the show in a while, but it now has a credit (which it didn't used to have) acknowledging that the comic book on which it is based was created by Neil Gaiman and two other people.  This was the first time I saw that Gaiman had anything to do with this show.

The plot was about a popular YA author who wrote the Class of 3001 series, in which she fictionalized characters from her high school years.  But she put her high school antics in the future, and as one detective said, "She did have to come up with that futuristic sci-fi fantasy stuff.  That's not easy."  The author died because she wrote her novels on a typewriter, and there was only one copy.  The killer pummeled the author with her typewriter, and ultimately confessed that he did it because "she ended the series in the most boring way possible" and didn't want anyone to read her ending.

Also, in the show a clueless nerd fails to impress a blind date by giving her a plant that was "the traditional Mexican cure for constipation."
[Thanks to David K.M. Klaus, JJ, John King Tarpinian, Dave Doering, Cat Eldridge, Chip Hitchcock, Martin Morse Wooster, Carl Slaughter, Rich Lynch, and Andrew Porter for some of these stories. Title credit goes to File 770 contributing editor of the day Nicole J. LeBoeuf-Little.]