(1) IT'S GONE, MAN. Those who view the episode on streaming services won't be seeing it — "HBO Edits 'Game of Thrones' Episode to Remove Errant Coffee Cup" reports Variety.
HBO has quietly scrubbed the misplaced coffee cup out of the "Game of Thrones" episode that aired Sunday night.

The premium cabler acknowledged the gaffe Monday after fans spotted the takeout cup on a table in front of Daenerys Targaryen (Emilia Clarke) in a scene in episode 4 of season 8 just before the 17:40 mark. It resembled a Starbucks cup but in fact came from the production's craft services — and where someone left it behind in Winterfell.

"The latte that appeared in the episode was a mistake. Daenerys had ordered an herbal tea," HBO said in a statement.

As of Tuesday morning, the streaming version of the "GOT" episode available on HBO Now and HBO Go had removed the offending cup from the scene. A rep for HBO confirmed the coffee cup was deleted and that future airings of the episode, "The Last of the Starks," would be of the updated version
(2) CHIANG COLLECTION. Joyce Carol Oates says "Science Fiction Doesn't Have to Be Dystopian" in a brilliant review of Ted Chiang's new collection Exhalation for The New Yorker.
…Indeed, irony is sparse in Ted Chiang's cosmology. It is both a surprise and a relief to encounter fiction that explores counterfactual worlds like these with something of the ardor and earnestness of much young-adult fiction, asking anew philosophical questions that have been posed repeatedly through millennia to no avail. Chiang's materialist universe is a secular place, in which God, if there is one, belongs to the phenomenal realm of scientific investigation and usually has no particular interest in humankind. But it is also a place in which the natural inquisitiveness of our species leads us to ever more astonishing truths, and an alliance with technological advances is likely to enhance us, not diminish us. Human curiosity, for Chiang, is a nearly divine engine of progress….
(3) MILES TO GO. Rudy Rucker's entry for Whatever's The Big Idea is really big!
Real-life road trips end before you want them to. You run into a coastline. The road stops. I wanted a road trip that goes on and on, with ever new adventures, and with opportunities to reach terrain never tread upon before. But how to do that in a car?

I peeled Earth like a grape, snipped out the oceans, shaped the flattened skin into a disk, and put a mountain range around it. Then I laid down a bunch more of these planetary rinds, arranging them like hexagonal tiles on a very wide-ranging floor. All set for a Million Mile Road Trip.
(4) CURRENCY EVENTS. The New York Times tells about an unexpected comics publisher in "Splat! Bam! It's the Federal Reserve to the Rescue". The basic info is that the New York Federal Reserve bank produces comics as teaching tools, and all three have a scifi bent.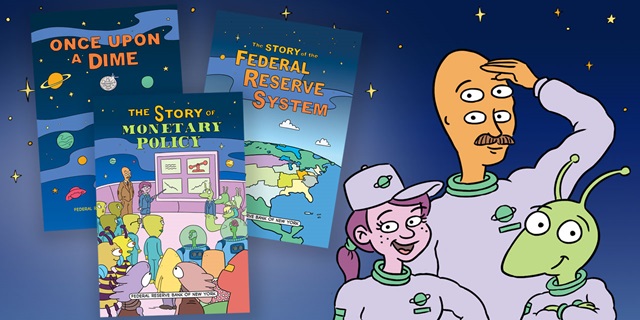 …In one scene, a group of itinerant monetary experts lands on Alpha-Numerica ("voted 3,675,927th best place to live"), where a severe recession is underway. Residents of the planet look like pencil erasers, gumdrops and other forms of geometrically sculpted goop. Unemployment is soaring, businesses are failing, and retirees are struggling to survive.

"This is not where I wanted to be at this point in my life," says one resident, an old purple jelly bean who is sweeping a public square. "Tell me about it," a younger resident says to itself. This individual, a green egg, wears a cap and gown. In one hand, it holds a diploma; in the other, a sign saying, "HIRE ME?"

The situation is dire but can be solved. What is needed is "expansionary monetary policy," declares Glix, a green, lizardlike creature who likes to sing and wear capes.
Here is a link to the New York Fed's download site for its comic books.
The New York Fed's Educational Comic Book Series teaches students about basic economic principles and the Federal Reserve's role in the financial system.

Created for students at the middle school, high school, and introductory college levels, the series can help stimulate their curiosity and raise their awareness of careers in economics and finance. In addition, lesson plans created for each comic book meet national and state standards for New York, New Jersey, and Connecticut.

The New York Fed has published comic books since the 1950s and is reintroducing this popular series with a modern spin. While the comic books are intended for a student audience, they are also available to the public.
(5) AGAINST THE HOUSE. ScienceFiction.com brings word that "Maisie Williams Is Currently Shooting Comic-Based Thriller 'The Owners'".
Filming of a new comic book adaptation, 'The Owners' has begun outside of London, in an isolated Victorian mansion in Kent. Based on a Belgian comic book by award-winning artist Hermann (last name Huppen), and written by his son Yves H. 'The Owners' is being directed by Julius Berg ('La forêt'), with a screenplay by Berg and Mathieu Gompel ('The Dream Kids'). The film's producers, XYZ Films, are currently shopping the picture around at the Cannes Film Festival.

Heading up the cast is 'Game of Thrones' alum Maisie Williams. Joining her are Sylvester McCoy, Rita Tushingham, Ian Kenny, Jake Curran, Andrew Ellis, and Stacha Hicks….
(6) HELP IS ON THE WAY. I bet readers of the Scroll can't wait til I get this — "Microsoft Word AI 'to improve writing'". On the other hand, Chip Hitchcock sent the link with a skeptical comment, "I'll believe it when the spellchecker starts handling context well enough to not make dumb corrections."
A new feature in Microsoft's Word aims to help improve writing beyond the usual grammar fixes.

Using artificial intelligence, Ideas will suggest rewrites for clunky sentences as well as changes to make sure language is gender inclusive.

It will help users lay out different parts of a document, including tables, and suggest synonyms and alternative phrases to make writing more concise.

It will be cloud-based and initially available to users of Word Online only.

A test version of Ideas will go live in June, becoming more widely available in the autumn.
(7) TODAY'S BIRTHDAYS.
[Compiled by Cat Eldridge.]
Born May 7, 1922 — Darren McGavin. Carl Kolchak on Kolchak: The Night Stalker — How many times have seen it? I've lost count. Yes it was corny, yes, the monsters were low rent, but it was damn fun. And no, I did not watch a minute of the reboot. (Died 2006.)
Born May 7, 1923 — Anne Baxter. The Batman series had a way of attracting the most interesting performers and she was no exception as she ended playing two roles there, first Zelda and then Olga, Queen of the Cossacks. Other genre roles were limited I think to an appearance as Irene Adler in the Peter Cushing Sherlock Holmes film The Masks of Death. (Died 1985)
Born May 7, 1931 — Gene Wolfe. He's best known for his Book of the New Sun series. My list of recommended novels would include Pirate Freedom, The Sorcerer's House and the Book of the New Sun series. (Died 2019.)
Born May 7, 1940 — Angela Carter. She's often said to be best known for The Bloody Chamber and Other Stories where she took took fairy tales and made them very adult in tone. Personally I'd recommend The Curious Room as contains her original screenplays for the films The Company of Wolves and The Magic Toyshop, both of which were based on her own original stories. (Died 1992.)
Born May 7, 1951 — Gary Westfahl, 68. SF reviewer for the LA Times, Internet Review of Science Fiction and Locus Online. Editor of The Greenwood Encyclopedia of Science Fiction and Fantasy: Themes, Works, and Wonders; author of  Immortal Engines: Life Extension and Immortality in Science Fiction and Fantasy (with George Slusser) and A Sense-of-Wonderful Century: Explorations of Science Fiction and Fantasy Films.
Born May 7, 1968 — Traci Lords, 51. Yes, she did a number of reasonably legit genre appearances after her, errr, long adult acting career. She was for example in The Tommyknockers series along with the first Blade film. She's also in the SF comedy Plughead Rewired: Circuitry Man II (I know, weird title that.) And finally, I should note she was Dejah Thoris in Princess of Mars which later re-released as John Carter of Mars. But the way her first post-adult film was a genre undertaking and that was Not of This Earth. Yes, it is a remake of Roger Corman's 1957 film of the same name.
Born May 7, 1972 — Jennifer Yuh Nelson, 46. She is the director of Kung Fu Panda 2, Kung Fu Panda 3, and The Darkest Minds. Yuh is the first woman to solely direct an animated feature from a major Hollywood studio. The Darkest Minds is a dystopian SF film which RT gives a rating of 17% to. Ouch. 
(8) DRAGON AWARDS SEASON. Vox Day kicks off a "Dragon Awards discussion" [Internet Archive link] with his ideas about what comics published by his Arkhaven imprint ought to win Best Comic and Best Graphic Novel. Declan Finn jumps in to tell people which of his and his friends' books should win the other categories, but meets resistance from a commenter who says he'd rather vote for Brian Neimeier (another Sad Puppy). There might not be enough kibble to go around!
(9) POP CULTURAL APPROPRIATION. "Viggo Mortensen: Vox 'ridiculous' to use Aragorn image" – BBC has the story.
Viggo Mortensen has denounced far right Spanish political party Vox after it tweeted a meme featuring the actor playing Aragorn in Lord of the Rings.

The meme, shared by the nationalist party's official Twitter account in April, showed Aragorn lining up to face off against the assembled hordes of Vox's apparent enemies, including the media, Catalan separatists and a small ghost wearing the colours of the rainbow flag typically used to represent LGBT pride.

"Let the battle begin," the party tweeted.

In a letter to the editor of Spanish newspaper El Pais, published on Tuesday, Mortensen said Vox's use of his image was "absurd".

"Not only is it absurd that I, the actor who embodied this character for [Lord of the Rings director] Peter Jackson, and a person interested in the rich variety of cultures and languages that exist in Spain and the world, is linked to an ultra-nationalist and neo-fascist political party," the actor wrote, "it is even more ridiculous to use the character of Aragorn, a polyglot statesman who advocates knowledge and inclusion of the diverse races, customs and languages of Middle Earth, to legitimise an anti-immigrant, anti-feminist and Islamophobic political group."
(10) GO OUT, YOUNG HUMAN! The Washington Post: "Buzz Aldrin: It's time to focus on the great migration of humankind to Mars". In a WaPo oped, Buzz Aldrin advocates for not just returning to the Moon, but going to Mars. And sooner rather than later. He also calls for international cooperation with other countries to make it happen.
Last month, Vice President Pence announced that we are headed back to the moon. I am with him, in spirit and aspiration. Having been there, I can say it is high time we returned. When Neil Armstrong, Michael Collins and I went to the moon 50 years ago this July, we did so with a mission. Apollo 11 aimed to prove America's can-do commitment to space exploration, as well as its national security and technological superiority. We did all that. We also "Came in Peace for all Mankind." More of that is needed now.

Today, many nations have eyes for the moon, from China and Russia to friends in Europe and Middle East. That is all good. The United States should cooperate — and offer itself as a willing team leader — in exploring every aspect of the moon, from its geology and topography to its hydrology and cosmic history. In doing so, we can take "low-Earth orbit" cooperation to the moon, openly, eagerly and collegially.

[…] As matter of orbital mechanics, missions from Earth to Mars for migration are complex. That said, human nature — and potentially the ultimate survival of our species — demands humanity's continued outward reach into the universe. Call it curiosity or calculation, strategic planning or destiny. Put simply: We explore, or we expire. That is why we must get on with it.

In a world of division and distraction, this mission is unifying — for all Americans and for all humankind. So, I am personally glad we are headed back to the moon — and I thank President Trump and the vice p
(11) DECOROUS THEATERS. According to The Week:
The Roxy 8 multiplex in Dickson, Tennessee, is defending its decision to call the new HELLBOY movie HECKBOY in signs outside the theater. Manager Belinda Daniel explained that the theater does not use 'profanity' on signs. 'We are located next to an elementary school and across from a church,' she said.
(12) A DIFFERENT KIND OF GOOD TASTE. BBC introduces you to"The man who discovered umami", long before it made news in the West.
For centuries, humanity lived with the concept of sweet, salty, bitter and sour – but another flavour was hiding on the sidelines

Kikunae Ikeda had been thinking a lot about soup.

The Japanese chemist had been studying a broth made from seaweed and dried fish flakes, called dashi. Dashi has a very specific flavour – warm, tasty, savoury – and through laborious, lengthy separations in a chemistry lab, Ikeda had been trying to isolate the molecules behind its distinctive taste. He felt sure that there was some connection between a molecule's shape and the flavor perception it produced in humans.

But as it was just a few years past the turn of the 19th Century, there was not yet a great deal of evidence to support the idea.

Eventually, Ikeda did manage to isolate an important taste molecule from the seaweed in dashi: the amino acid glutamate, a key building block of proteins. In a 1909 paper, the Tokyo Imperial University professor suggested that the savoury sensation triggered by glutamate should be one of the basic tastes that give something flavour, on a par with sweet, sour, bitter, and salt. He called it "umami", riffing on a Japanese word meaning "delicious".
(13) LOOK FORWARD TO YOUR KIWI TOUR. Good news! Natural heated swimming hole available to visit on your CoNZealand2020 trip!
Bad News! May contain a staple of SciFi — The Brain-Eating Amoebas of Kerosene Creek
Kerosene Creek is a natural hot spring near Rotorua, on the North Island of New Zealand. And there have been official warnings for years: don't put your head under water. It turns out that "brain-eating amoebas", naegleria fowleri, are a real, if rare, thing.
[Thanks to Chris M. Barkley, JJ, Errolwi, John King Tarpinian, Martin Morse Wooster, Tom Boswell, Chip Hitchcock, Cat Eldridge, Carl Slaughter, Mike Kennedy, and Andrew Porter for some of these stories. Title credit goes to File 770 contributing editor of the day Steve Davidson.]