Just an appetizer Scroll today, as my cold has devolved to the flu.
(1) DEMON MEME. And I'll make the first course of this appetizer "Occult sandwiches". No excerpt (can't get more lo-cal than that) because it looks to be one long Imgur graphic. Its style of humor will reward the attention of anyone who likes the kind of wordplay indulged in by Gaiman and Pratchett.
(2) THE REAL ATWOOD. Years ago all the focus was on Margaret Atwood's insistence that she didn't write science fiction. It kept us from learning so many very interesting things about her, as illustrated by this Guardian profile about "Margaret Atwood: a high priestess of fiction who embraces the digital age".
At 77, Atwood combines the loftiness of a high priestess who does not suffer fools gladly with an unstinting generosity to those she deems not to be foolish. She is a passionate environmentalist, with a particular interest in birds, which she shares with her husband, Graeme Gibson.

If her determination to live by her principles occasionally seems incidentally comic — as when she embarked by boat on an international tour of a stage show publicising the second novel of her MaddAddam trilogy, The Year of the Flood — she also brings to her politics a healthy dose of intentional humour.

On a recent visit to her Toronto home, her longtime UK publisher Lennie Goodings was surprised to meet her carrying a paper bag bulging with four large rubber turkeys. "She showed them to me with that funny, head on a tilt, wicked smile of hers. They squawked when she pressed them." It turned out that she and Gibson were about to present the prizes at an annual RSPB competition. "The winners each receive a rubber turkey from Margaret, at which point she conducts them in a squeezing squawking choir."

Atwood traces her concern with the environment back to a childhood spent criss-crossing the forests of Canada with her entomologist father. She was the second of three children, and the family's itinerant lifestyle meant that she did not go to full-time school until she was eight years old. She began publishing her poetry while a student at the University of Toronto, won her first major literary prize for a poetry collection published in 1964, and three collections later diversified into fiction in 1969 with The Edible Woman, about a woman driven mad by consumerism
(3) I KNOW I DIDN'T VOTE FOR IT. Edmonton's Hugo Award Book Club blog just came online in May and they've attracted attention with their verdict:
1973: The Worst Hugo Award

1973 was a very good year. Income inequality was at its historical lowest in America, union density was at its highest, major victories were happening in civil rights.

But in the world of science fiction, it was the year that one of the worst novels ever to win the top Hugo award was honoured for all the wrong reasons.
And, yes, they already took into account the traditional loser in the debate.
Some people say that They'd Rather Be Right is the worst book to have won the #HugoAward. We say otherwise. https://t.co/j18Wq7dBpp

— a Hugo Award book club (@Hugo_Book_Club) May 20, 2017
(4) ELVISH. Greg Hullender (via Nicholas Whyte's website) discovered Carl F. Hostetter's "Elvish as She Is Spoke" [PDF file] and he enthusiastically forwarded the link with a flurry of comments.
It's a linguistic assessment of attempts to flesh out Tolkien's two Elvish languages.

The first key point is that Tolkien obviously wasn't fluent in either language himself, partly because he kept changing them both, and partly because he doesn't seem to have ever worked out all the details of the syntax. He doesn't seem to have been trying to construct a language like Esperanto that anyone would actually use; he was simply having fun. So this is why he didn't leave a lot of examples of Elvish text behind: he had difficulty writing anything in Elvish himself.

Second, the "neo" languages that people have tried to construct from Tolkien's work are terribly naive, and often contradict some of the little bits of Elvish that Tolkien actually left us. The author compares it to the hilarious 19th-Century work "English as She is Spoke." (If you don't read anything else, skip to page 249, starting with "Elvish as She is Spoke.")

That said, I think the author is a little hard on the neo-Elvish folks. Tolkien simply didn't leave enough behind for them to do what they want to do. Lacking that, they've tried to be inventive. In the process, they've produced something that at least has a very Elvish "feel" to it, and (judging from the movies) sounds very nice. Also, the things that would make it more realistic (e.g. irregularity and polysemy) would make it much harder for native English speakers to learn. Even though neo-Elvish doesn't withstand close study, it's good enough for most people to suspend disbelief. That's probably the most you can reasonably ask of a fantasy language.
Carl Hostetter is part of the Elvish Linguistic Fellowship which has spent decades having scholarly fun exploring Tolkien's languages.
(5) COMIC SECTION. Wiley in Non Sequitur today comments on the cartoonists' favorite award, the Reuben.
(6) REUBEN AWARD. The National Cartoonist Society will present the Reuben Awards on May 278. The 2016 Cartoonist of the Year nominees were announced March 2.
LYNDA BARRY is a cartoonist and writer. She's authored 21 books and received numerous awards and honors including an Honorary Doctor of Fine Arts degree from University of the Arts, Philadelphia, two Will Eisner Awards, The American Library Association's Alex Award, the Washington State Governor's Award, the Wisconsin Library Associations RR Donnelly Award, the Wisconsin Visual Art Lifetime Achievement Award, and was inducted into the Will Eisner Hall of Fame in 2016. Her book, "One! Hundred! Demons!" was required reading for all incoming freshmen at Stanford University in 2008. She's currently Associate Professor of Interdisciplinary Creativity and Director of The Image Lab at the University of Wisconsin-Madison were she teaches writing and picture-making. Lynda was nominated for Cartoonist of the Year for 2016 and will be the recipient of the Milton Caniff Lifetime Achievement Award at the 71st Reuben Awards dinner in Portland Oregon this year. You can follow Lynda on Twitter at @NearSightedMonkey.

STEPHAN PASTIS is the creator of the daily comic strip Pearls Before Swine, syndicated by Universal Uclick. Stephan practiced law in the San Fransisco Bay area before following his love of cartooning and eventually seeing syndication with Pearls, which was launched in newspapers beginning December 31, 2001. The National Cartoonists Society awarded Pearls Before Swine the Best Newspaper Comic Strip in 2003 and in 2006. Stephan is also the author of the children's book series Timmy Failure. Stephan lives in northern California with his wife Staci and their two children. This is his ninth nomination for Cartoonist of the Year. Visit Stephan's blog and the Pearls Before Swine website.

HILARY PRICE is the creator of Rhymes With Orange, a daily newspaper comic strip syndicated by King Features Syndicate. Created in 1995, Rhymes With Orange has won the NCS Best Newspaper Panel Division four times (2007, 2009, 2012 and 2014). Her work has also appeared in Parade Magazine, The Funny Times, People and Glamour. When she began drawing Rhymes With Orange, she was the youngest woman to ever have a syndicated strip. Hilary draws the strip in an old toothbrush factory that has since been converted to studio space for artists. She lives in western Massachusetts. This is Hilary's fourth nomination for the Cartoonist of the Year. You can visit Rhymes With Orange online here.

MARK TATULLI is an internationally syndicated cartoonist, best known for his popular comic strips Heart of the City and Lio, which appear in 400 newspapers all over the world. He currently has written three books in a children's illustrated novel series titled Desmond Pucket, which has been optioned for TV by Radical Sheep. He also has two planned children's picture books coming from Roaring Book Press, an imprint of McMillian Publishing. The first, Daydreaming, will hit bookstores in September 2016. Lio has been nominated three times for the National Cartoonists Society's Best Comic Strip, winning in 2009. Lio was nominated for Germany's Max and Moritz Award in 2010. This is Mark's third nomination for Cartoonist of the Year. You can follow Mark on Facebook at https://www.facebook.com/mtatulli/ and find his Lio strips here http://www.gocomics.com/lio.

ANN TELNAES creates editorial cartoons in various mediums- animation, visual essays, live sketches, and traditional print- for the Washington Post. She won the Pulitzer Prize in 2001 for her print cartoons. Telnaes' print work was shown in a solo exhibition at the Great Hall in the Thomas Jefferson Building of the Library of Congress in 2004. Her first book, "Humor's Edge", was published by Pomegranate Press and the Library of Congress in 2004. A collection of Vice President Cheney cartoons, "Dick", was self-published by Telnaes and Sara Thaves in 2006. Other awards include: The National Cartoonists Society Reuben division award for Editorial Cartoons (2016), The National Press Foundation's Berryman Award (2006) — The Maggie Award, Planned Parenthood (2002) — 15th Annual International Dutch Cartoon Festival (2007) — The National Headliner Award (1997) — The Population Institute XVII Global Media Awards (1996) — Sixth Annual Environmental Media Awards (1996).

Telnaes worked for several years as a designer for Walt Disney Imagineering. She has also animated and designed for various studios in Los Angeles, New York, London, and Taiwan.

Telnaes is the current president of the Association of American Editorial Cartoonists (AAEC) and is a member of the National Cartoonists Society (NCS). This is Ann's first Cartoonist of the Year nomination.You can visit Ann's website, http://www.anntelnaes.com, and follow her on twitter at @AnnTelnaes.
And there are 45 nominees in 15 NCS Divisional Categories. Needless to say, it's a lot more entertaining to look at the illustrated lists over at the NCS site.
(7) BATTLE OF THE BOTTLES. Ommegang Brewery is coming out with an additional three beers in its Game of Thrones series, this time in a new line called "Bend the Knee".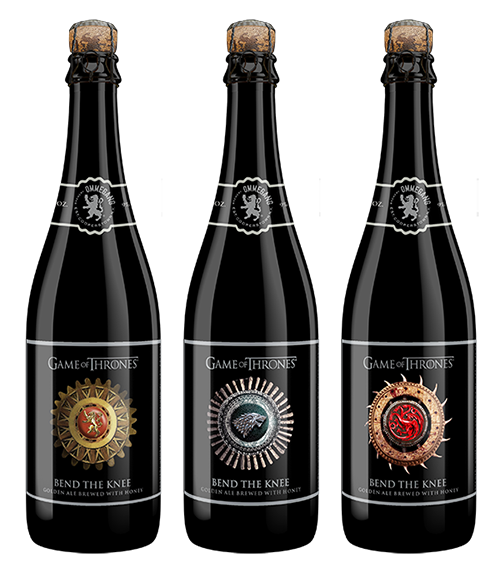 Bend the Knee:

When fans last gripped their glasses at the end of Game of Thrones' sixth season, the great houses of Westeros were on the brink of an epic conflict. Cersei had ascended to the Iron Throne as the first queen of Westeros, Jon Snow and Sansa Stark had just reclaimed the North, and Daenerys Targaryen had set sail for the Seven Kingdoms. To commemorate the coming melee in the Emmy® Award-winning show's epic seventh season, Brewery Ommegang and HBO Global Licensing are excited to announce a new beer in their collaborative series: Bend the Knee Golden Ale.

Paying homage to the struggle for control of the Seven Kingdoms, Bend the Knee will be available on draft and in a series of three collectible 750ml bottles, all finished in matte black and adorned with one of the three Great House sigils: Stark, Targaryen, or Lannister.

And while the show returns on July 16, fans can mark their calendars for the official nationwide release of the beer, which will be on shelves around Memorial Day.
(8) A CARD OF HIS OWN. At last night's Nebula Award ceremony veteran SFWA volunteer Steven H Silver was given a great surprise — he has been added to the Science Fiction Historical Trading Cards Series.
[Thanks to John King Tarpinian, Cat Eldridge, Greg Hullender, Martin Morse Wooster, and JJ for some of these stories. Title credit goes to File 770 contributing editor of the day Peer Sylvester.]