By Daniel Dern: Since I have been buying my comic books at The Outer Limits in Waltham for the past 30+ years, rather than at New England Comics, I was not exposed to NEC's newsletter mascot, the Tick, nor the ensuing comic books, nor the 1994-1997 animated TV series, although we did watch the 2001-2002 live action, directed by Barry Sonnenfeld (Miller's Crossing, When Harry Met Sally, A Series of Unfortunate Events — the TV series and the movie), etc., starring Patrick Warburton as the loveable big blue goof.
(Disclaimer: I remember watching it, but only vaguely remember the episodes, although browsing web articles is jogging my memory.)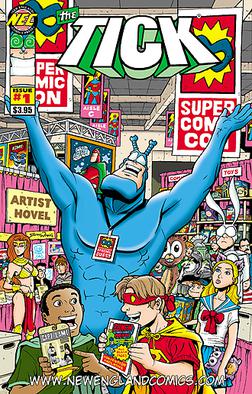 In 2017, Amazon rebooted The Tick as a 25-minute series. It's arguably grittier than the previous live-action (although, of course, I'd have to rewatch that to verify)… but it's also got a lot of heart and humanity. And great characters. And speaking to the nature of comic books and superheroes, as large-font subtext, as it were.
Season 2 went up about a week ago, and while I didn't quite binge it, I did prioritize it over some other things, like (some) reading. (At 10 25-minute episodes, that wasn't that big a commit.)
Enjoyable. Some surprises. Like Expanse book #8, Tiamat's Wrath, it both starts and wraps up a hornets' nest of plotlines (including some from the previous season), and positions us (and the various characters) for what looks like should be one heck of a Season 3 (assuming there is one, hope hope).
Two comments:
(1) John Hodgman (who some may remember from The Daily Show), who's been on various other movies and TV shows I mostly haven't seen (hmmm, including 1 episode of Battlestar Garlictica Galactica) (and Amazon's Red Oaks, which we did see), has a role throughout this season.
(2) The producers/writers have clear [ROT-13] gur 1978 FHCREZNA zbivr n srj gvzrf, cre gjb ovgf/fprarf. (I don't think this is a spoiler, but just in case…)
Two big goofy thumbs up!