By Steve Vertlieb: Here are photos from my memorial tribute to old friend and special effects genius Ray Harryhausen on November 19 at Philcon, the annual convention of The Philadelphia Science Fiction Society.
The one-hour remembrance and celebration of Ray's life and career was a belated opportunity to share memories of a nearly fifty-year friendship with a well-attended audience of fans and admirers throughout the East Coast. Happily, a most successful and well attended event.
Displaying my personal invitation to Ray Harryhausen's private memorial service in London during the one hour tribute to the immortal film maker at Philcon.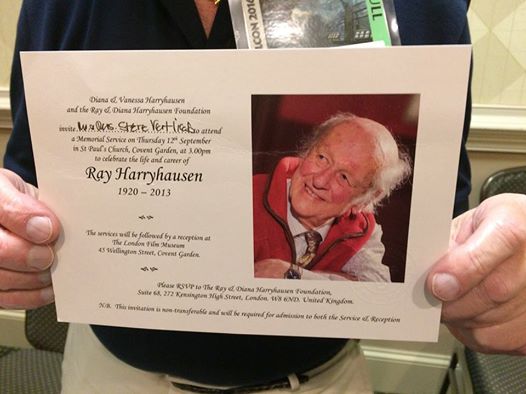 With pal and fellow panelist Richard Stout during the highly successful panel.