By Steve Vertlieb: On the evening of May 14, 1998, following the airing over NBC Television of the series finale of Seinfeld, the world and I received the terrible news of the passing of the most beloved entertainer of the twentieth century. It has been twenty-four years since he left this mortal realm, but the joy, the music, and the memories are as fresh and as vital today as when they were born.
As I grow sadly older, while a soft sense of melancholy creeps gently into my heart, I find myself thinking about my idol … perhaps, the single most profound, culturally significant influence upon my own life and career … Francis Albert Sinatra … and what he has meant to me over the past sixty or more years.
I couldn't help recalling my own personal relationship with Old Blue Eyes. We'd shared a modest correspondence over the years. He'd written me several precious letters that I cherish to this day, as well as some personally signed autographed pictures and even an individually inscribed 45 rpm record that he'd sent to me.
Then came one of the greatest moments of my life. I'd won a contest sponsored by the Philadelphia Inquirer, asking readers to answer questions concerning Frank Sinatra's life and career. The contest, spread out over three days in the Spring of 1976, asked a total of thirty questions and was tied in with Sinatra's upcoming appearance at The Latin Casino in Cherry Hill, New Jersey. I won first prize, and was awarded tickets and dinner for four to see Sinatra perform during his engagement.
I telephoned the newspaper and said that I wanted to meet Frank. They responded that this was not a part of the prize. I responded, rather brazenly at the time, that I understood that, but that I still wanted to meet Frank. They relented after a moment and decided that it might be good publicity, both for the newspaper and for the club. They envisioned the headline, I guess … "Prize Winner Meets His Idol."
They had arranged for one of the Inquirer's staff photographers to meet me back stage at The Latin Casino, and take the photographs for publication. I didn't bring my own camera, as I assumed that the newspaper photograph would be superior. Needless to say, the Inquirer photographer never arrived. I was told later that he looked upon the evening as a fluff assignment, and had gone out to a bar instead.
I can vividly recall arriving at the back stage entrance to the night club, and walking through the outer door. Pacing nervously along a narrow corridor, I found myself standing at the wall opposite the door through which I'd entered. I turned to my right, facing a tiny set of stairs leading directly to the performer's quarters. I was utterly frozen in fear for there, just beyond the stairs, stood Frank Sinatra, adjusting his bow tie while putting on his tuxedo. Reason and sanity eventually took hold of me as I realized that I was standing upon hallowed ground in a space that I hadn't yet been invited to share or occupy. I slowly moved from the stairs, and awaited my time to be invited up to formally meet Frank.
The moment arrived, and I felt crushed that it might pass without an opportunity to capture it for posterity. A gentleman backstage who spoke little English was carrying an expensive camera, loaded with black and white film around his neck, and I begged him to take a picture of Frank and myself. I'll never forget his response … "I no know how take picture." He snapped two pictures as Frank Sinatra threw his arm around me, and said "Congratulations."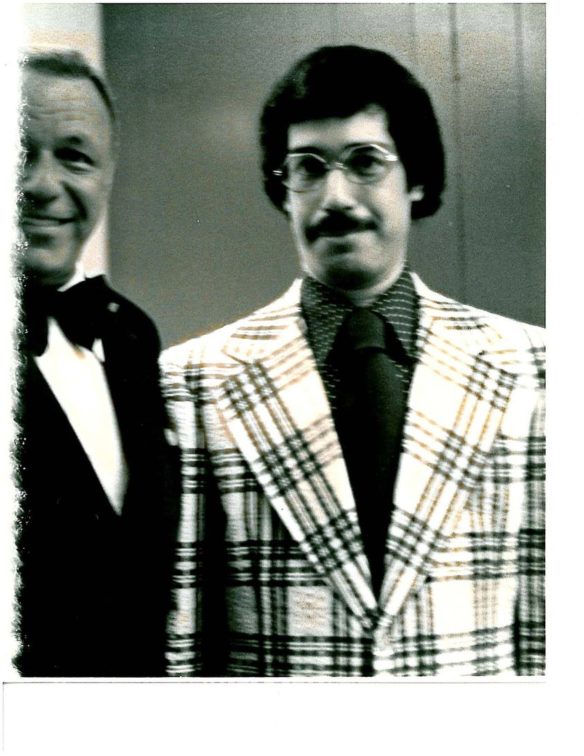 It's difficult to believe now that the moment ever happened. As I left the dressing room back stage at the club, I turned around like a school girl, and cried "I Love You, Frank."
Weeks later I received a telephone call from the gentleman who took the pictures, letting me know that neither photograph had turned out. I was heartbroken. Magically, however, I received a small envelope from the gentleman several months later. This imperfect photograph of me with most of Frank Sinatra was enclosed. It's far from perfect, and not what I had hoped for, but it's all that I have to remember that special moment, frozen now in time and memory. It grows more precious, however, with the fragile passage of years.
[More photos and letters after the break.]