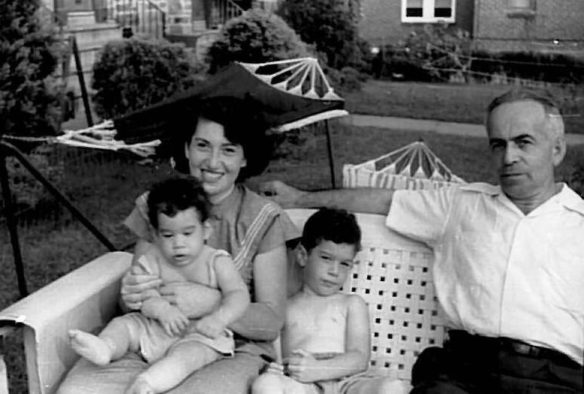 By Steve Vertlieb: It was at approximately 3:30 in the morning, on February 1, 2012, that my bedroom telephone rang. It was the nursing home, The Abramson Center For Jewish Life, calling to tell me that my beloved mom Carol Vertlieb has passed away. She was one hundred years old. Had she lived just another four months, she would have turned one hundred and one. That morning's early telephone call had not been unexpected. They had told me hours earlier that she wasn't expect to last the night. Still, when the telephone rang, I began crying and gasping for breath … wanting to hold on just a moment longer … before receiving the inevitable news.
I'd spent the afternoon and evening with her, sitting by her bedside and holding her hand. She'd drifted in and out of a coma, and I continually told her that I loved her. She was a fighter. She so wanted to reach one hundred years. On June 2, 2011, my little brother Erwin, and an assortment of remaining nieces and nephews, joined us at The Springhouse Tavern to celebrate her milestone. She was the queen of the ball, alive … alert … enthusiastic, and heartily entertaining her coterie of well wishers and admirers.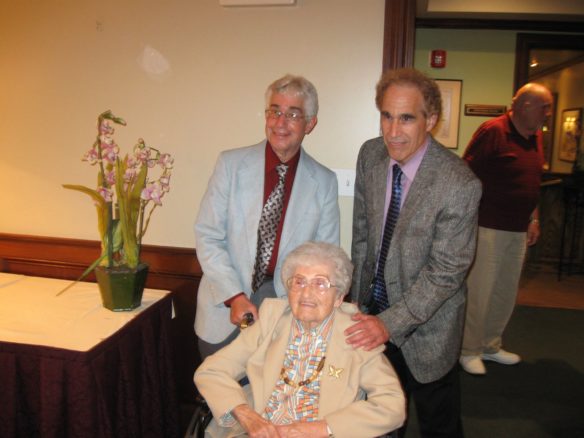 She'd fought depression and grief when my father, Charles Vertlieb, died of a sudden heart attack in July 1987, whilst she was away handling their finances at the bank. She returned home only to find a vacant apartment. They told her that "Charley was gone." She didn't understand what they were telling her, and then the realization hit her. He had done everything for her, and now he was gone. After half a century with her cherished husband and life mate, she was alone.
With courage and the will to go on, she picked herself up by her boot straps and began to learn everything financially related that she need to know in order to continue living and surviving as a strong single woman. She moved into an assisted living facility, and remained fiercely independent. My mom was shy and deeply sensitive. She always sensed when any of the other widows had attitudes of superiority, and acted like they were somehow better than her. I comforted her during numerous such moments when she lowered her gaze and began to sob, believing that somehow she wasn't good enough.
I told her "Mommy, you're better than they are. Look at what you've accomplished on your own." She had a deeply seeded inferiority complex, inherited from her own immigrant mother, never feeling that she was good enough … and yet, she had more heart and soul than I any woman that I've ever known. Her father was a Cantor, traveling throughout the United States and Canada to earn a living wherever he could. Times were difficult, and her family struggled to keep their heads above water.
It was during one such sojourn in Canada that she was born.
She loved to laugh, and was telling jokes right up until the end. She felt eternally youthful, and always wanted to be around younger people. They adored her, and marveled at her strength and enthusiasm. While in the nursing home, she'd complain to me that her neighbors seemed lethargic and old. I said "Mom, you're nearly one hundred years of age. You're older than many of your friends here." "Yes," she said, "but I want to live." And live, she did.
Slipping in and out of consciousness on her final day of life, I sat by her bedside and faithfully held onto her hand. She awoke briefly, and turned her sweet head toward me. Her eyes brightened, and she smiled at me one last time. She said "I love you, Son." I said "I love you too, Mommy." Those were the last words we ever spoke to one another. She left us several hours later. As I remember her this morning, I think of her with deep love, respect, and everlasting admiration. She's cooking for my dad now in Heaven and, on Fridays, she's likely lighting the Sabbath candles.
I miss you, Mommy … and I love you.
Your loving son,
Steve