Editor's Introduction: Daniel Dern is a big Stephen King fan and hopes you'll become one, too. His previous evangelical post was "An Evening With (As In, They're On Stage, I'm In The Audience) Stephen and Owen King, On Tour Promoting 'Sleeping Beauties'" in 2017.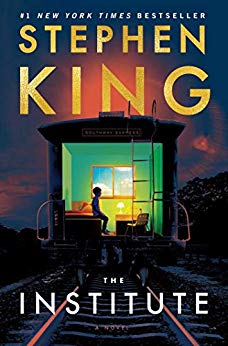 By Daniel Dern: Stephen King's new novel, The Institute (561 pages), is a solid contemporary (set in our world, current timeframe) science fiction novel, of kids with undeveloped psionic powers — TP (telepathy) and/or TK (telekinetics)… and the (clandestine) organization — here, "The Institute" — that is kidnapping them. Why? Read the book.
King has written about psi kids before — Firestarter (which I liked a lot) comes, ahem, to mind. (Carrie, too, although I've lost track whether there was ultimately any darker/fantasy source to her abilities.) And he's written other sf, like Under the Dome. (Along with way lots of stuff categorized under "horror," of course.) And bunches of simply good stuff, like Shawshank Redemption, and the short-story that first brought me to King, "Quitters, Inc."
The Institute doesn't, to me, read like "genre sf," more like contemporary thriller with well-focused sf elements. If anything, the pacing and something-I-either-don't-know-the-term-for-or-can't-pin-down reminds me of Lee Childs' Jack Reacher novels, in the direct, relatively spare prose that propels the action and plot along.
If you're a Stephen King fan, I believe you'll enjoy The Institute. If you somehow haven't yet read any Stephen King, this is a good place to start. (Then go get his Different Seasons novella collection.) If you haven't found any Stephen King to your liking yet (and not all of his books grab me), give this one a chance.
(Your library will have it, although even if they do Reserve Requests, you may have to wait a bit at this point for your turn to come up.)
In case it isn't clear: Recommended.