The gift-giving season is upon us and John King Tarpinian has spotted all kinds of things you can buy for your sff-loving friends — provided your bank balance has enough zeroes in it. (Well, and also starts with a number that isn't a zero….)
Very rare Superman "muscle tunic" worn by Christopher Reeve during filming of "Superman: The Movie", the very first film of the beloved Christopher Reeve franchise, released in 1978. Tunic used in the flight scenes features two stitched holes on the sides, used to attach the flying harness. Four snaps at top are for attaching the cape. Signature blue tunic is made complete with Superman's large emblematic gold and red "S" sewn onto the front. The original "Bermans & Nathans / 40 Camden St. / London N.W. 1" tag is still intact on the tunic's inner back collar, next to the zipper, with the label reading in type: "CHRISTOPHER REEVE / 12312 WITH MUSCLES / SUPERMAN". Made of special nylon fabric, used for its stretch and ability to retain its original shape. Without being stretched, tunic measures 18" across the chest and 29" long. A few small holes, otherwise in near fine condition. With Prop Store COA.
Price $100,000
Presentation Stainless Steel Pocket Watch Given by Actress Zoe Saldana to Select Members of the Cast And Crew On the Film Production Team of the James Cameron Film Avatar. 1 1/4" x 1 1/2", Presentation stainless steel quartz pocket watch given as a thank you gift by actress Zoe Saldana to select members of the cast and crew on the production team of the James Cameron film Avatar. With "NA'VI NATION" engraved on the interior of the hinged case covering, signifying the tribal unity of the Na'vi, the native people living on Pandora, the distant world where Avatar is set….
Price: $315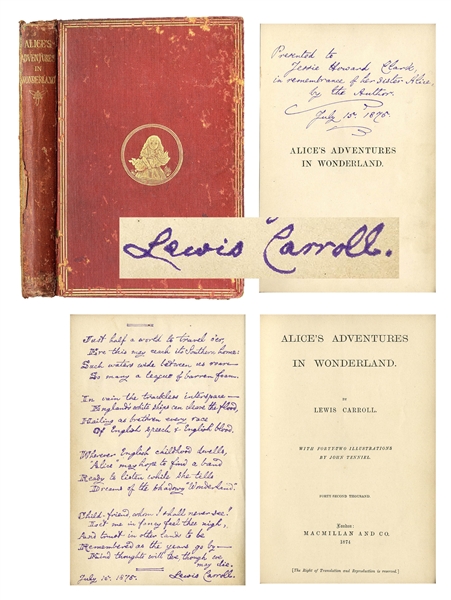 Original autograph poem signed by Lewis Carroll, dedicated to the sister of an "Alice" who died in infancy. Carroll composes the tender poem inside a presentation copy of "Alice's Adventures in Wonderland" (London: MacMillan and Co., 1874), inscribed on the half-title page in Carroll's signature purple ink, "Presented to Jessie Howard Clark, in remembrance of her sister Alice, by the Author / July 15, 1875". Young Jessie lived in Australia which served as the basis for the poem, alongside the themes of death and the connected experience of childhood across the world. The poem is additionally constructed so that the letters of the first words of each line form the recipient's name, "Jessie Howard Clark". Written on the page opposite the table of contents, poem reads in full…
Price: $50,000
Neil Armstrong signed photo, showing fellow Apollo 11 astronaut Buzz Aldrin descending onto the lunar surface. This less common NASA photo is signed "Neil Armstrong" without an inscription, in blue ink on the white moon. Matte photo measures 10″ x 8″. Near fine condition. With Steve Zarelli Space Authentication COA.
Price: $15,000