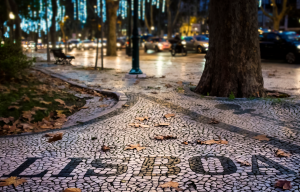 Smofcon Europe runs from December 3-5 in Lisboa, Portugal. James Bacon and Vincent Docherty, now both in Lisboa, took a few moments to let me know that they have now surpassed the Smofcon Amsterdam (2011) membership, and that this year's Smofcon Europe in Lisboa now has 131 members. Covid rules changed today in Portugal, presenting challenges to all involved, as they adapt to the situation. 
Virtual membership, as anticipated, is strong and there will be something there for all fans who enjoy running conventions. 
There are three Online workshops that might be of interest to virtual attendees. Be aware that space is limited and advance sign-up is required.
First up, the Chair of Noreason IV, Deb Geisler is leading a discussion on Communication, Management, and Leadership for Convention Runners on Friday at 15:30-17:30 UTC. This interactive workshop will see conrunners discussing the role they as a leader play in creating 'Buzz' and managing public and relations. Other topics include how to 'Brief' and be on brand. Discussion on how you and your team need to have a clear picture of what your purpose is and why that is important to fans. Deb Geisler is a Professor of Communication at Suffolk University as well as being Worldcon Chair of the 2004 Boston Worldcon, Noreascon 4. 
Taking place also on Friday but later, at 18:00-20:00 UTC. Two Worldcon Chairs take on the second workshop, Division Head Skills for the Modern Worldcon. Patty Wells chaired the 2011 Worldcon in Reno and Randy Shepard chaired LoneStarCon 3 in Texas. They will look at the complexity of Worldcons, the management skills needed to perform the role, the most necessary skills needed to perform well and what are some resources to use to get up to speed. 
Finally, on Sunday at 16:00-17:30 UTC, Lisa Feichter will lead a workshop on Dynamic Leadership and Crucial Communication. Effective leaders use purposeful communication to determine the best way to convey messages and lead teams. While an easy concept in theory it is much harder to implement, especially when conversations turn crucial and team dynamics start to fracture. They will break down the components needed to live dynamic leadership and build your confidence for when you encounter crucial conversations.
In this interactive session they will cover:
Servant leadership
Levels of listening
Team development and team dynamics
Tips for crucial conversations
Lisa Feichter works with intact teams to design strategy, set vision, and resolve blocks in performance and communication. She is a certified professional life coach; Therapeutic Laughter Leader; certified in Cornell Change Leadership, DiSC communication, and Emotional Intelligence; and an international innovation trainer. Lisa has spent the last twenty five years working in R&D with a Fortune 100 company. She is past Volunteer Chair for the Midwest Regional Coaching Conference and is a volunteer for the Illinois Butterfly Monitor Network.
Further information including sign up forms, descriptions and SMOFcon's entire weekend program can be found at here.
Membership is required for accessing online or in-person program. The range of costs and sign-up information is here.