Here are 9 developments of interest to fans.
(1) Turner Classic Movies will air Richard Matheson's The Incredible Shrinking Man on Sunday, July 7 at 8:00 p.m. EDT. It was his first screenplay.
According to the writer in an interview with Tom Weaver (for Science Fiction Stars and Horror Heroes, McFarland Classics), he first had to restructure the narrative: "They couldn't do Last Year in Marienbad [1961] back then; the story had to be in chronological order, to begin at the beginning and progress from there…I wrote it that way in my novel originally but it got tedious, so I decided I would structure it the way I had structured I Am Legend [the basis for both The Last Man on Earth (1964) and The Omega Man (1971)]: start smack-dab in the middle and then, in flashbacks, bring the story up to date." Matheson, however, was forced to write the screenplay for The Incredible Shrinking Man as a linear narrative and scenarist Richard Alan Simmons was later brought in for rewrites.
The article also explains why 100 gross of condoms were needed for a special effects scene.
(2) James H. Burns' fine tribute "Ray Harryhausen And The Place Past Fear: The New York Legacy Of A Filmmaking Legend" appears on the CBS New York blog.
"There's some neat, generally overlooked info about Harryhausen," says Burns, "including his World War II days (with Dr. Seuss!), and particularly that he wanted to do a comedy (!), and had things gone just a little differently, he wouldn't have retired after Clash of the Titans. That, in fact, plans were in motion to still have a 'Harryhausen movie,' every four years or so…"
(3) Frank N Furter's castle in The Rocky Horror Picture Show is up for sale. To be precise, Oakley Court in Bray, a gothic country house in Berkshire that also was used as a set for Hammer Horror films.
The house was built in 1859 for Sir Richard Hall Say, who became the High Sheriff of Berkshire in 1864.

Although built in the Victorian period, its gothic architecture made it a popular film set for the Hammer Horror films, which were produced at Bray Studios near Maidenhead.

The main entrance became the entrance to Castle Meinster in The Brides of Dracula in 1960, it became Hamilton Manor in The Plague of the Zombies in 1966 and as a school for girls in Nightmare in 1962-3.
(4) The author of "11 Harsh Realities About the World of Harry Potter" is fairly convincing in her arguments that there's not that much difference between the NSA and the Ministry of Magic….
The Ministry of Magic would more accurately be called the Ministry of WATCHING ALWAYS WATCHING. From the banks (via bureaucracy in the Goblin Liaison Office) to the schools to law enforcement and journalism, the Ministry controls every aspect of wizarding life in obvious and subtle ways. With no free press or free market, wizards and witches have to trust their benevolent ministry is playing fair.
(5) The Dutch, on the other hand, are far more jolly about their surveillance culture:
On Tuesday, surveillance cameras in the center of the city of Utrecht were decorated with colorful party hats to celebrate the 110th birthday of George Orwell.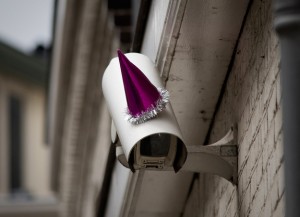 (6) A local Los Angeles tv show, "City at Night," broadcast live from the set of Destination Moon. A kinescope of the 1950 program with director George Pal, writer Robert Heinlein and artist Chesley Bonestell has been posted on Discovery Enterprise.
(7) During Neil Gaiman's appearance the other night in Glendale the author talked about his Babylon 5 episode "Day of the Dead" in which Penn & Teller play two characters named Rebo and Zooty. Consistent with Teller's silent character, Zooty speaks via a small handheld device – and the voice is Harlan Ellison's.
(8) Kristine Kathryn Rusch is releasing her series of novels starring a black detective through her own company, explaining to The Guardian that "racism in the publishing industry prevented their earlier publication."
Rusch says she was told by her agent at the time that "there's a rule in traditional publishing that white people (white women?) can't write about black people (black men?) at least from a first-person point of view". But "once the agent established that I was not planning to hire a black actor to play me in public … she marketed the book to all the big publishers", says Rusch, and although publishers made "at least three" six-figure offers for the first book in the series, they were withdrawn when they learned she was a white woman.
"Initially, when the publishers read the book, they thought I was a black man who had participated in the Civil Rights movement and walked with Dr King. So they set up a marketing plan based (from what I can guess) on putting this imaginary Civil Rights pioneer on Oprah and talking with her about the new mystery novel. Honestly, if the Oprah Book Club hadn't existed, I doubt I would have received those six-figure offers at all," Rusch told the Guardian. "When the publishers realised that I was not black, too young to be in the Civil Rights movement, and had no 'marketability' or 'platform', they withdrew the offers. The book was worth nothing to them if I couldn't tour 'with legitimacy'."
The Smokey Dalton book was eventually acquired by St Martin's, where Rusch worked with an editor she still praises today. The book was nominated for an Edgar award, but, according to Rusch, was not supported by the publisher's sales force.  Although St. Martin's published several more books in the series, but ineffectively, and as Rusch says on her blog "I watched as this publisher destroyed a series that could have been popular, if the publisher actually acted like it wanted to sell books."
(9) I highly recommend to fans of the movie Casablanca this linked article pulled from the archives of the American Film Institute.
[Thanks for these links go out to Michael J. Walsh, Andrew Porter, Willard Stone, Gregory Benford and John King Tarpinian.]