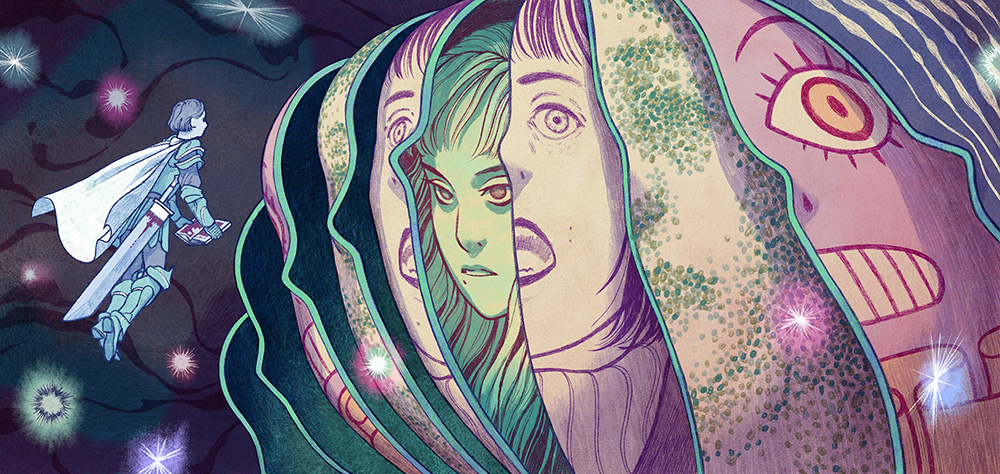 The jury for Spectrum 26: The Best in Contemporary Fantastic Art has nominated the top five artworks in eight categories for consideration for either a silver and gold award.
Judges Kei Acedera, Wesley Burt, Bobby Chiu, Edward Kinsella III, and Colin and Kristine Poole debated the merits of hundreds of pieces of art before finalizing this list on Saturday, February 9, 2019 at the Flesk Publications offices in Santa Cruz, California.
Established in 1993 by Cathy and Arnie Fenner, the first Spectrum annual appeared in 1994 from Underwood Books; for over a quarter of a century it has attracted participants from around the world and has set the standards for excellence in fantasy and science fiction art. John Fleskes became the Director and Publisher of Spectrum in 2014 with volume 21.
The recipients will be announced at the Spectrum 26 Awards Ceremony that will be held at the historic Folly Theater in Kansas City, MO on Saturday, March 30, 2019 . The 2019 Spectrum Grand Master Award honoree will also be announced during the ceremony.
Here's a link to the list of the Spectrum 26 Award nominees where you can see pictures of the art.
ADVERTISING CATEGORY
Justin Gerard – Lair of the Firebreather
Donato Giancola – Reach
Valentin Kopetzki – After the Flood
Victo Ngai – Earth Species Project
Greg Ruth – Annihilation variant
BOOK CATEGORY
Jaime Jones – Winter Road
Vanessa Lemen – I am the Light
Yuko Shimizu – Japanese Tales 1: The Invisible Man
Chase Stone – Dragon Lords: Bad Faith
Francis Vallejo – Charlie Florida
COMIC CATEGORY
Alex Alice – Castle in the Stars: Book 4, page 1
Thomas Campi – Joe Shuster: The Artist Behind Superman cover
Paul Davidson – Blue Vortex 1
Kang Minjung – Kang Hearts Out 1
Jeffrey Alan Love – The Thousand Demon Tree
CONCEPT ART CATEGORY
Te Hu – Golden Temple Through Time we Converge: End
Carlyn Lim – Dwarf
Danny Moll – The Banner Saga 3: Juno in the Black Sun
Abe Taraky – Submerged Statue of Tyr
Zhengyi Wang – Big Hunt
DIMENSIONAL CATEGORY
Matthew Corcoran – Vivicus
Paul Komoda – SwampThing
Patrick Masson – Reflection
Mark Newman – Gallevarbe
Dug Stanat – Justice
EDITORIAL CATEGORY
Chris Buzelli – Structure
Qiuxin Mao – The Remains
Victo Ngai – Human: Opener
Tim O'Brien – Stormy
Leonardo Santamaria – How to Collect Customer Feedback the Right Way
INSTITUTIONAL CATEGORY
Ed Binkley – Mantis
Bastien Lecouffe Deharme – Etrata
Jesper Ejsing – Slippery Bogle
Tyler Jacobson – Opt
John Jude Palencar – The Nights Watch
UNPUBLISHED CATEGORY
Julien Delval – The Stranger
Konstantin Marinov Kostadinov – A Walk in the Woods
Ronan LE FUR – Sent by the Gods
Eric Pfeiffer – Racing Season in Empire City
Annie Stegg Gerard – The Serpent
This year the ceremony and Spectrum Fantastic Art Live will be held in collaboration with Planet Comicon Kansas City (March 29-31), the Midwest's largest pop-culture convention.