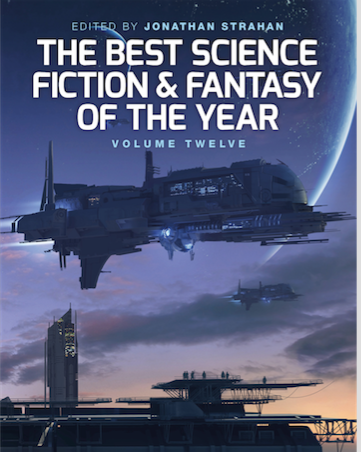 Editor Jonathan Strahan has announced the table of contents for his Best Science Fiction & Fantasy of the Year: Volume 12 with stories from 2017. He said:
As anthologists always do, I wish I'd had more space to include other stories that I loved published during the year, especially novellas, but I think that these selections are very strong.
"The Mocking Tower", Daniel Abraham (The Book of Swords)
"Don't Press Charges and I Won't Sue", Charlie Jane Anders (Boston Review)
"Probably Still the Chosen One", Kelly Barnhill (Lightspeed)
"My English Name", R. S. Benedict (The Magazine of Fantasy & Science Fiction)
"Zen and the Art of Starship Maintenance", Tobias Buckell (Cosmic Powers)
"Though She Be But Little", C.S.E. Cooney (Uncanny)
"The Moon is Not a Battlefield", Indrapramit Das (Infinity Wars)
"The Hermit of Houston", Samuel R. Delany (The Magazine of Fantasy & Science Fiction)
"The Discrete Charm of the Turing Machine", Greg Egan (Asimov's Science Fiction)
"Crispin's Model", Max Gladstone (Tor.com)
"Come See the Living Dryad", Theodora Goss (Tor.com)
"Bring Your Own Spoon", Saad Z. Hossain (The Djinn Falls in Love)
"Babylon", Dave Hutchison, 2084
"The Faerie Tree", Kathleen Kayembe (Lightspeed)
"Fairy Tale of Wood Street", Caitlin R Kiernan (Sirenia Digest)
"The Worshipful Society of Glovers", Mary Robinette Kowal (Uncanny)
"An Evening with Severyn Grimes", Rich Larson (Asimov's Science Fiction)
"The Chameleon's Gloves", Yoon Ha Lee (Cosmic Powers)
"The Smoke of Gold is Glory", Scott Lynch (The Book of Swords)
"Sidewalks", Maureen McHugh (Omni)
"Concessions", Khaalidah Muhammad-Ali (Strange Horizons)
"The Martian Obelisk", Linda Nagata (Tor.com)
"The Secret Life of Bots", Suzanne Palmer (Clarkesworld)
"A Series of Steaks", Vina Jie-Min Prasad (Clarkesworld)
"Belladonna Nights", Alastair Reynolds (The Weight of Words)
"Eminence", Karl Schroeder (Chasing Shadows)
"The Lamentation of their Women", Kai Ashante Wilson (Tor.com)
"Confessions of a Con Girl", Nick Wolven (Asimov's Science Fiction)
"Carnival Nine", Caroline M. Yoachim (Beneath Ceaseless Skies)
The cover shown here is not the final version, which will add author's names etc.