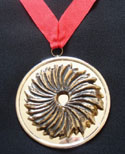 John Mansfield copied me on the Canadian Booksellers Association News for June 3 containing the shortlist for the Sunburst Award which "recognizes outstanding efforts in Canadian Literature of the Fantastic."
SF Awards Watch had the news itself a few days ago, however, I was interested in the former Winnipeg Worldcon chair's comparison of the Sunburst Awards to the Auroras. Said Mansfield: "While the Sunburst has great promotions, the Aurora Awards committee seem only interested in making sure that the right people get their due award." The Aurora winners were not publicized in the CBA News. (But they, too, did not escape the notice of SF Awards Watch.)
Finalists for the 2008 Sunburst Award are:
Adult: Double-blind – Michelle Butler Hallett; Darkness of the God – Amber Hayward; The New Moon's Arms – Nalo Hopkinson; Wonderfull – William Neil Scott; Axis – Robert Charles Wilson.
Young Adult: Choices – Deborah Lynn Jacobs; Retribution – Carrie Mac; Darkwing – Kenneth Oppel; Anthem of a Reluctant Prophet – Joanne Proulx; The Night Wanderer – Drew Hayden Taylor.
The finalists were selected by jurors Timothy J. Anderson, Kelley Armstrong, Barbara Haworth-Attard, Dena Bain Taylor, and Robert J. Wiersema.