By Carl Slaughter: With over 500 4- and 5-star Amazon reviews, thumbs up from NPR, Kirkus, Red Rising's Pierce Brown, and Wayward Pine's Blake Crouch, plus comparisons to The Martian and World War Z, debut author Sylvain Neuvel launched his Themis File series with Sleeping Giants. Waking Gods followed in April 2017.
SLEEPING GIANTS
By Sylvain Neuvel
A girl named Rose is riding her new bike near her home in Deadwood, South Dakota, when she falls through the earth. She wakes up at the bottom of a square hole, its walls glowing with intricate carvings. But the firemen who come to save her peer down upon something even stranger: a little girl in the palm of a giant metal hand.

Seventeen years later, the mystery of the bizarre artifact remains unsolved—its origins, architects, and purpose unknown. Its carbon dating defies belief; military reports are redacted; theories are floated, then rejected.

But some can never stop searching for answers.

Rose Franklin is now a highly trained physicist leading a top secret team to crack the hand's code. And along with her colleagues, she is being interviewed by a nameless interrogator whose power and purview are as enigmatic as the provenance of the relic. What's clear is that Rose and her compatriots are on the edge of unraveling history's most perplexing discovery—and figuring out what it portends for humanity. But once the pieces of the puzzle are in place, will the result prove to be an instrument of lasting peace or a weapon of mass destruction?
PRAISE FOR SLEEPING GIANTS
"As high-concept as it is, Sleeping Giants is a thriller through and through. . . . Not only is Sleeping Giants one of the most promising series kickoffs in recent memory, it's a smart demonstration of how science fiction can honor its traditions and reverse-engineer them at the same time."—NPR
"A remarkable debut . . . Reminiscent of Max Brooks's World War Z, the story's format effectively builds suspense."—Library Journal (debut of the month)
"This stellar debut novel . . . masterfully blends together elements of sci-fi, political thriller and apocalyptic fiction. . . . A page-turner of the highest order."—Kirkus Reviews (starred review)
 "Neuvel weaves a complex tapestry with ancient machinery buried in the Earth, shadow governments, and geopolitical conflicts. But the most surprising thing about the book may just be how compelling the central characters are in the midst of these larger-than-life concepts. . . . I can't stop thinking about it."—Chicago Review of Books
"First-time novelist Sylvain Neuvel does a bold, splashy cannonball off the high dive with Sleeping Giants. It bursts at the seams with big ideas and the questions they spawn—How much human life is worth sacrificing in the pursuit of scientific progress? Can humanity be trusted with weapons of ultimate destruction? And the biggest: Are we alone? But all that really matters is that this book is a sheer blast from start to finish. I haven't had this much fun reading in ages."—Blake Crouch, author of Dark Matter and the bestselling Wayward Pines trilogy
"Reminiscent of The Martian and World War Z, Sleeping Giants is a luminous conspiracy yarn that shoots for (and lands among) the stars."—Pierce Brown, New York Times bestselling author of Red Rising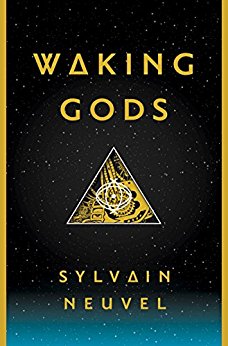 As a child, Rose Franklin made an astonishing discovery: a giant metallic hand, buried deep within the earth. As an adult, she's dedicated her brilliant scientific career to solving the mystery that began that fateful day: Why was a titanic robot of unknown origin buried in pieces around the world? Years of investigation have produced intriguing answers—and even more perplexing questions. But the truth is closer than ever before when a second robot, more massive than the first, materializes and lashes out with deadly force.

Now humankind faces a nightmare invasion scenario made real, as more colossal machines touch down across the globe. But Rose and her team at the Earth Defense Corps refuse to surrender. They can turn the tide if they can unlock the last secrets of an advanced alien technology. The greatest weapon humanity wields is knowledge in a do-or-die battle to inherit the Earth . . . and maybe even the stars.
PRAISE FOR WAKING GODS
"Kick-ass, one-on-one robot action combines with mind-bending scientific and philosophical speculation. Series science-fiction fans will enjoy this follow-up filled with unexpected revelations and a surprise finale."—Booklist
"Pure, unadulterated literary escapism featuring giant killer robots and the looming end of mankind. In a word: unputdownable."—Kirkus Reviews (starred review)