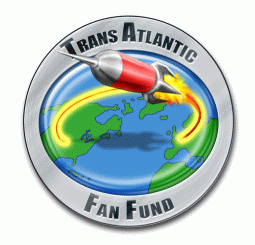 Need help deciding who to vote for in the 2018 Trans-Atlantic Fan Fund race?
The third issue of TAFF News [PDF file] is available on the TAFF Website with the candidates' answers to a questionnaire. Find out what Johan Anglemark, Fia Karlsson, and Helena McCallum had to say when they were asked these probative fannish questions —
1) Tell us something about yourself and fandom: where did it begin for you and when.

2) Are there any specific subgenres of Science Fiction & Fantasy you prefer? e.g., hard science, alternative history, steampunk, etc.

3) Describe your fannish activity: clubs you've been in, official roles (club president, or whatever), cons you've attended/worked on, and fanzines you've produced, and so forth.

4) What was the craziest or most fun thing you have ever done or experienced in fandom?
TAFF voting to pick a European delegate to the San Jose Worldcon is open until midnight EST of April 3, 2018. Get the ballot and voting information on the TAFF website.