On April 24, it was proposed that Filers, as a group, sponsor a park bench in the MidAmeriCon II Fan Village.
Response was so tremendous that we ended up sponsoring two parks, decorated with foliage and exotic miscellanea and benches with engraved plaques.
JJ set up a draft of this post for me, but I was hospitalized before I could finish editing the photos and working up the layout. Today is the day!
Thank You to the Filers who donated to sponsor Park 770:
list order created with a random-number generator — because how else would SF geeks do it???
Cathy Green
Lisa Harrigan
Heather Rose Jones
Stoic Cynic
DMS
Laura Watkins
Robin Reid
Travis Creason
Jim Henley
Kevin Chollman
Keith Stevenson
Willard Stone
Elise Matthesen
Lenore Jones
Linda Lewis
Susan Johnson
Christopher Gerrib
Soon Lee
Dawn Incognito
Hampus Eckerman
Tony Cullen
Bret Grandrath
Tasha Turner Lennhoff
Brian Vander Veen
Andrew Kuchling
JJ
Lowell Gilbert
Bonnie McDaniel
TYP
Levana Taylor
Mark-kitteh
Cassy Beach
bookworm 1398
StephenfromOttawa
Sylvia Sotomayor
Ursula Vernon
Naomi Kritzer
Greg Machlin
Doctor Science
Geoff Thorpe
Kendall
Charon Dunn
Doire
snowcrash
tofu
Simon Bisson
Mimse
Leslie C
Kimberly Kohn
Mike O'Donnell
Chris S
Cally Soukup
Lydia Nickerson
And, just to prove that we are truly a Wretched Hive Of Scum And Villainy, here are the SJW Credentials of Filer Donors:
Tasha Turner Lennhoff
Stoic Cynic
Mark-kitteh
Soon Lee
Cally S.
Charon
Robin Anne Reid
Guess what – the all black boy is Sooty. Minnie is no longer mini, but much reduced from her attempt to grow bigger than Sooty's predecessor.
Doire
Doctor Science
JJ
Tweek and Penwiper (aka The Cat From Hell)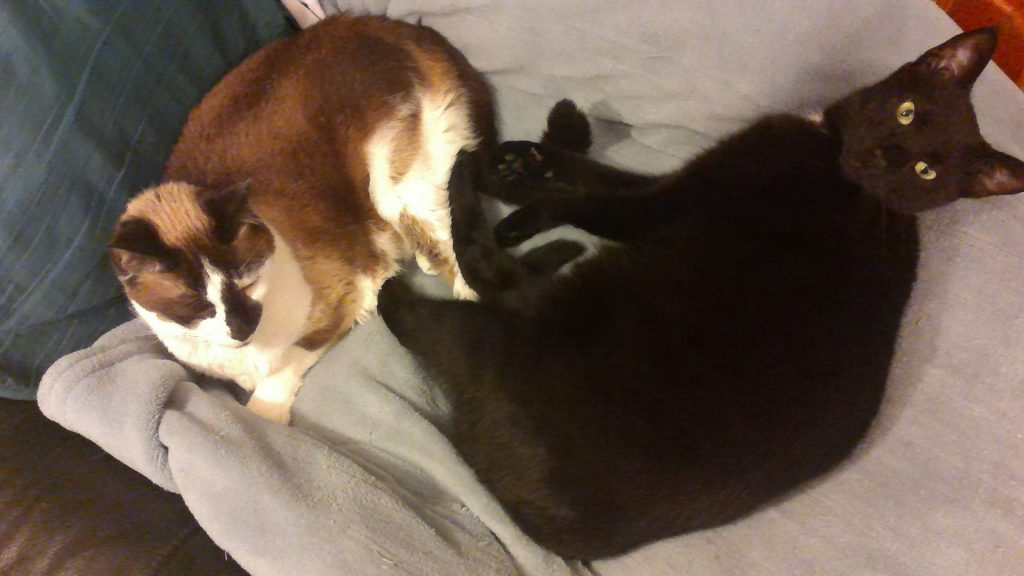 Lauowolf
jonesnori/Lenore Jones
Pogo, Betty, Shadow (of blessed memory), Magpie
Hampus Eckerman
Top left: Fred Lower left: Eddie Lower right: Dizze
Dawn Incognito
Bonnie McDaniel
Cheryl
Naomi Kritzer
Emily
Balto
Cassie McFluff
(Pictured below: Cassie McFluff, aka Fluffypants.)
Sylvia Sotomayor
The cat is DC, which stands for "Dazed and Confused", "Darn Cute", "Damn Cat", "Demanding and Complaining", and anything else we can come up with. She's 15 in this pic (16 now), and this shows her hanging out in the garden, waiting for a lizard to show up.
SciFiMike
Here's a pic of me and a couple of SJW Kitties guarding the TBR pile.
Er, Tigerman and Lionman?
Cassy B.
Heather Rose Jones
I don't have a current SJW credential, but it occurred to me that "tree-hugger" is a SJW credential, so I supply here a picture of me and my huggable tree, which does not have a name.
(Apologies in advance for any mistakes; please send any corrections ASAP to mikeglyer [at] cs.com)