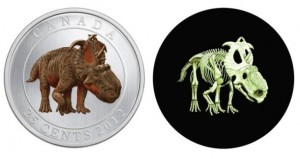 Canada's new glow-in-the-dark dinosaur quarters are the "Best money ever" declares Janice Gelb.
An article at Gizmodo elaborates:
The first in the series is the admittedly forgettable Pachyrhinosaurus lakustai, but it instantly becomes awesome when you shut the lights off and the dino's skeleton glows through its body. Who cares about that fancy new plastic money anymore? The only downside is that with a $30 price tag these won't be going into regular circulation, though they can be used as legal tender at their 25 cent face value.
I'd know better than to take face value for a gold coin. But a plastic coin worth more than 100 times its face value? That's an idea I'll have to get used to.
[Thanks to Janice Gelb for the link.]