By Skye Kingsbury: Lindt Lindor White Chocolate truffles
1) Opening the bag: The odor is sweet, creamy, with slight fruity overtones. Perhaps a hint of vanilla? As the bag sat open, the scent disappeared.
2) The truffles were individually wrapped in gold paper. Unwrapping is easy.
3) Unwrapped, the truffle is very smooth, with the texture of a small rubber bouncy ball.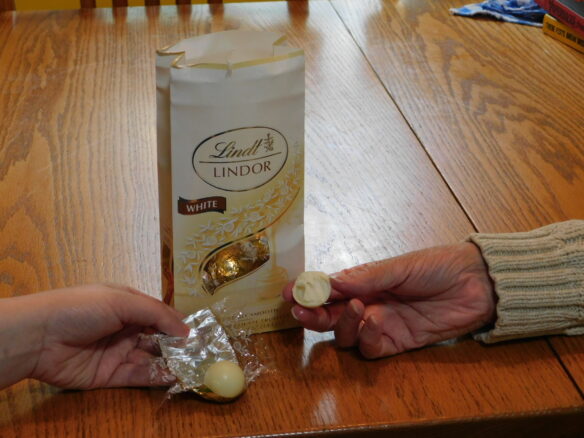 4) The outer shell is very smooth and melts on your tongue. It breaks, like a snap between your teeth. The taste is smooth, very creamy, coats the tongue. Definitely vanilla-flavored. There is a chocolate undertone, but very mild.
5) The truffle center gives way immediately to teeth and tongue. It's overwhelmingly sweet to the point of being cloying. It tastes fake. Not vanilla, not chocolate. Just sweet but not in a good way.
6) The shell is great! The truffle center is not great. It's like eating sweet shortening. Very Crisco-y. I'd eat the shells and avoid the truffle center. It coats the mouth like honey but leaves a burning sensation in the back of my throat. The shell's taste doesn't linger. The truffle center does.
7) I would not eat these again.
8) Dimitri sniffed suspiciously, then spurned the truffle. We wouldn't have let him eat it. We just wanted to see what he thought.