By Carl Slaughter: Debut authors Malka Older and Ada Palmer and Hugo-winner Robert Charles Wilson take on the techno social politics of the future in these post-cyberpunk stories, two of which are the first of a series.
THE AFFINITIES
by Robert Charles Wilson
In our rapidly changing world of social media, everyday people are more and more able to sort themselves into affinity groups based on finer and finer criteria. In the near future of Robert Charles Wilson's The Affinities, this process is supercharged by new analytic technologies–genetic, brain-mapping, and behavioral. To join one of the twenty-two Affinities is to change one's life.

Young Adam Fisk takes the suite of tests to see if he qualifies for any of the Affinities and finds that he's a match for Tau, one of the largest. Joining Tau is utopian–at first. Problems in all areas of Adam's life begin to simply sort themselves out as he becomes part of a worldwide network of people dedicated to helping one another–to helping him.

But there are other Affinities than Tau, with differing skills, strengths, and views about what to do with their newfound powers. As all twenty-two Affinities go global, they rapidly chip away at the power of governments, of corporations, of all the institutions of the old world. Then, with dreadful inevitability, the Affinities begin to go to war–with one another.

For Adam, and for the world, human life will never be the same.
INFOMOCRACY
Book #1 in the Centenal Cycle series
by Malka Older
Tor
It's been twenty years and two election cycles since Information, a powerful search engine monopoly, pioneered the switch from warring nation-states to global micro-democracy. The corporate coalition party Heritage has won the last two elections. With another election on the horizon, the Supermajority is in tight contention, and everything's on the line.

With power comes corruption. For Ken, this is his chance to do right by the idealistic Policy1st party and get a steady job in the big leagues. For Domaine, the election represents another staging ground in his ongoing struggle against the pax democratica. For Mishima, a dangerous Information operative, the whole situation is a puzzle: how do you keep the wheels running on the biggest political experiment of all time, when so many have so much to gain?

"Smart, ambitious, bursting with provocative extrapolations, Infomocracy is the big-data-big-ideas-techno-analytical-microdemoglobal-post-everything political thriller we've been waiting for." ?Ken Liu, author of The Grace of Kings
TOO LIKE THE LIGHTNING
Book #1 in the Terra Ignota series
by Ada Palmer
Tor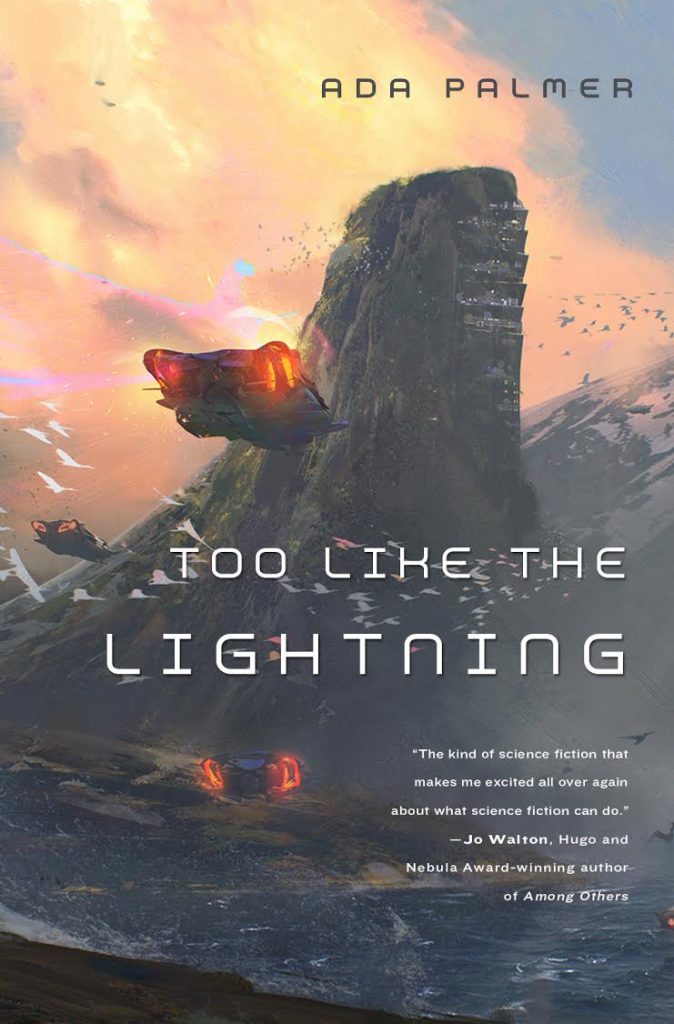 Mycroft Canner is a convict. For his crimes he is required, as is the custom of the 25th century, to wander the world being as useful as he can to all he meets. Carlyle Foster is a sensayer–a spiritual counselor in a world that has outlawed the public practice of religion, but which also knows that the inner lives of humans cannot be wished away.

The world into which Mycroft and Carlyle have been born is as strange to our 21st-century eyes as ours would be to a native of the 1500s. It is a hard-won utopia built on technologically-generated abundance, and also on complex and mandatory systems of labelling all public writing and speech. What seem to us normal gender distinctions are now distinctly taboo in most social situations. And most of the world's population is affiliated with globe-girdling clans of the like-minded, whose endless economic and cultural competition is carefully managed by central planners of inestimable subtlety. To us it seems like a mad combination of heaven and hell. To them, it seems like normal life.

And in this world, Mycroft and Carlyle have stumbled on the wild card that may destabilize the system: the boy Bridger, who can effortlessly make his wishes come true. Who can, it would seem, bring inanimate objects to life.