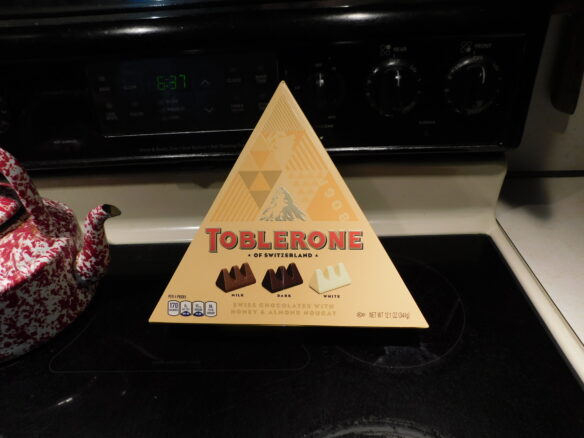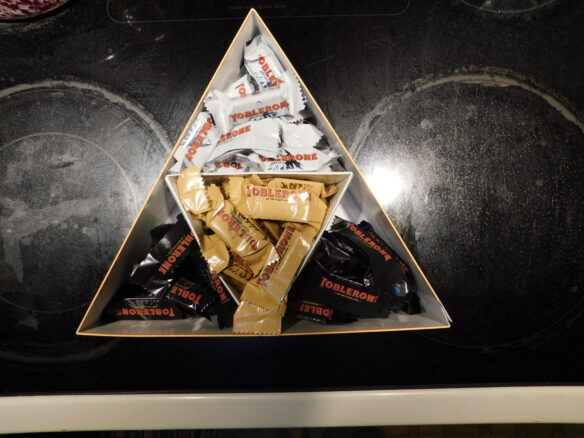 By Skye Kingsbury: Hi. I'm Skye. I'm in my twenties and I have tastebuds that are distressingly strong. It often makes things difficult for me to enjoy and I tend to be very picky about what sweets I eat. Case in point: I now drink coffee black instead of with two sugars like I used to.
I've wanted to try Toblerone Chocolate for a long time because it's supposed to be the good stuff. It's Swiss!
[Note: Skye is assisted in today's reviews by her cat Lulu.]
WHITE CHOCOLATE TOBLERONE
So, white chocolate. This genuinely smells like white chocolate instead of Crisco that has had white chocolate whispered at it from another room. What a snap! Crisp! It's very good. Sweet, kind of floral, fruity. Almost like what a flower should taste like when you smell it, one of the really strong scented ones.
There is definitely vanilla. The almond and nougat add a wonderful texture. I can taste the honey. It's delightfully sweet but not overwhelmingly so. It's not cloying. The honey adds an undertone, enough to leave the back of my throat burning. This is why I don't eat a lot of honey even though I like the taste.
The almonds don't have a strong taste but they add texture. The nougat are little chewy bits like caramel but better. They don't taste like caramel, but they have the texture like little sticky bits. Like toffee. They're really good.
This is some quality tempered white chocolate. It's rich! I couldn't eat very many but it's wonderful.
MILK CHOCOLATE TOBLERONE
This has an equally nice snap like the white chocolate. It has a nice chocolate scent but not as floral or fruity as the white chocolate. It's a real rich milk chocolate that coats the mouth. It's not as sweet as the white. It's not astringent but it's definitely got more flavors, as well as a more well-rounded taste.
The almond flavor is more pronounced. I don't notice the honey as much as the white chocolate. It's there; I can feel it at the back of my throat.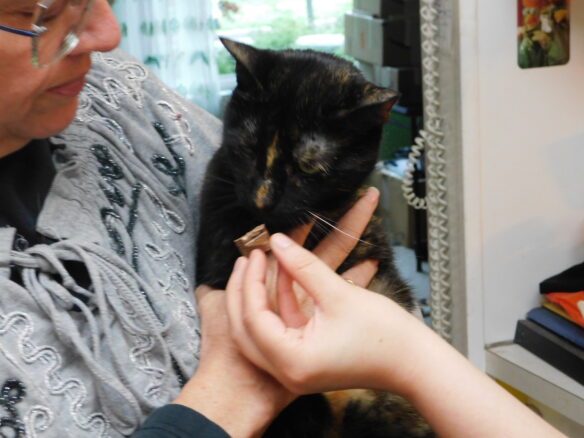 It's very smooth, melting and coating the tongue. It's like those nice high-quality cups of hot chocolate that you make by melting real chocolate and mixing with hot milk. That's how nice and smooth it is.
The almonds and nougat are definitely there. The texture is really good. I quite like it.
It's not nearly as sweet as the white but still definitely sweet. Not as much honey taste in case you don't like honey. But the honey is there, faint but noticeable and not enough to be an irritant.
DARK CHOCOLATE TOBLERONE
It smells of nice quality dark chocolate; darker, stronger, and more bitter. It smells like that 75% cacao that you can sometimes find.
It's got a crisp snap. It's more solid to my teeth than the other two. Very rich, mildly fruity. There's almost no honey taste. It is dark, coating my mouth with dark, strong chocolate.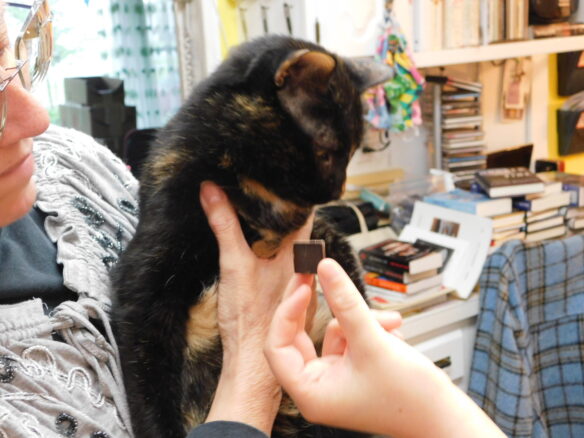 The almonds and nougat disappear into texture only. They have no taste, unlike the milk chocolate. Even without taste, their texture breaks up the dark chocolate. It's smooth and rich. I wouldn't be surprised if there was espresso powder in here because I detect a note — at the end — of floral fruit and coffee.
This is easily the strongest, most forward chocolate. If you don't like dark chocolate, you won't like this.
---
Conclusion: Overall, I recommend the dark chocolate, followed by the milk chocolate. The white chocolate was still very good but it was sweeter than the other two so I didn't like it quite as much.