S. B. Divya surprised colleagues this week by recommending Sudowrite's "Story Engine", marketed as an AI tool for writing long-form stories. Her tweet came out the same day that Sudowrite co-founder James Yu announced the product launch.
S.B. Divya is the author of Meru and Nebula-finalist Machinehood. She formerly co-edited Escape Pod, the weekly science fiction podcast. She holds degrees in Computational Neuroscience and Signal Processing and has worked for 20 years as an electrical engineer in various fields including pattern recognition, machine intelligence, high speed communications, digital music, and medical devices.
Numerous critical comments were made in response to Divya's recommendation, of which the following were among the first: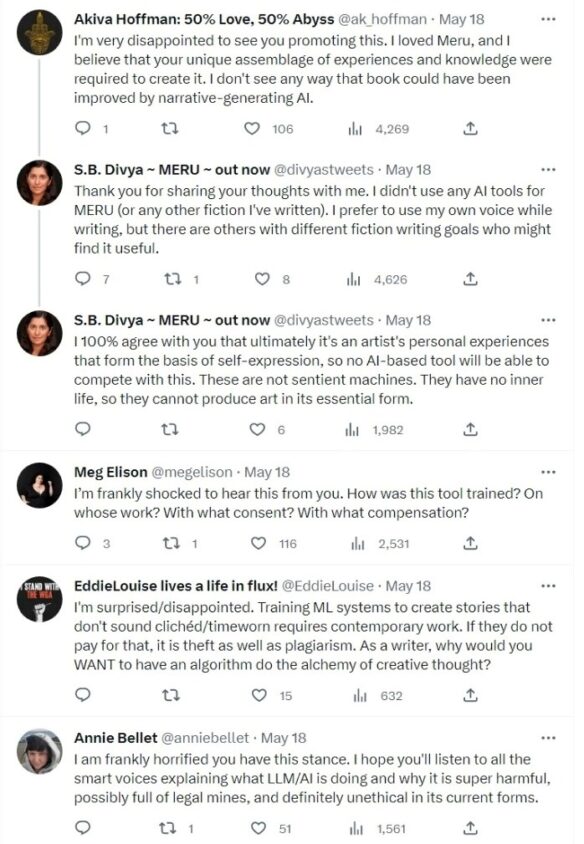 Divya has yet to reply to other tweeted questions about her personal stake in the product, if any.
Sudowrite was founded by writers Amit Gupta and James Yu. According to a FAQ on the company website, "The AI works by guessing one word at a time, based on general concepts it has learned from billions of samples of text."
Elsewhere on the website the concept is explained in more detail:
Sudowrite is based on GPT-3, a 175 billion parameter Transformer model, which learns general concepts from its training data. The bigger the model, the more complex these concepts can be.

The model generates text by guessing what's most likely to come next, one word at a time. Kind of like autocomplete on your phone. It's not copying and pasting sentences from a database. It actually writes each word individually.
Twitter user @ZinniaZed located video of a talk that Divya and Sudowrite's James Yu presented two months ago to UC San Diego's "The Design Lab", "AI and the Future of Creative Writing", which includes the following quote showing Divya's awareness of the technology's potential impact on professional creators:
One of the one of the sort of existential questions about art that is what does it even mean and does it have to be produced by a human being? And I feel like you know with the advent of some of these tools as we enable people to produce their own writing, to produce their own um paintings, there is going to be shrinkage in the market for buying those same products produced by human hands, right, because the same way that if I want to I can take my own wedding pictures today I don't have to hire a photographer and they can turn out really, really good…
Divya is not the only well-known author to speak favorably of Sudowrite – Hugh Howey and Mark Frauenfelder are quoted on the company website itself. A Google search yields many other examples.