An international team of fans are looking at Lisboa (Lisbon), Portugal as a venue for Smofcon 2021. This weekend saw Vincent Docherty and James Bacon enjoying a tremendous amount of local fannish Portuguese hospitality.
By James Bacon: Pedro Alves Martins and Margarida Simões of comic shop Legendary Books were hosting two events. Legendary Books is in the Alvalade neighbourhood, which was busy with shoppers and diners on the nicely warm November evening. The shop had a wide selection of comics and collections, but interestingly also had a varied amount of local art, and some very nice signed US comics. All very affordable.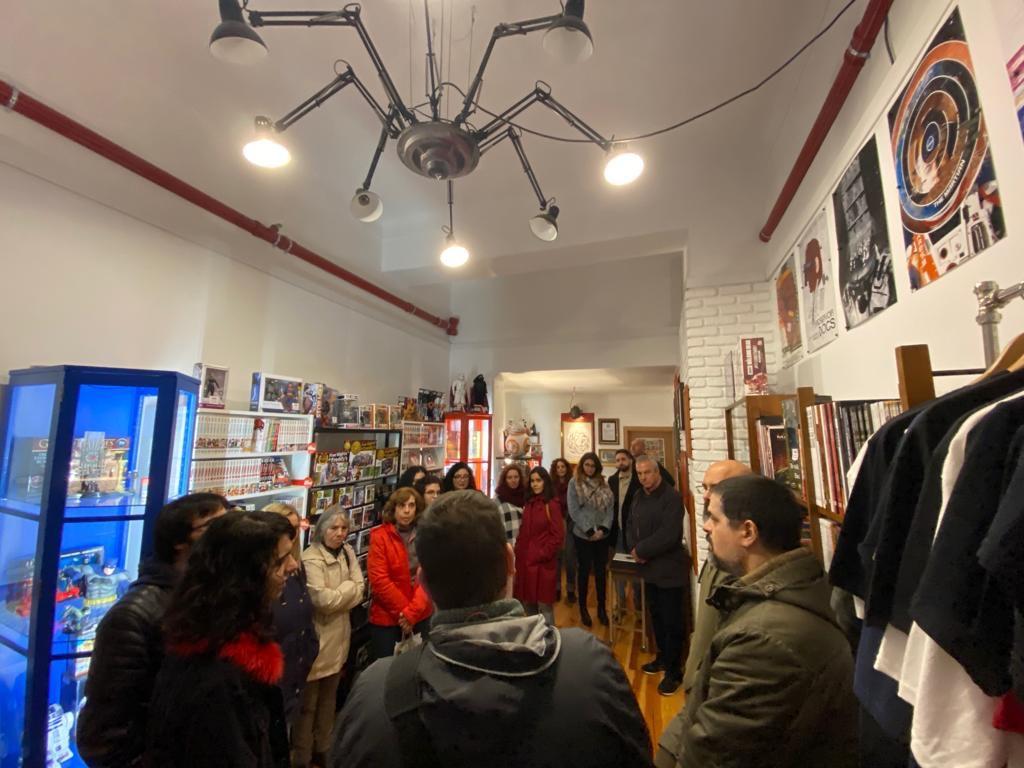 The first event was the launch of an art show of illustration and comic art by Ana Varela. Ana, a professional illustrator, turned her attention to comics in 2018, when she was invited to appear in the third issue of Apocryphus. Apocryphus is an independent comic anthology published by Mighell Publishing, now in its fourth volume. (https://www.facebook.com/pg/apocryphusproject/)
That same year, Ana was promptly awarded an Honorable Mention for the comic "The Mountain" by the Amadora BD comics competition. This delightful eight-page colour comic was on sale at the event, and is also online translated into English.
The art on display was stunning. Ana has a lightly-hatched, busy – yet clean and beautiful – ink style that captures actions and feelings in a very stylish way and is pleasing to the eye. Ana's coloured work was very clean and vibrant, adjusted I felt skillfully to the media in use, presenting a vibrant and pleasing way of storytelling that is gentle on the eye. I picked up a number of her comics, including "Door", which has no words, proving that I could read Portuguese comics. This is a comic artist who is developing technique and style and on a journey, which was really nice to observe in the pleasant surroundings of Legendary.
Next up was a presentation by Carlos Silva of The Tales of the King in Yellow by Robert W. Chambers, translated to Portuguese for the first time, with artist João Pinto on hand to discuss the illustrations in this edition. João's artwork from the book was also on display, and he spoke eloquently to the crowd, as they all applauded!
I opted not to rely on my Google translate to capture the elegant words, given previous interesting experiences with machine translations!
João is the author of two comic book series published as webcomics, "I am the Apocalypse" and "Sweet Days". https://aap1621.wixsite.com/joaobopinto
I was grateful for the ease in which English is used in Lisboa generally, but especially here. It is truly a second language, and although I did offer to compromise and speak in Irish, this was not as universally welcome as I had hoped. "Obrigado" got me very far, and "obrigada" got the laughs, so it was friendly and fun.
Carlos is a machine, and indeed, it was quickly becoming apparent that those active in the community are driven and determined, and working to a very high standard. Carlos, as well as being an editor and publisher, has written novels and short stories. His novel Angels won the 2015 Divergência Award. He set up the imprint Imaginauta, dedicated to promoting and publishing speculative fiction books that fit science fiction, fantasy, terror, weird, magical realism and more. Since 2017, through Imaginauta, he organizes the Contact Literary Festival each Easter, which is held in a library and has a varied programme including a room for Harry Potter fans.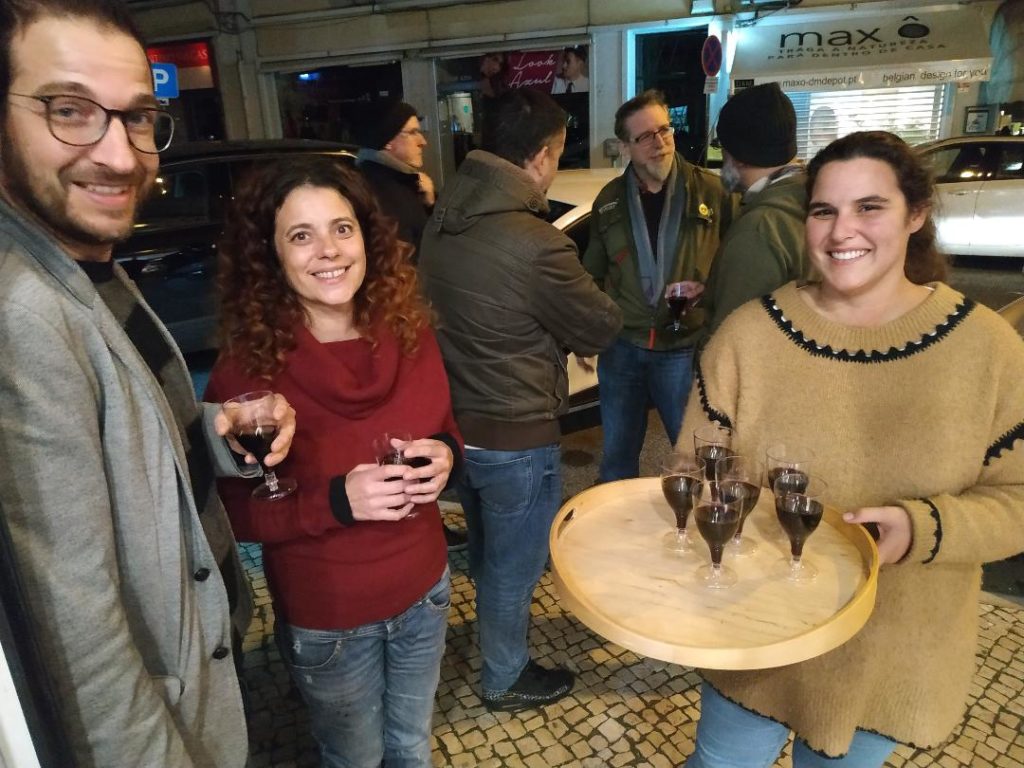 As we enjoyed the art on display, looked at comics, and contemplated Blacksad and Corto Malteses, Rita from Dois Dedos de Conserva, a boutique wine and food shop across the road, brought wine for all those present to enjoy. Fans, professionals and friends alike moved casually between both venues. There was late night comic shop browsing with fine drinks in hand and lovely plates of charcuterie available as nibbles. Margarida was busy showing art from a small press collection they produced, entitled Legendary Horror Stories, edited by Pedro and Margarida from the Legendary Books store — local Jorge Coelho illustrated the cover of the said book — but we were all quite taken by the stunning artwork of Rita Alfaiate in the story "NÓS" written by Nuno Duarte.
The discussion turned to convention running with Rogério Ribeiro and Miguel Jorge, who run Fórum Fantástico, which has now been a successful event for fifteen years. Miguel is also editor, artist and publisher of Apocryphus, the aforementioned comic anthology, which is stunning. I have to admit, I am often wary that a comic anthology with a brilliant cover disintegrates for me with art that is not to the same level, but Apocryphus was another matter altogether. Issue 3, "Femme Power", and Issue 4, "Sci-Fi", are generously sized graphic collections and were impressive.
Rogério speaks with a sparkle of future conventions, the idea of a Eurocon in Lisboa, and with such enthusiasm and warmth for a Smofcon in Lisboa. Technology, including Skype, Google Documents and the like, while brilliant at linking up fans, does not seem to be as enjoyable as a group around a table, glasses holding down maps, guides and government venue publications to hand, reviewing and discussing potential venues for a Smofcon, reflecting on site visits, and facilities and locations, and how easy and cheap a taxi can be.
All are fully on board with the Smofcon bid of course, their encouragement, advice and enthusiasm a vital part to any success that a travelling convention would need, and excited by the opportunities and prospects that it offers. Also exciting was the lifting of the cloak of ignorance which in-person discussions can illustrate so well, and did so and we all shared and learned about the busy local scene.
Lisboa is a fabulous city, but it presents unique challenges that the government recognise and want to go out of their way to help with. Of note is that for the traveller, Portugal is very cheap and affordable, the airport is a city airport, taxis are quick and plentiful. However, earnings for locals are not the same as Northern Europe, and tailoring matters to all communities generated ideas and thoughtfulness. What scope there is at a convention for conrunners to be introduced to local Science Fiction activities needs exploring, and there are many ideas that would complement an extensive Smofcon programme. Could the Smofcon be a launching point for larger endeavours? We all hoped it could be.
Missing the evening's events was Cristina Alves, who manages the Portuguese Portal. The Portal has proven a gift, allowing international fans to connect and engage with fans and activities that are happening in Portugal, and is purposely designed and maintained to share activities in Portugal with the English-speaking world. The Portal is one of those fan endeavours that opens up the community in a welcoming way. https://theportugueseportal.com/
Some fascinating things came up that I was totally ignorant of. For instance, Festival Vapor is a Steampunk festival every September in the National Train Museum, in Entroncamento, about an hour north from Lisboa. While I readily admit the clamouring for Red Jackets and Imperialistic Britishness in denial of history has steadfastly eroded my interest in the subgenre, this excited me and when I saw images of talks in train sheds, next to Royal Carriages and fans on model railways, I admit I was intrigued.
As the talk continued and ranged across a host of subjects, and people departed with farewells, we ended up at around 10pm, in what was described as a 'Local Joint' where beers were €1.70 and a huge platter of food, with monstrous steaks, and what I would describe as very Irish Chipper chips or varieties of rice, was less than ten euro. Rammed with locals, there was incredible friendliness and a very relaxed atmosphere. The venue closed, and we continued to drink, and be welcomed until Saturday passed into Sunday.
A fabulous evening, great fun.
Further details on the bid will be announced in December at the Smofcon in America, and shared online at www.smofconeurope.com. Information can be sought from [email protected]