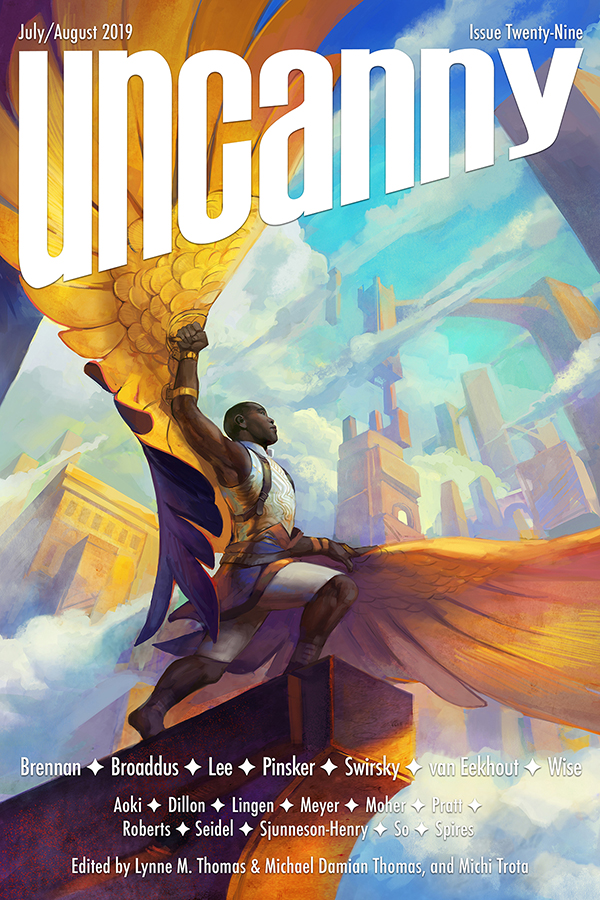 The 29th issue Uncanny Magazine will be available on July 2.
Hugo Award-winning Publishers/Editors-in-Chief Lynne M. Thomas and Michael Damian Thomas are proud to present the 29th issue of their 2016, 2017, and 2018 Hugo Award-winning online science fiction and fantasy magazine. As always, it features passionate SF/F fiction and poetry, gorgeous prose, provocative nonfiction, and a deep investment in the diverse SF/F culture, along with an award-winning monthly podcast featuring a story, poem, and interview from that issue. Stories from Uncanny Magazine have been finalists or winners of Hugo, Nebula, Locus, and World Fantasy Awards. 
All of Uncanny Magazine's content will be available in eBook versions on the day of release from Weightless Books, Amazon, Barnes & Noble, Google Play, and Kobo. Subscriptions are always available through Amazon Kindle and Weightless Books. The free online content will be released in 2 stages- half on day of release and half on August 6. 
Uncanny Magazine Issue 29 Table of Contents
Cover:
Skyward Bound by Julie Dillon
Editorial:
"The Uncanny Valley" by Lynne M. Thomas and Michael Damian Thomas
Fiction:
"The Blur in the Corner of Your Eye" by Sarah Pinsker (7/2)
"Big Box" by Greg van Eekhout (7/2)
"Compassionate Simulation" by Rachel Swirsky and P. H. Lee (7/2)
"On the Impurity of Dragon-kind" by Marie Brennan (8/6)
"How the Trick is Done" by A.C. Wise (8/6)
"The Migration Suite: A Study in C Sharp Minor" by Maurice Broaddus (8/6)
Reprint:
"A Champion of Nigh-Space" by Tim Pratt (8/6)
Essays:
"Was Trials of Mana Worth Growing Up For?" by Aidan Moher (7/2)
"The Gang's All Here: Writing Lessons from The Good Place" By Tansy Rayner Roberts (7/2)
"The Better Place" by Karlyn Ruth Meyer (7/2)
"Beware the Lifeboat" by Marissa Lingen (8/6)
"Sir Elsa of Tortall, Knight of the Realm" by Elsa Sjunneson-Henry (8/6)
Poetry:
"capturing the mood" by D.A. Xiaolin Spires (7/2)
"Sing" by Alexandra Seidel (7/2)
"If Love Is Real, So Are Fairies" by Cynthia So (8/6)
"Buruburu" by Betsy Aoki (8/6)
Interviews:
Caroline M. Yoachim Interviews Greg van Eekhout (7/2)
Caroline M. Yoachim Interviews Maurice Broaddus (8/6)
Podcasts:
Uncanny Magazine Podcast 29A (7/2)
"The Blur in the Corner of Your Eye" by Sarah Pinsker, as read by Erika Ensign
"capturing the mood" by D.A. Xiaolin Spires, as read by Joy Piedmont
Sarah Pinsker Interviewed by Lynne M. Thomas
Uncanny Magazine Podcast 29B (8/6)
"How the Trick is Done" by A.C. Wise, as read by Erika Ensign
"If Love Is Real, So Are Fairies" by Cynthia So, as read by Joy Piedmont
A.C. Wise Interviewed by Lynne M. Thomas