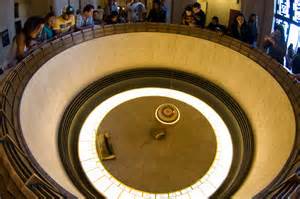 By Mike Glyer: My fifth grade class was on a field trip to Griffith Park Observatory that day in 1963. We'd watched the Foucault Pendulum swing in answer to the earth's rotation. Stared in awe at the Zeiss Projector's recreation of our night sky on the observatory's central dome. Eaten bag lunches and reboarded the school bus where the radio news was droning in the background. The driver said he had a very important announcement to make. President Kennedy had been shot in Dallas and taken to the hospital.
I think the kids who were immediately upset had the right response. But it was not yet known that the President had died, and my best friend and I had a more detached reaction. We'd lived through the Cuban Missile Crisis just a year earlier so we wondered how Cold War adversaries might try to exploit this tragic development. And had grandiose ideas about lowering the flag to half-mast when the bus arrived back at school. Yet I'd actually been quite a Kennedy fan as a boy — I'd even gotten relatives to take me to his Senate office on a summer trip to Washington D.C. in 1960 (he was away on campaign).
My parents' generation remembered where they were when they heard the news about Pearl Harbor on December 7, 1941, or V-E Day and V-J Day in 1945. Of course I hadn't been born yet. The JFK assassination was the first "where were you?" event in my generation. Doubtless for many of you that epochal moment is as remote as WW2 was for me. Perhaps the Challenger explosion or 9/11 was your first cultural snapshot moment. Or some other event altogether?