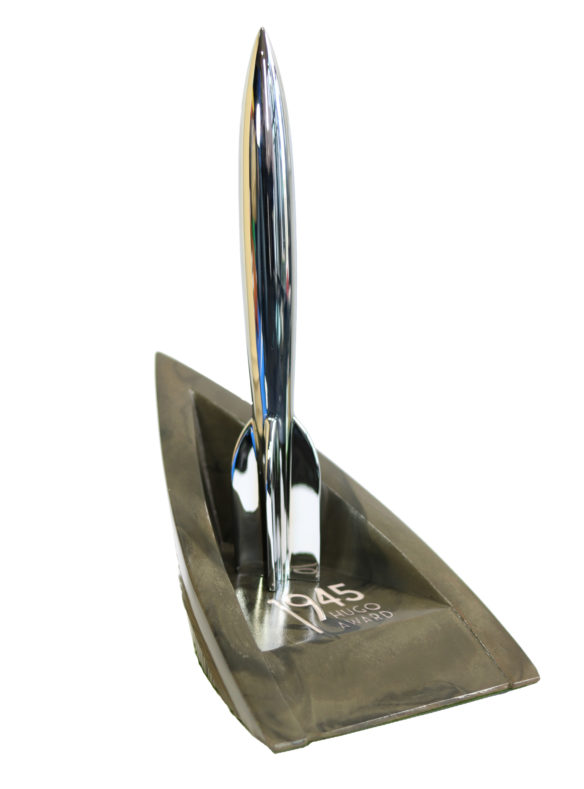 CoNZealand presented the 1945 Retro-Hugos today. The results included the first tie in the award's history, for the Best Dramatic Presentation – Short Form Retro-Hugo. (The full voting stats are online, and Deputy Hugo Awards Administrator Nicholas Whyte has done a quick analysis here.)
In addition to the regular Hugos, which will be presented later this week, the WSFS Constitution permits Retrospective Hugo Awards to be presented by a Worldcon held an even multiple of 25 years after a year after 1939 at which no Hugo Awards were presented. Due to World War II, there was no Worldcon in 1945, and no Retro-Hugos have previously been given for sff published in the 1944 eligibility year.
The winners of the Retro Hugo Awards 1945 are:
Best Novel
"Shadow Over Mars" (The Nemesis from Terra) by Leigh Brackett (Startling Stories, Fall 1944)
Best Novella
"Killdozer!" by Theodore Sturgeon (Astounding Science Fiction , November 1944)
Best Novelette
"City" by Clifford D. Simak (Astounding Science Fiction , May 1944)
Best Short Story
"I, Rocket" by Ray Bradbury (Amazing Stories , May 1944)
Best Series
The Cthulhu Mythos by H. P. Lovecraft, August Derleth, and others
Best Related Work
"The Science-Fiction Field" by Leigh Brackett (Writer's Digest, July 1944)
Best Graphic Story or Comic
Superman: "The Mysterious Mr. Mxyztplk" by Jerry Siegel,  Ira Yarbrough and Joe Shuster (Detective Comics, Inc.)
Best Dramatic Presentation, Short Form
[Tie]
The Canterville Ghost, screenplay by Edwin Harvey Blum from a story by Oscar Wilde, directed by Jules Dassin (Metro-Goldwyn-Mayer (MGM))
The Curse of the Cat People, written by DeWitt Bodeen, directed by Gunther V. Fritsch and Robert Wise (RKO Radio Pictures)
Best Editor, Short Form
Best Professional Artist
Best Fanzine
Voice of the Imagi-Nation , edited by Forrest J Ackerman and Myrtle R. Douglas
Best Fan Writer
Update 08/11/2020: Added Ira Yarbrough's name to creators of Superman, per correction issued by Hugo Administrators.