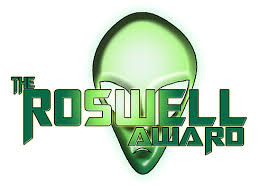 The winner of 2018 Roswell Award for short science fiction by adults was announced at LitFest Pasadena on May 19. Celebrity guests read the five finalists' stories, after which the first, second, and third place winners were revealed.
1ST PLACE: Pod by Kit Gower (Pennsylvania)
2ND PLACE: A New Place by James Sowka (California)
3RD PLACE: Dark Ages by Chloe Cole (California)
FINALIST: The King Experience by Alanah Andrews (Australia)
FINALIST: Night of the Flying Saucers by Ben Paulus (Oregon)
During the ceremony The Women Hold Up Half the Sky Award also was presented by Artemis Journal and the Hollywood Chapter of the National Organization for Women (Hollywood NOW). The award "recognizes a science fiction story that embraces feminist themes and has a strong female protagonist."
2018 WOMEN HOLD UP HALF THE SKY AWARD
"Equality Day" by Mindy Quigley (Virginia)
HONORABLE MENTIONS:
Project Seahorse by Anna Katz (Washington)
Mother of Pearl by Elena Sichrovsky (China)
Mindless Beasts by Ted Hayden (California)
The Space Beyond Cubicle Twenty-Nine by Chelsea Sutton (California)
A Quiet Street by Eli Ryder (California)
The winning story will be published both by Artemis Journal and Hollywood NOW, and will be read aloud on stage by a celebrity guest.
[Thanks to Rosalind Helfand for the story.]