The 2019 finalists for the Cybils (Children's and Young Adults Bloggers' Literary Awards) were announced on January 1.
The Cybils Awards aims to recognize the children's and young adult authors and illustrators whose books combine the highest literary merit and popular appeal. If some la-di-dah awards can be compared to brussels sprouts, and other, more populist ones to gummy bears, we're thinking more like organic chicken nuggets. We're yummy and nutritious.
Here are the results from the speculative fiction categories, plus books of genre interest in the graphic novel categories.
Elementary/Middle-Grade Speculative Fiction
Cog by Greg van Eekhout, illustrated by Beatrice Blue
Cog uses the voice of a robot with artificial intelligence, who looks like a 12 year old African American boy, to raise questions about what makes us human. Learning from making mistakes? Our connections with others? After Cog saves a dog from being run over, he lands in the hands of a roboticist who believes robots are tools, and the financial bottom line is the most important thing. When Cog realizes the danger he's in, he knows he must escape and find his beloved programmer again. Readers will love the rollercoaster ride adventure Cog takes to try to make sure he's learning all the lessons he's meant to learn.
Homerooms and Hall Passes by Tom O'Donnell
Homework and Hallpasses is a classic "fish out of water" story about a group of kids who get trapped in a game they're playing. There's a twist- the group of kids are from a medieval realm and include a wizard, an assassin, a paladin, a Barbarian, and thief. The game they are trapped in is called Homework and Hallpasses, a role playing game set in a modern day middle school. The laugh out loud dialogue and situations that develop as the dangers of middle school are coupled with a demonic curse, will keep all readers turning the pages to the final, hilarious solution.
Love Sugar Magic: A Sprinkle of Spirits by Anna Meriano, illustrated by Mirelle Ortega
Leo's family runs a magical bakery in a small Texas town, and she longs to learn all she can about magic, even though her family doesn't trust her with it. When she wakes up to find her abuela, dead for years, visiting her in very corporal form, she's sure that this time it isn't her fault. Other spirits pop up around town, and if it isn't Leo's magic at work, whose is it? Leo calls on her friends to help, and a wild ghost chase ensues. Honoring and balancing obligations to family, friends, and the community is just as important to the story as the magical shenanigans are, and these threads combined make an unforgettably fun, warm, story full of Mexican and Costa Rican culture.
Sal and Gabi Break the Universe (A Sal and Gabi Novel, Book 1) by Carlos Hernandez
Sal and Gabi Break the Universe is a quirky sci-fi friendship story brimming with humor and heart. Sal Vidón is not your typical diabetic Cuban-American middle school magician. He can tear holes in the fabric of the multiverse and bring things—and even people—from parallel universes into his own. It's a useful skill, but it can lead to complications. Luckily, he finds a fierce ally in student council president, Gabi Reál. This book tackles serious issues with such a light touch that readers will never want to leave Sal and Gabi's universe.
The Dark Lord Clementine by Sarah Jean Horwitz
Clementine has been raised to follow in her father's footsteps as a Dark Lord. When he's cursed, it falls to her to look after their castle and its magical creatures, while desperately searching for a cure. It doesn't go well. But as Clementine grows in confidence, with two friends on her side for the first time in her life, she subverts the old notions "Dark Lord" and makes the role her own. It's delightful to watch her come into her own. The humor of her world and the fun twists on standard fantasy are delightful as well, with themes of community, friendship, and forgiveness adding emotional weight.
Tristan Strong Punches a Hole in the Sky by Kwame Mbalia
Tristan Strong Punches a Hole in the Sky is an epic adventure that melds African and African American folklore in a riveting fantasy about the power of stories. Tristan, an African American seventh grader, has lost his best friend and is spending the summer down South with his grandparents. There he is transported to a land of lore that is both familiar and strange. Tristan processes grief and guilt while confronting an allegory of his ancestral past in this otherworldly adventure. Told in rich cinematic detail with beautiful attention to dialogue, Tristan Strong Punches a Hole in the Sky demands space on the bookshelf.
We're Not from Here by Geoff Rodkey
We're Not From Here puts all of us in the place of refugees and new kids when Lan and their family must represent all of humanity on an alien planet. The inhabitants of the planet Choom changed their minds about taking refugees while the human ship was on its way there – and now if Lan's family can't convince them that humans are civilized, all the humans on their ship will die in space. Even though the situation is dire and the government of Choom has set them up to fail, the humor in this book keeps the reader laughing along with Lan, learning how to understand truly alien perspectives.
Young Adult Speculative Fiction
Aurora Rising (The Aurora Cycle) by Amie Kaufman and Jay Kristoff
Six cadets are brought together by circumstance. A rescued girl joins their crew; she's powerful, mysterious, and over 200 years old. When the group uncovers a massive conspiracy, it takes all of their skills to survive. The chapters alternate between the seven crew members, each with distinct voices, including one who seems to be on the autism spectrum, and another who is both disabled and queer. The world is impressively fully built, including a unified religion and complex alien cultures.
Echo North by Joanna Ruth Meyer
When Echo's father goes missing, she sets out to find him and runs into the wolf that scarred her as a child. The White Wolf agrees to save her father if she promises to live in an enchanted house with him for an entire year. Meyer's story is a captivating fairy tale retelling mash-up about love being the most potent magic. There's a strong sense of fairy-tale destiny in some of the events, and in many ways, it reads as if it were an ancient tale handed down instead of a new release. The darkly atmospheric tone contributes to this fantastical, unique take on the fairy tale genre.
Fireborne (THE AURELIAN CYCLE) by Rosaria Munda
What happens after the revolution, and how do you build the society you've fought to create? In Munda's fiery debut, inspired by Plato's Republic and set in a fantasy world a few years after a people's revolution, two teenage dragonriders face these questions head-on as they compete to become First Rider. Munda has written a rousing story full of twists and turns that places her multi-layered characters in impossible situations where all choices seem like the wrong ones. The dragons and their relationships with their riders are fresh and exciting, adding new life to an old and beloved fantasy trope. Expertly balancing a thrilling plot with literary depth, Fireborne soars.
Internment by Samira Ahmed
Set "fifteen minutes in the future," this speculative novel about the internment of Muslim Americans is all too realistic. In an authentic teenage voice, Layla Amin tells of how she and her parents are forcibly removed from their homes and imprisoned in the California desert. Teens will feel Layla's growing terror as her civil rights are violated and violence against the internees grows. But they'll also root for her as she and some new friends resist and make plans to right the wrong. In an era where many people feel helpless about the real world, Internment can inspire empathy and action among teens, who are poised to change the world.
Sorcery of Thorns by Margaret Rogerson
Margaret Rogerson's sophomore novel, Sorcery of Thorns, reads like a love letter to libraries, books, and readers. The orphaned protagonist, Elisabeth Scrivener, was raised in one of the Great Libraries to become a warden, a protector of the library's grimoires. When Elisabeth is accused of a murder she didn't commit, she has to leave her home in the Great Library and make an unlikely alliance with a sorcerer named Nathaniel. While she attempts to clear her name, she uncovers danger, conspiracies, and an evil she never expected.

Mixing high fantasy, romance, and gothic elements, Sorcery of Thorns is an engaging story that presents a fascinating world, a breathtaking plot, and deep themes on morality and family. Our panel also enjoyed the representation of bisexuality in a fantasy setting, the lore of the demons, and the quick pace.
The Wicked King (The Folk of the Air) by Holly Black
Cardan is now High King, but Jude is pulling the strings. In this dark and broody second installment of the Folk of the Air Trilogy, Black returns to the beautiful and harsh faerie realm, where Jude must fight off attempts to steal the crown while ruling from the shadows. This is no second book slump: Black builds upon the first book, further fleshing out the brutal world of Faerie and peopling her story with delightfully complicated characters both old and new. Secrets, tragedy, and betrayal await Jude on every page of this exciting story that will have teens clamoring for the finale.
War Girls by Tochi Onyebuchi
Set in a far-future Nigeria and based on the real Nigerian Civil War of the 1960s, War Girls alternates chapters between two sisters who believe the other to be dead. Separated by the war, the two girls – one a warrior who pilots giants mechs, the other a young technological whiz – slowly and inorexably move toward a reunion that will be like neither of them expects. Each sister has a distinct personality and unique voice, and the world is detailed and fully fleshed out. This book both requires and inspires deep thought.
OTHER NOMINEES OF GENRE INTEREST
Elementary/Middle Grade Graphic Novels
The Hidden Witch by Molly Knox Ostertag
Through her writing and vibrant artwork, Ostertag has created a sequel that is every bit as moving and hopeful as 2017's The Witch Boy. When a new girl, Ariel, starts at Charlie's school, a mysterious dark power starts attacking people, and Charlie and Aster suspect Ariel is the source. This series often explores the idea that people who lash out at others may be suffering themselves and instead of turning against her, Charlie and Aster work together to reach out to Ariel and help her turn things around. Even though this comic tackles some serious themes, it does so skillfully and is an absolute delight to read.
The Tea Dragon Festival (The Tea Dragon Society) by Katie O'Neill
While gathering herbs in the forest, villager Rinn discovers Aedhan, a dragon who has been in an enchanted sleep for nearly a century. With the help of Rinn's uncle Erik and his partner Hesekiel, they set off to discover the source of the enchantment. O'Neill includes characters of multiple genders and races as well as disabled characters; she makes a point at the beginning to explain the use of ESL in the course of the story. From the Eisner and Harvey Award-winning author of Princess Princess Ever After and Aquicorn Cove, this all-ages companion story set in the world of The Tea Dragon Society is magical and heartwarming.
Tiger vs. Nightmare by Emily Tetri
Find the unlikeliest of friendships and an unbeatable nightmare-fighting team in this empowering graphic novel about wrestling with growing pains and anxieties. Tetri's dynamic and colorful imagery is full of emotional expressions of bravery, fear, joy, and determination, and there's an inherent movement to the watercolor media that carries readers curiously but safely through Tiger's story. Tiger vs. Nightmare is the perfect choice for children aging out of picture books or looking to explore their anxieties more deeply through the comfortable lens of someone else's life.
Young Adult Graphic Novels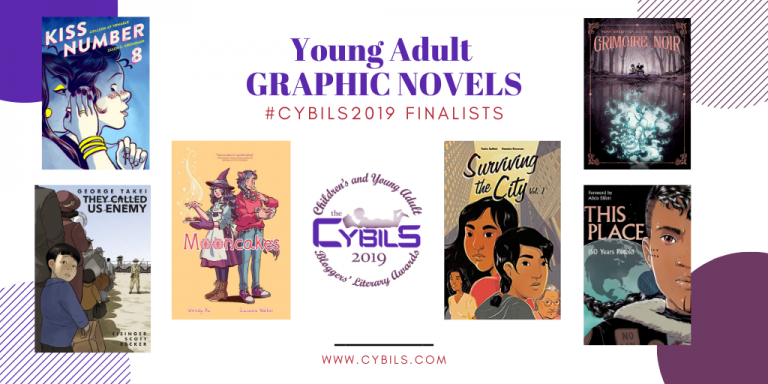 Grimoire Noir by Vera Greentea and Yana Bogatch
Spooky and ethereal, Grimoire Noir creates a mystery within a unique paranormal world in which all the females are witches. When Bucky Orson's younger sister goes missing, he has to search the whole town to find her. In the process, he discovers a forgotten and sinister history. Bogatch complements Greentea's unique world building with moody illustrations that are sure to capture the imaginations of readers everywhere.
Mooncakes by Suzanne Walker and Wendy Xu
Enchanting and adorable, Mooncakes whisks the reader into a story of rekindled romance between a witch and a werewolf with a touch of danger. The layers of each character add much to the story, our lesbian witch having hearing aids and using them in her magic. The werewolf character is non-binary and learning her wolf magic, and the grandmother characters are just so beautiful, loving and accepting of everything that happens in the story. Mooncakes brings to life a story that is full of acceptance and magic all in one.
They Called Us Enemy by George Takei, Justin Eisinger, Steven Scott, and Harmony Becker
This graphic novel is easily one of the most important that I have read this year. It vividly displays the hardships of Japanese-Americans during World War II while they were forced into concentration camps. The book is a graphic memoir and follows George Takei's family as they lived in one of the camps.