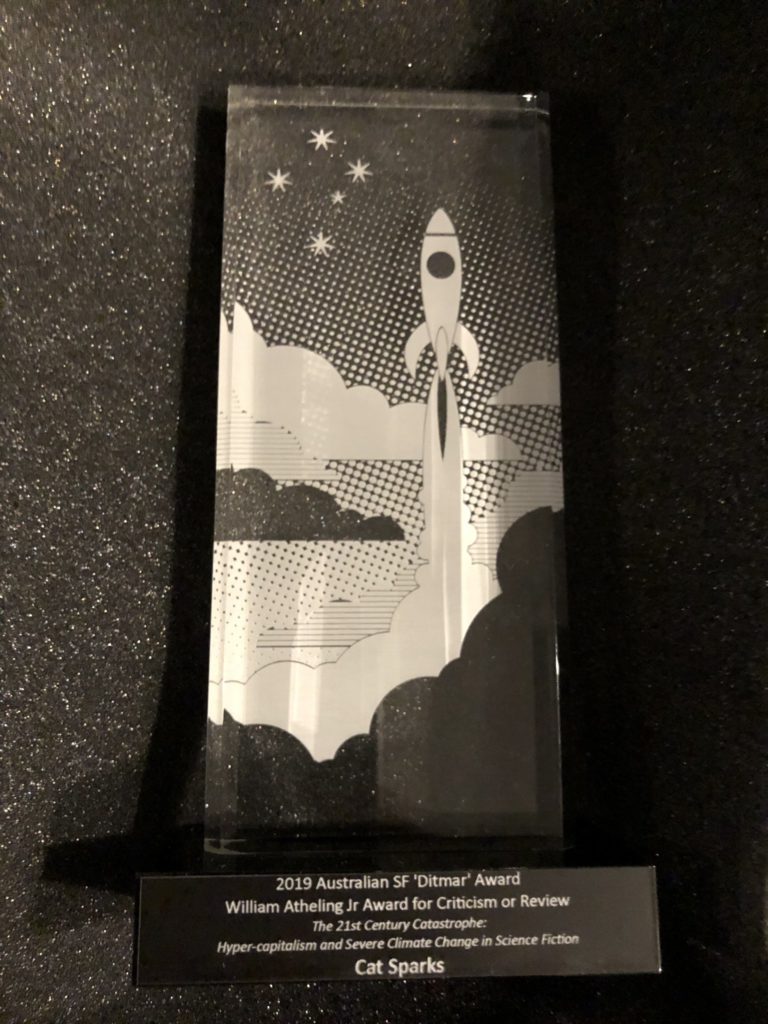 The results of the 2020 Ditmar Awards were released on September 18, livetweeted Elizabeth Fitzgerald.
The Ditmar Award is Australia's oldest and best-known science fiction, fantasy and horror award, presented annually at the Australian NatCon since 1969.
This year's NatCon, Swancon 2020 in Perth, was cancelled due to the pandemic and the award winners were announced online.
Best Novel
The Year of the Fruit Cake, Gillian Polack, IFWG Publishing Australia.
Best Short Fiction
"Whom My Soul Loves", Rivqa Rafael, in Strange Horizons, 11 November 2019.
Best Collected Work
Collision, J.S. Breukelaar, Meerkat Press.
Best Fan Publication in Any Medium
[Joint Award]
Be The Serpent podcast, Alexandra Rowland, Jennifer Mace and Freya Marske.
SF Commentary, Bruce Gillespie.
Best Fan Writer
Elizabeth Fitzgerald, for reviews in Skiffy and Fanty.
Best New Talent
William Atheling Jr. Award for Criticism or Review
Grant Watson, for reviews on FictionMachine.
Note: There were insufficient nominations for the Best Artwork and Best Fan Artist categories, therefore no awards were given.
[Via Ansible.]