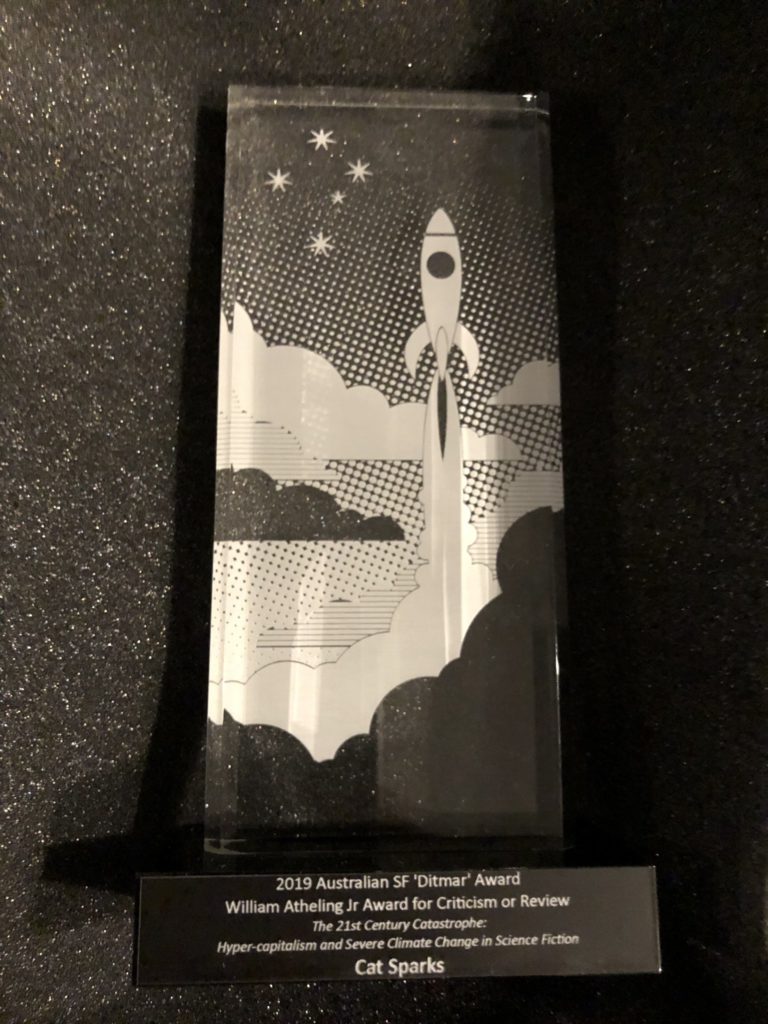 The preliminary ballot for the Australian SF ("Ditmar") Awards for 20202 has been made available for comment and correction before becoming final.
The nominees are award-eligible works and persons first nominated by fans and members of the Australian NatCon which have been compiled into a ballot by a sub-committee elected at the previous National SF Convention business meeting.
The awards will be presented at the 2020 Ditmar Awards ceremony, hosted by Swancon (April 24-26, 2021 in Perth, Australia.)
The Final ballot will have a "No Award" option in each category.
Best Novel
Claiming T-Mo, Eugen Bacon, Meerkat Press.
The Year of the Fruit Cake, Gillian Polack, IFWG Publishing Australia.
Best Short Fiction
"into bones like oil", Kaaron Warren, in Into Bones like Oil, Meerkat Press.
"Whom My Soul Loves", Rivqa Rafael, in Strange Horizons, 11 November 2019.
Best Collected Work
Collision, J.S. Breukelaar, Meerkat Press.
Best Artwork
INSUFFICIENT NOMINATIONS
Best Fan Publication in Any Medium
Be The Serpent podcast, Alexandra Rowland, Jennifer Mace and Freya Marske.
SF Commentary, Bruce Gillespie.
Best Fan Writer
Bruce Gillespie, for writing in SF Commentary and ANZAPA articles.
Elizabeth Fitzgerald, for reviews in Skiffy and Fanty.
Best Fan Artist
INSUFFICIENT NOMINATIONS
Best New Talent
William Atheling Jr Award for Criticism or Review
Eugen Bacon, for Writing Speculative Fiction, Red Globe Press.
Grant Watson, reviews on FictionMachine.