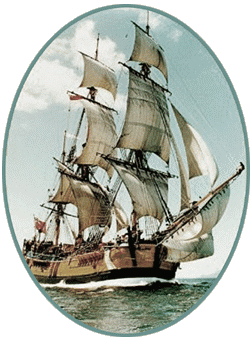 Five novels by writers from the Pacific Northwest are finalists for the 22nd annual Endeavour Award.  The Award comes with an honorarium of $1,000 and will be announced in November at OryCon.  Because of Covid 19, Orycon will be held on-line.
The finalists are:
Merlin Redux by Dave Duncan, who was from Victoria, BC, Night Shade Books
Middlegame by Seanan McGuire, who is from Kenmore, WA, Tor Books
Shadow Stitcher by Misha Handman, who is from Victoria, BC, Edge Science Fiction and Fantasy Publishing
What The Wind Brings by Matthew Hughes, who is from Victoria, BC, Pulp Literature Press
The Witch's Kind by Louisa Morgan, who is from Port Townsend, WA, Redhook
The Endeavour Award honors a distinguished science fiction or fantasy book, either a novel or a single-author collection, created by a writer living in the Pacific Northwest. All entries are read and scored by seven readers randomly selected from a panel of preliminary readers. The five highest scoring books then go to three final judges, who are all professional writers or editors from outside of the Pacific Northwest.
The judges for the 2020 Award are Michael Capobianco, John G. Hemry, and Rosemary Claire Smith.
Michael Capobianco is co-author, with William Barton, of the hard sf books Iris, Alpha Centauri, Fellow Traveler, and White Light. He has published one solo science fiction novel, Burster (Bantam). Purlieu, which Analog called "a delightful adventure story set in a marvelous world filled with mysteries and wonders," is his first venture into young adult territory. Capobianco served as President of Science Fiction and Fantasy Writers of America (SFWA) from 1996-1998 and again in 2007-2008, and was drafted to fill the office of SFWA Vice President in 2010. He currently serves as SFWA's Authors Coalition Liaison and is a member of SFWA's Contracts and Legal Affairs Committees. Capobianco lives in Southern Maryland with two cats, Ariel and Mocha.
John G. Hemry (writing as Jack Campbell) is the author of the New York Times best-selling Lost Fleet series , Genesis Fleet series, and Lost Stars series, as well as the Steampunk-meets-high-fantasy Pillars of Reality, Dragon's Legacy, and Empress of the Endless Sea series. He's currently writing another Lost Fleet trilogy, carrying on the story from where it left off in Leviathan. His shorter fiction includes time travel, alternate history, space opera, military SF, fantasy, and humor, and is collected in three anthologies (Ad Astra, Swords And Saddles, and Borrowed Time). John is a retired US Navy officer, who served in a wide variety of jobs including surface warfare (the ship drivers of the Navy), amphibious warfare, anti-terrorism, intelligence, and some other things that he's not supposed to talk about. Being a sailor, he's been known to tell stories about events which he says really happened (but cannot be verified by any independent sources). This experience has served him well in writing fiction. He lives in Maryland with his indomitable wife "S" and three great kids (two of them on the autism spectrum). Web Site: www.jack-campbell.com
Rosemary Claire Smith's story, "Diamond Jim And The Dinosaurs," was a finalist in Analog Science Fiction and Fact's AnLab Readers' Poll. Rosemary draws on her background as a field archaeologist and a lawyer to write fantasy, science fiction and horror stories that have appeared, or will soon appear, in Analog, Amazing Stories, Fantastic Stories, Hybrid Fiction, Digital SF, Stupefying Stories, and other periodicals and anthologies. Analog has published a number of her guest editorials. Both her fiction and nonfiction showcase her interests in folklore, mythology, prehistoric societies, aliens, alternate history, the exploration of distant lands, and most especially time travel to the heyday of the dinosaurs. Rosemary is a graduate of the Clarion Science Fiction and Fantasy Writers Workshop as well as Taos Toolbox workshop. Her interactive fiction adventure game, T-Rex Time Machine, is available from Choice of Games. Rosemary is a graduate of the Clarion Science Fiction and Fantasy Writers Workshop as well as Taos Toolbox workshop. She's been blogging at rosemaryclairesmith.wordpress.com/blogging-the-mesozoic for the past 156 million years.
AWARD ELIGIBILITY FOR 2021 AWARD. To be eligible for next year's Endeavour Award the book — either a novel or a single-author collection of stories — must be either science fiction or fantasy. The majority of the book must have been written, and the book accepted for publication, while the author was living in the Pacific Northwest (Oregon, Washington, Idaho, Alaska, British Columbia, or the Yukon.)
The deadline to enter books published during 2020 is January 31, 2021.
Full information on entering the Award is available on the Endeavour Web site: www.osfci.org/endeavour. Click on Entry Form in the left hand column for a fill-in PDF of the form.
The Endeavour Award is sponsored by Oregon Science Fiction Conventions, Inc. (OSFCI), a 501(c)(3) non-profit corporation
[Based on a press release.]