The winner of the 2020 Petrona Award for the Best Scandinavian Crime Novel of the Year was announced in a virtual ceremony on December 3.
Little Siberia by Antti Tuomainen, Translated by David Hackston (Orenda Books; Finland)
The author and the translator of the winning title both receive a cash prize, and the author receives a trophy plus a full pass to and a guaranteed panel at CrimeFest 2022.
Winning author Antti Tuomainen commented:
To make a long story short, I have to make it long first. A few years ago, after publishing five very dark and very noir books, I felt there was an element within me I had to bring into my writing: humour. Before my first darkly funny book The Man Who Died was published I was very nervous. Was I making a big mistake? One of those career choices you read about in artists' biographies under the chapter title 'The Fall'? Not that anyone would write about me, as I would be forgotten, found much later in a basement room, alone, perished in the middle of a last 'humorous' sentence … Happily, I was wrong, and not for the first time. Which seems to bring us to Little Siberia. It is my eighth book and now the recipient of the prestigious Petrona Award. When I set out to write a darkly comical crime novel with a priest as main character, I knew I was taking a leap – again. Alas, here we are. I want to thank David Hackston and Karen Sullivan, both incomparable and indispensable, as without them all the jury would have had was a book in Finnish with no idea who sent it. I send my warmest thank you to the ladies and gentlemen of the jury. Oh, and that shorter story: after fifteen years of writing and nine books, it seems I'm finally an overnight success.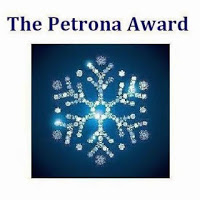 The Petrona Award is open to crime fiction in translation, either written by a Scandinavian author or set in Scandinavia, and published in the UK in the previous calendar year. The award was established to celebrate the work of Maxine Clarke, one of the first online crime fiction reviewers and bloggers, who died in December 2012. Maxine, whose online persona and blog was called Petrona, was passionate about translated crime fiction but in particular that from the Scandinavian countries.
[Thanks to Cora Buhlert for the story.]