The 2021 winner of the Australian Fairy Tale Society Annual Award for Inspiration and Contribution to Australian Fairy Tale Culture" is Louisa John-Krol.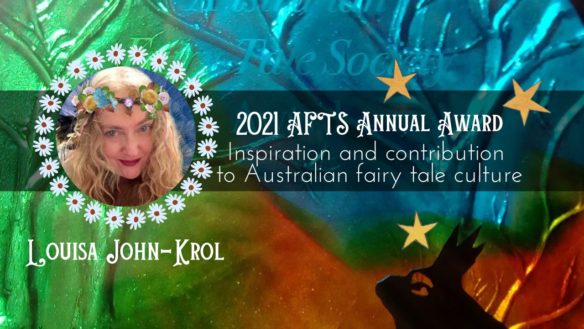 The announcement on the Society's Facebook page says:
Louisa's contributions to the field of fairy tales in Australia are extensive so I am only going to summarise some of the points from the extensive nomination she received this year:

Singer, producing 8 CDs and performing internationally

Writer of short stories and memoirs

Storyteller, particularly at the Wonderwings fairy shop

Co Editor of the Ezine

Administrator and leader: Ring Leader of the Victorian Fairy Tale Ring, and AFTS President for many years.

"While Louisa has achieved many extraordinary things I believe it is her extraordinarily kind heart and passionate support of those around her that needs to be recognised and celebrated with this award. Out of anyone I've ever met, Louisa is the truest of fairy godmothers."

The Society takes great pleasure in recognising some of the achievements and qualities of Louisa John Krol who has contributed so much to our community
You can read much more about her service, achievements, and creativity in her 2021 nominee citation.