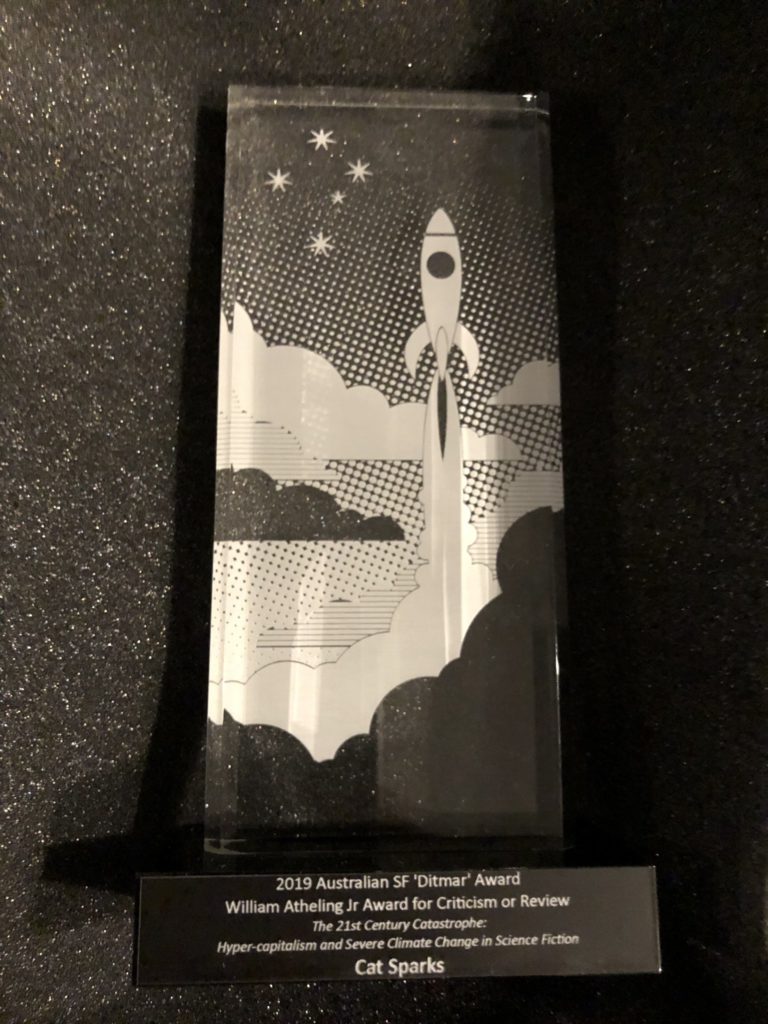 The preliminary ballot for the Australian SF ("Ditmar") Awards for 2021 has been made available for comment and correction before becoming final.
The nominees are award-eligible works and persons first nominated by fans and members of the Australian NatCon which have been compiled into a ballot by a sub-committee elected at the previous National SF Convention business meeting.
The awards will be presented at the 2020 Ditmar Awards ceremony, hosted by Conflux (September 30-October 3, 2022 in Canberra, Australia.)
Note that some categories include more than five nominees due to tied nomination numbers. And some have less, due to insufficient valid nominations. The Final ballot will have a "No Award" option in each category.
Best Novel
The Crying Forest, Venero Armanno, IFWG Publishing Australia.
Hollow Empire, Sam Hawke, Penguin.
The Animals in That Country, Laura Jean McKay, Scribe Publications.
Monstrous Heart, Claire McKenna, HarperCollins.
The Left-Handed Booksellers of London, Garth Nix, Allen & Unwin.
Poison & Light, Gillian Polack, Shooting Star Press.
Repo Virtual, Corey J. White, Tom Doherty Associates.
Best Novella or Novelette
"The Attic Tragedy", J. Ashley-Smith, in The Attic Tragedy, Meerkat Press.
"The Roo", Alan Baxter, self published.
Bad Weather", Robert Hood, in Outback Horrors Down Under, Things in the Well.
"Flyaway", Kathleen Jennings, Pan Macmillan Australia.
"The Weight of the Air, The Weight of the World", T.R. Napper, in Neon Leviathan, Grimdark Magazine.
Best Short Story
"The Genetic Alchemist's Daughter, Elaine Cuyegkeng, in Black Cranes: Tales of Unquiet Women, Omnium Gatherum.
"Hacking Santorini", Cat Sparks, in Dark Harvest, NewCon Press.
"The Calenture", Kaaron Warren, in Of Gods and Globes 2.
Best Collected Work
Rebuilding Tomorrow, Tsana Dolichva, Twelfth Planet Press.
The Zookeeper's Tales of Interstellar Oddities, Aiki Flinthart and Pamela Jeffs, CAT Press.
Songs for Dark Seasons, Lisa L. Hannett, Ticonderoga Publications.
Neon Leviathan, T.R. Napper, Grimdark Magazine.
Dark Harvest, Cat Sparks, NewCon Press.
Best Artwork
Cover art, Keely Van Order, for Drive, She Said by Tracie McBride, IFWG Publishing Australia.
Illustrations, Rovina Cai, for The Giant and the Sea, Lothian.
Illustrations, Kathleen Jennings, for Mother Thorn and other tales of courage and kindness, Serenity Press.
Best Fan Publication in Any Medium
Pratchat, Elizabeth Flux and Ben McKenzie, Splendid Chaps Productions.
Ethel the Aardvark, LynC, Melbourne Science Fiction Club.
The AntipodeanSF Radio Show, Ion Newcombe.
The Coode Street Podcast, Jonathan Strahan and Gary K. Wolfe.
Best Fan Writer
Bruce Gillespie, for writing in SF Commentary.
LynC, for writing in Ethel the Aardvark.
Best Fan Artist
Lyss Wickramasinghe, for fanart on Tumblr including (Elsie, Hold On), (The Gem and the Other) and (Vesuvia Pride).
Best New Talent
William Atheling Jr Award for Criticism or Review
Terry Frost, for reviews in Terry Talks Movies, YouTube.
Kathleen Jennings, for "Contracts and Calcifer, or 'In Which A Contract Is Concluded Before Witnesses': the transactional structure of Howl's Moving Castle", The Proceedings of the Diana Wynne Jones Conference, Bristol 2019 [paper published 2020].
Grant Watson, for reviews in FictionMachine.