In alternate years the International Board on Books for Young People presents its Hans Christian Andersen Awards to "a living author and illustrator whose complete works have made a lasting contribution to children's literature."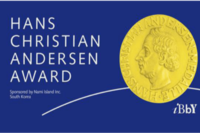 IBBY has revealed the 2022 Hans Christian Andersen Award nominees and jury members.
Sixty-two candidates from 33 countries have been nominated for the 2022 award:
Argentina: Author María Cristina Ramos; Illustrator Gusti
Australia: Author Margaret Wild; Illustrator Tohby Riddle
Austria: Author Heinz Janisch; Illustrator Linda Wolfsgruber
Belgium: Author Thomas Lavachery; Illustrator Carll Cneut
Brazil: Author Marina Colasanti; Illustrator Nelson Cruz
Canada: Author Angèle Delaunois; Illustrator Sydney Smith
China: Author Jin Bo; Illustrator Xiong Liang
Colombia and Venezuela: Illustrator Ivar Da Coll
Croatia: Illustrator Dubravka Kolanovi?
Cyprus: Author Anna Kouppanou; Illustrator Dora Oronti
Estonia: Author Andrus Kivirähk; Illustrator Piret Raud
France: Author Marie-Aude Murail; Illustrator Gilles Bachelet
Germany: Author Andreas Steinhöfel; Illustrator Nikolaus Heidelbach
Greece: Author Maria Papayanni; Illustrator Iris Samartzi
Hungary: Author András Dániel; Illustrator László Herbszt
Iran: Author Jamshid Khanian; Illustrator Pejman Rahimizadeh
Italy: Author Roberto Piumini; Illustrator Beatrice Alemagna
Japan: Author Joko Iwase; Illustrator Ryoji Arai
Republic of Korea: Author Yi Hyeon; Illustrator Suzy Lee
Latvia: Illustrator Aleksejs Naumovs
Lebanon: Author Fatima Sharafeddine; Illustrator Sinan Hallak
Lithuania: Illustrator Kestutis Kasparavi?ius
Netherlands: Author Tonke Dragt; Illustrator Sylvia Weve
Poland: Author Marcin Szczygielski; Illustrator Iwona Chmielewska
Russia: Author Sergey Makhotin; Illustrator Julja Gukova
Slovenia: Author Peter Svetina; Illustrator Damijan Stepan?i?
Spain: Author Jordi Sierra i Fabra; Illustrator Elena Odriozola
Sweden: Author Annika Thor; Illustrator Anna Bengtsson
Switzerland: Author Franz Hohler; Illustrator Catherine Louis
Turkey: Author Behiç Ak; Illustrator Mustafa Delio?lu
Ukraine: Author Halyna Malyk; Illustrator Kost Lavro
United Kingdom: Author Marcus Sedgwick; Illustrator David McKee
USA: Author Linda Sue Park; Illustrator Kadir Nelson
The award jury is composed of: Jury President, Junko Yokota (USA): Antoine Al Chartouni (Lebanon), Marilar Aleixandre (Spain), Evelyn Arzipe (Mexico/UK), Mariella Bertelli (Canada), Tina Bilban (Slovenia), Viviane Ezratty (France), Jiwone Lee (South Korea), Robin Morrow (Australia), Jaana Pesonen (Finland) and Cecilia Ana Repetti (Argentina). IBBY Executive Director Liz Page is an ex officio Jury member.
The shortlist will be announced in January 2022 and the winners will be revealed at the Bologna Children's Book Fair in March/April 2022.